Starting April 1, 2023, solo trekking for foreigners in Nepal will no longer be allowed. The new regulation mandates that all foreign travellers seeking to explore the stunning Himalayan mountains must have a guide with them. The decision was made to enhance travellers' safety and ensure they get the most out of their thrilling adventure while keeping potential risks in check.
The Nepal Tourism Board made this decision based on concerns that tourists who go on solo treks may often get lost or face insecurities.
Also read: Manali Woman Scales Mt Kilimanjaro
In 2019 alone, there were approximately 50,000 tourists who trekked without a guide or porter in Nepal by obtaining a route permit and Trekkers Information Management System (TIMS) card. However, the new regulations have placed a ban on the TIMS permit without a guide as well.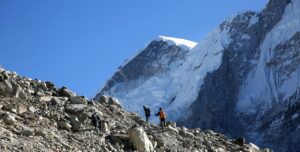 Additionally, the board has raised the price of the TIMS permit to ₹2,000 per person and ₹1,000 for SAARC nationals. These measures aim to provide added security and protection for travellers exploring Nepal's natural beauty.
The ban on solo trekking is likely to be unpopular with some experienced trekkers, who may feel they can navigate Nepal's trails without a guide.
Some experts argue that this move could limit the freedom of independent travellers who prefer to plan their own trips, while others believe that the benefits of having a local guide outweigh these concerns.
Also read: World's Most Expensive Adventures
The rule is also being seen as a way to protect Nepal's fragile mountain ecosystems, as it will ensure that trekkers stay on established trails and avoid potentially damaging off-trail exploration. It is also hoped that it will help to create jobs for local guides, many of whom have been out of work due to the pandemic.