India has a long and rich association with yoga. Yoga is thought to have originated in India, and it has been an integral part of Indian culture ever since. Yoga in India is often seen as a way to connect with one's spiritual side, and people of all faiths practice it.
The word "yoga" comes from the Sanskrit root Yuj, which means "to yoke" or "to unite." Today, yoga is practiced worldwide but still holds a special place in India.
Our Best Yoga Destinations
Yoga is a system of physical and mental exercises designed to bring harmony to the body, mind, and spirit. There are many different styles of yoga, but all share the same goal of promoting health and well-being.
There are many wonderful yoga destinations in India, each with unique offerings. Here is a list of some of our top picks.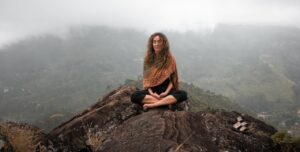 Himachal Pradesh
Yoga is a popular exercise with many benefits, including improved flexibility, strength, and balance. And while there are many great places to do yoga, few can compare to the beauty of Himachal Pradesh. With its stunning mountains and valleys, Himachal Pradesh is the perfect place to connect with nature and find inner peace.
Whether a beginner or a seasoned practitioner, you will find the ideal yoga experience in Himachal Pradesh. Moreover, there are so many beautiful places to visit that you will never get tired of exploring them. So, if you're looking for a yoga retreat that offers the perfect mix of relaxation and adventure, Himachal Pradesh is the ideal place to go.
Rishikesh
As a serious yogi, you should not miss out on the opportunity to visit Rishikesh. Rishikesh offers an unparalleled yoga experience. Located at the foothills of the Himalayas, on the banks of the River Ganges, Rishikesh is a peaceful and spiritual town renowned for its yoga and meditation retreats. Rishikesh is a special place, and if you open yourself up to the experience, you're sure to have a transformative journey.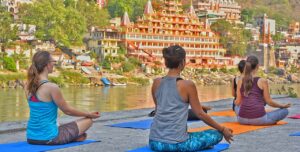 There are a number of reasons why Rishikesh is such a popular destination for yoga enthusiasts. First, the town has a very strong yoga community, with many experienced teachers offering classes and workshops. Second, the town is surrounded by nature, providing the perfect setting for a yoga retreat.
And third, the town has a number of affordable accommodation options, making it a great place to stay for those on a budget. If you're looking for a truly transformational experience, yoga in Rishikesh is the perfect place to start.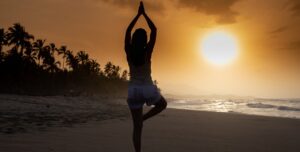 Goa
Yoga enthusiasts should not overlook the fantastic location of Goa, which is popular with beach and party-goers.
Goa is a beautiful place to practice yoga. The tropical climate, beautiful beaches, and laid-back atmosphere provide the perfect setting for a yoga retreat.
There are many yoga retreats to choose from in Goa, so you can find one that fits your needs. And if you're looking for more than just yoga, there are plenty of other activities to enjoy in Goa, from surfing and diving to exploring the local markets.
Whether you're looking for a challenging workout or a relaxing vacation, yoga in Goa is the perfect way to rejuvenate your mind, body, and soul.
Varanasi
Its proximity to the sacred Ganges River and many Shiva temples makes Varanasi an important Hindu religious site and a yoga destination. The city is a favourite pilgrim point and an important centre for mysticism, spirituality, and Ayurveda.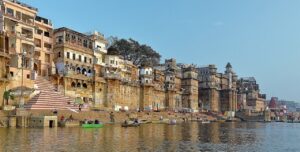 A treasure trove of knowledge awaits you in one of the world's oldest cities. Unique energy is present here that attracts people from all over the world, making this place so special.
It is believed that yogis who practice yoga in Varanasi will be able to achieve enlightenment. If you are interested in practicing yoga in Varanasi, there are many different options available to you.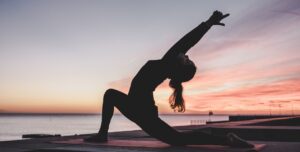 Tamil Nadu
As far as yoga and spirituality are concerned, Tamil Nadu has an ancient connection with them. Yoga and spirituality are deeply intertwined in Tamil culture, and this is reflected in the many beautiful temples and holy sites that can be found throughout the state.
The state's spiritual traditions have been a source of inspiration for many people around the world, and Tamil Nadu continues to be a popular destination for spiritual seekers.
The ancient Tamil texts of South India contain information regarding yoga and spirituality written by Agastya Muni, an enlightened being and spiritual scholar. He is said to have discovered many ancient texts concerning Nadis or channels within the body.
Many spiritually charged places, such as Madurai and Vydeshwaran, attract individuals who wish to understand yoga and India's ancient culture. Tamil Nadu is the perfect destination if you are looking for a place to connect with your spiritual side deeply.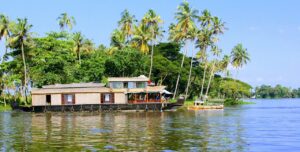 Kerala
Kerala is a state in southern India known for its tropical beaches, backwaters, and Ayurveda. It is also a popular destination for yoga and meditation. It's the perfect place to escape the hustle and bustle of city life and find some peace and tranquillity.
No matter where you go in India, you're sure to find a yoga destination that fits your needs.