Ladakh has made history by setting the Guinness World Record for conducting the world's highest frozen lake half marathon. The legendary race took place on Pangong Tso, at 13,862 feet above sea level in sub-zero temperatures. Participants had to brave the icy conditions as they endured a 21.9 km long trail running event.
The four-hour marathon kicked off from Lukung and ended at Maan village, with 75 participants. Remarkably, no injuries were reported during the event. Leh District Development Commissioner Shrikant Balasaheb Suse shared the good news.
Pangong Tso
Situated in the Himalayan Mountains at an elevation of 4,225m, the timeless beauty of Pangong Lake lies in its brilliant blue and serene waters. Spanning 134 km across India and China, this salt-water lake is one of the highest lakes in the world and boasts mesmerizing views of snowy peaks.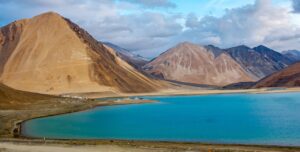 With its majestic landscape, it is no surprise that Pangong Lake has been used as a shooting location for several films and television shows.
The half marathon was named 'Last Run' to raise awareness and remind people about the need to save the Himalayas.
Adding more, Suse revealed that the first-ever half- marathon at Pangong frozen lake has now officially entered into the Guinness Book of World Records.
Apart from spreading environmental awareness through sports, he explained that the marathon's aim was also to enhance livelihood opportunities for residents, especially during the winter months, by promoting sustainable winter tourism in border villages in eastern Ladakh.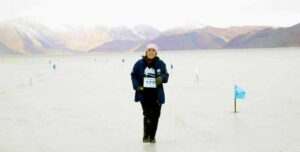 The Pangong Frozen Lake Half Marathon was officially flagged off by Chief Executive Councilor Ladakh (Leh) Tashi Gyalson. To ensure a safe and secure marathon experience, five energy stations were set up along the route.
Support and medical teams were also on hand to provide immediate aid to runners who needed it. A mobile ambulance was also available along the way for emergency care.
Before the start of the race, the participants underwent a six-day acclimatization period to help them prepare for the grueling conditions they'd be facing on the course. This also included medical examinations to ensure everyone was healthy and fit enough to complete the race safely.
Additionally, runners were mandated to wear safety equipment to protect themselves from slipping on ice.