Himachal Pradesh is a charming state in India known for its stunning natural beauty. From the snow-capped mountains to the lush green valleys, Himachal has it all. It's true that the state is beautiful all year round, there's something special about visiting during winter.
Winter wonderlands of Himachal Pradesh
When most people think of winter vacations in Himachal, they immediately think of places like Shimla, Manali, Dalhousie, or Dharamshala. But there are plenty of other great winter destinations that are a bit off the beaten path. Here are a few of the most impressive offbeat places to visit in Himachal in winter.
Lahaul
As winter sets in and the days get shorter, Lahaul's landscape assumes a timeless beauty. The barren magnificence of the Himalayas is on full display at this time of the year.
The meandering Chenab River is more or less frozen solid. Mercury plunges nearly -20 to 30 degrees, making the region extremely cold. But for those who make the journey, the rewards are worthwhile. From phenomenal landscapes to incredible locals, Lahaul is an experience not to be missed.
From November to March, the Lahaul Valley receives a lot of snow. This region is one of the coldest in Himachal Pradesh, with the minimum temperature at some places falling below minus 25 degrees Celsius.
Previously the valley remained cut off from the outside world in winter due to the closure of the famous Rohtang Pass. Lahaul Valley is now easier to reach thanks to the Atal tunnel. There has been a significant increase in tourist footfall in the valley since the opening of the Atal tunnel. 9.02 km long Atal Tunnel has made winter excursions to Lahaul possible.
The valley is undoubtedly one of the most magnificent places in Himachal. It is a must-visit for all those who enjoy travelling. It takes only 33 km from Manali to reach the Lahaul Valley. Tourists can travel up to Sissu in winter, 38 km from Manali and 5 km from the tunnel.
Spiti
The Spiti Valley in Himachal Pradesh is one of the most lovely places on earth. Dotted with ancient Buddhist monasteries and breathtaking natural landscapes, Spiti is a place of peace and spirituality. It is an ideal destination for anyone looking to escape the hustle and bustle of city life.
Also read: Must visit places in Spiti Valley
In recent times, Spiti Valley has emerged as a favorite holiday destination, and the craze is only growing with every passing year. Whether you go to Spiti Valley in summer or winter, it will always look splendid. But there are some reasons why you should consider taking a winter trip to Spiti Valley.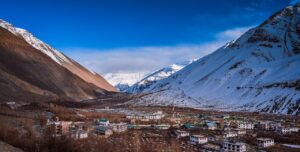 Winter in Spiti is a time of barren landscapes, deep snow, frozen rivers, and icy lakes. It is a time to experience the silence and stillness of the mountains, to see the stars shining bright in the clear night sky. It is truly a sight to behold. Apart from this, the chances of spotting a snow leopard are high at this time of the year.
As winter sets in and the temperature drops, animals such as ibex and blue sheep begin to descend from their high-altitude homes in search of food and water. This, in turn, forces predators, like snow leopards, to descend in search of an easy meal. And that makes winter the most favorable time to spot the Snow Leopard in the valley.
Snow leopards are a rare and elusive creature, and spotting one in the wild is an unforgettable experience. In the Spiti Valley, snow leopards are often seen roaming the mountains in search of prey. If you're lucky enough to see one, you'll be mesmerized by its beauty.
Also read: A Visit To World's Highest Post Office
Spiti is a truly magical place, and it is sure to leave all who visit with a sense of wonder and awe. Spiti is a place where time stands still, and the pace of life is slow. If you're looking for an adventure off the beaten path, Spiti is the right place to explore.
Kalpa
Kalpa is a small town in the Indian Himalayas and is truly a winter wonderland. Located at 2,960m in the Kinnaur district of Himachal Pradesh, Kalpa is known for its apple orchards and scenic landscapes. The town offers a magnificent view of Kinner Kailash, a sacred mountain considered to be Lord Shiva's abode.
The ideal time to visit Kalpa is between October and March when the weather is cool and dry. January and February are the coldest months, with temperatures often dipping below zero. However, this is also when the town is most picturesque, as the snow-covered mountains provide an amazing backdrop.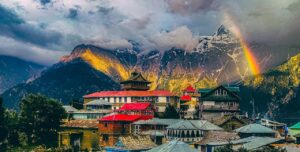 Kalpa in winter is a magical place. The towering Himalayan mountains, snow-laden orchards, and chilled air create a magical atmosphere. And while it can be cold, there's something special about Kalpa in winter that makes it worth braving the cold.
Also read: A Drive To Kinnaur And Spiti
It could be the feeling of being surrounded by nature or the peace that comes from being in a place where time stands still. Or it could be the knowledge that, despite the cold, there is still so much beauty in the world.
Whatever the reason, Kalpa in winter is a place that is sure to leave a lasting impression.
Chitkul
Chitkul is a quaint Himalayan village in the Kinnaur district of Himachal Pradesh. Famed for its imposing natural beauty, Chitkul is the last inhabited village on the India-Tibet border and the first village in the Baspa Valley.
A scenic road leads to Chitkul. And the scenery on the way is almost a scene out of a fairy tale. Many people visit the place every year to enjoy the magnificence of snow-capped mountains and clear blue skies. If you are visiting Himachal, you absolutely must go to Chitkul.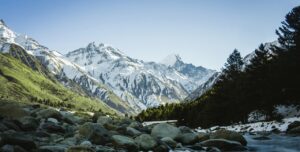 Wooden houses and apple orchards dominate the village, which becomes even more spectacular in winter when the countryside is covered in snow, and the scenery is captivating.
Also read: Chitkul -A Place Where Time Seems to Have Come to a Halt
Narkanda
Why not spend your winter vacation in the picturesque Himalayan town of Narkanda? There's plenty to do, including winter sports and fantastic views.
Narkanda, 65 km from Shimla, is a scenic hill station in Himachal Pradesh and an ideal place to enjoy snowfall and winter sports. It is situated at an altitude of 2708 meters above sea level and offers fabulous views of the Himalayas.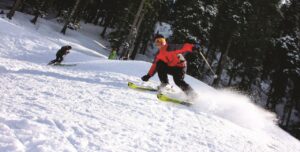 It is a popular destination for both Indian and foreign tourists, and there are a number of must-visit places in the area. These include Hatu Peak (3,400m), the highest point in Narkanda, and Tanni Jubbar Lake, a serene and scenic spot. No matter when you visit Narkanda, you are sure to be mesmerized by its natural splendor.
Narkanda is the place to be in the winter. The snow-covered slopes are a treat for adventure lovers. The most appealing part about Narkanda is that it's not as crowded as other popular winter destinations.
The ski season typically runs from December to March, and the town is well-equipped with all the necessary infrastructure. Alluring landscapes and fantastic snow make it the perfect place to enjoy a day on the slopes.
Also read: Narkanda-The Offbeat Shimla
If you're looking for a winter getaway that is both scenic and exciting, Narkanda is the best possible destination. So, make sure to add it to your travel itinerary this winter!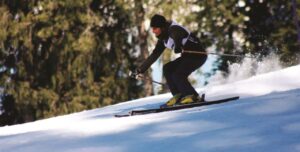 This year, when winter arrives, just head to Himachal Pradesh with your family. You are sure to have a wonderful time.
---
Travel Tips
When traveling in winter, there are a few things to keep in mind in order to stay safe and comfortable:
Dress in layers. It's also wise to pack extra socks, gloves, and a scarf or hat to keep warm.
Be prepared for adverse weather. Check the forecast in advance and have a backup plan in case of delays or cancellations.
Drive carefully and allow extra time to reach your destination in case of inclement weather. It's also a smart idea to pack a shovel and some salt or sand in case you need to clear snow or ice from your car.
Carry your medications. Cold weather can aggravate conditions like asthma, so you must have your prescription with you.
Remember to charge your phone. You'll want to have a fully charged phone in an emergency.
Don't forget to pack snacks and drinks. Traveling in winter can be tiring, and you'll want to have energy-boosting snacks on hand.
Taking proper precautions can minimize the risks and help ensure a safe and enjoyable winter travel experience.