On International Women's Day, Jazeera Airways made history by operating its first ever flight with an all-female crew. The eight member team that included the pilot and co-pilot flew an A320neo carrying 172 passengers from Kuwait to Riyadh. It is a significant achievement which represents the importance of diversity and gender parity in the aviation sector, an industry typically considered male oriented.
This initiative by Jazeera Airways also highlights this year's International Women's Day theme to #EmbraceEquity. Seham Al Husaini, Board Member, Jazeera Airways who was a passenger with the crew, said:
"It's been a pleasure to be a part of today's all women flight to Riyadh on International Women's Day. I would like to congratulate the entire crew headed by Capt. Elif Guveyler and the amazing Jazeera team on the ground. The aviation industry is one of the most exciting places to build a career and break barriers, I'm hoping to be on many more flights led by women in the air and supported by women on the ground."
Also read: Nepal Bans Solo Trekking For Foreigners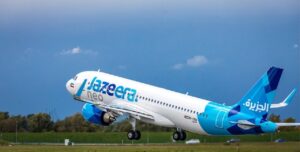 Jazeera Airways first took off from Kuwait in 2005 and now flies 19 aircraft to 59 destinations across the Middle East, Central and South Asia, Africa, and Europe. With an employee base of over 1,200 employees from 68 nationalities, the airline encourages diversity, inclusion and gender parity. The airline is also committed to the International Air Transport Association (IATA) 25by2025, an initiative to change the gender balance within the aviation industry.
Rohit Ramachandran, CEO, Jazeera Airways highlighted: "This year started with us announcing record profits for the year which was followed by the launch of two new destinations and now this momentous flight. I truly appreciate our crew for their service every day. While it is a historic moment for us, for these hardworking women, it is just another day at work. At Jazeera, employees are the backbone of our company and we pride ourselves on being an equal opportunity employer. We believe that by valuing and absorbing diverse perspectives from employees, we can create a stronger, more innovative, and more successful organization."