Shimla: Ishani Singh Jamwal scripted history by becoming the first Indian girl to attempt to scale Mt Cho Oyu (8,201m), the sixth-highest peak in the world, from the challenging south side of Nepal. Cho Oyu is generally attempted from the Tibet side.
Ishani, a native of Pahnala Village in the Kullu district of Himachal Pradesh, reached a height of 7,200m on October 19 before the mission was called off.
Only female climber to reach a height of 7,200m
Ishani managed to scale the maximum height of the highly challenging south side of Mt Cho Oyu, battling strong winds exceeding 70kmph and staying put throughout extreme weather conditions. She was the only female amongst the climbers from all over the world to reach a height of 7,200m.
Ishani, a member of the 'Pioneer Cho-Oyu Expedition 2022' led by the Indian Piyali Basak, arrived in Nepal on October 6 for the expedition. She intended to set a record by summiting Mt Cho Oyu from the Nepal side. However, on October 20, the entire team was forced to abandon the expedition due to bad weather.
For her first over an 8,000m-peak climb, Ishani chose the most challenging and unclimbed route as she wanted to attempt something no one had done before. Despite her optimism, the extreme weather conditions and the team's safety made her descend from Camp 2.
Also read: World's Most Expensive Adventures: The Top 7
She also received a certificate from the Pioneer adventure recommending her technical skills as 'good' for scaling Mt Everest.
Pioneer group members included Ishani Singh Jamwal (24) and Piyali Basak (35) of India, Csaba Varga (40) of Hungary, Qaisra Yasmin Saeed-Katdare (51) of the United States, Ko-Erh Tseng (30) of Taiwan, and Hu Tao (36) of China. This expedition also included 14 Sherpas.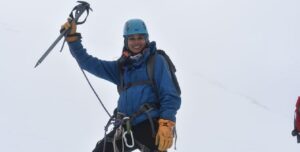 Ishani, the first person from Kullu to scale Mt Kun
Ishani was part of the first Indian Mountaineering Foundation (IMF) women's expedition to the 7,077-metre high Kun peak of Kargil on September 4. She is the first person from Kullu to scale Mt Kun.
Mt Kun is one of the highest peaks in the Zanskar region of Ladakh and is highly technical. A total of four women from the team successfully scaled the mountain, including Shanti Rai from Sikkim, Ishani Singh Jamwal from Himachal Pradesh, Dashmat Batti from Chhattisgarh, and Sabita Mahto from Bihar.
Also read: Explore Lakshadweep: A Complete Travel Guide
The other teams that had gone to Mt Kun around these dates failed to reach the summit.
Ishani Singh looks forward to climbing greater heights in the future and credits her mentors for her success.