By Dr Amit Sharma || Vice President, Abercrombie & Kent India || Expert Roster, UNWTO
With changing times, we have observed an interesting change in the scope of economic value within the tourism industry. With the entry of millennials into the consumer fabric, the "service-centric economy" is shifting towards an "experiences centric economy". In recent times, the old heritage buildings (now heritage hotels) have become strong areas of attraction for consumers. Booking for such properties is high in demand.
It seems that clients have a great deal of inquisitiveness towards tangible and intangible aspects of such assets. Such old Heritage buildings in the Himalayas (now serving as heritage hotels/ boutique stays) carry hundreds of the epics of the bygone era of medieval history.
Heritage hotels provide a unique opportunity for tourists who seek old charm and simultaneous exposure to history, art, culture, and traditions. The high demand for this business segment will motivate the restoration of old heritage buildings and, hence, would significantly impact community-based tourism.
In India, sprawling from Himachal to Uttaranchal and further to the North East part of the country carry, the distinct feature of colonial India. The footprints of British architecture can be easily seen there.
Stories can be reimagined, anything from some hustle-bustle of Ladies and Lords, a few quiet teas and novel moments in the serenity of nature overlooking snow-clad mountains.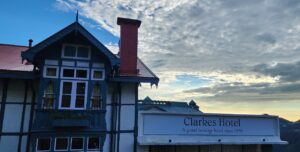 Old pictures on the wall of these hotels narrate centuries-old stories and may take you back in time. Here, apart from the tangible part of the heritage, the charm lies in its intangibility.
Clarkes Hotel Shimla, Mary Budden Estate Binsar, Windamere Darjeeling and The Elgin hotel in Darjeeling, Nor-khill Gangtok are a few names to mention.
In South India, Goa the Portuguese and Dutch influenced heritage hotels are well related to this concept. A historian with a blend of storytelling skills can weave the story around the heritage buildings and a flow of events can be envisaged through the eyes of the listeners.
Demand for such kind of product curation is on the rise. Here lies the connection between intangible heritage and consumer behaviour.
Also read: Wellness Tourism: Options Galore in Himachal Pradesh
Another aspect could be the increasing trend of "sustainable tourism" as well as "experiential marketing". In developing unique cultural tourism experiences, heritage hotels provide an opportunity for tourists who seek old charm and simultaneous exposure to history art culture and traditions.
The high demand of this segment of the business will yield the motivation to restore more old heritage buildings and hence will have a great impact to boost community-based tourism as well.