In today's digital world can you imagine that there still exists a place which is connected to the outside world only via traditional way i.e. by means of letters and postcards? Yes, you read it right, but for that one needs to visit Hikkim-a puny village situated in Lahaul and Spiti region of Himachal Pradesh.
Situated at an altitude of 4,440 meters above msl. Hikkim boasts the highest operational post office in the world, operated by Government of India.
UNHEARD OF FROM THE SEEKERS OF NATURE, VILLAGE HIKKIM IS STILL UNTOUCHED AND HAS ITS OWN EXQUISITENESS
Hikkim is situated at around 15-16 km from Kaza, which is the nearest town. It takes around 45 minutes to cover this small distance due to unwinding and steep narrow road. But the road leading to the village keeps oneself glued to the mesmerizing natural vistas and landscapes.
Also read: The Elloras Of Himachal: Masroor Rock-Cut Temples
Hikkim is nestled between Komik and Langza- the two other high altitude villages which are equally beautiful. Hikkim looks like extension of Komik and Langza as all three of them are very similar in their natural settings.
It is one of the most captivating villages we have ever visited with a views of lush green farmland, barren lands and valleys with panoramic views of snow capped peaks in the background.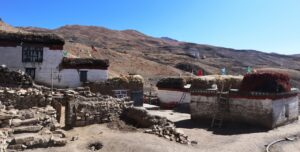 Culturally and historically Lahaul and Spiti region of Himachal Pradesh had a very close association with Ladakh and Tibet. Hence the languages spoken have either Ladakhi or Tibetan influence. Hinduism and Buddhism are the two main beliefs prevalent among the people in this region.
In addition to the religious ceremonies and customs many other social festivals and get-togethers are conducted connected to the land and its farming. Ploughing of the field is considered the most important function as it is carried out on some auspicious day as directed by the lamas.
Also read: How To Save Money On Hotels
Religious ceremonies precede every important procedure from sowing of seeds to germination of seeds till the final harvest, which is conducted during the whole farming season. It sometimes involves preparations with animal sacrifices to calm the devils and allow seedlings to grow healthy.
Once the harvesting is completed a gala ceremony is organized with collective feast, drinks and dance activities to celebrate the outcome of the crop.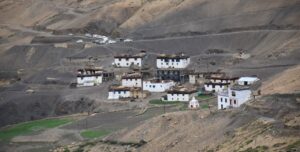 Hikkim along with few nearby villages is also famous for its fossils. Fossilized crustaceans from the pre historic era can be found in the village. But for that one needs to talk to local guide or locals about finding the right place to catch a glimpse of these fossils.
Home to around 150 to 200 habitants, Hikkim is surrounded by snow capped Himalayas from all the sides. It is very difficult to define the beauty of Hikkim in words, but one only has to experience it to feel it. One can spend a day by being part of the local community, helping them with their daily activities.
A perfect evening can be spent by drinking hot cup of chai or coffee and gazing at the panoramic view of the Himalayas before ascending down back to Kaza.
Also read: Marble Rocks And The Mighty Narmada: A Visit to Jabalpur
World's highest post office
Like many other regions, every village in Lahaul and Spiti district has its own local identity and Hikkim is no different. The most famous and unique identity of this village is its post office which is the highest operational post office in the world at a staggering height of 14,567 feet or 4,440 meters above msl.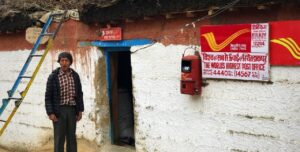 Hikkim Post Office sends post to nearby villages which otherwise are isolated from rest of the world. It is from here one can also send letters, posts, postcards to any part of this planet earth. It's a different feeling altogether to post a letter to your loved ones from the highest post office in the world, as it's not every day you get this opportunity.
During the winter month's road to Hikkim is totally disconnected for a period of 5-6 months. As the whole village and valleys change their colors from brown to blanket of white due to heavy snowfall. As everything gets shut the mails, letters, posts etc. are carried on foot till Kaza.
From Kaza it travels to Reckong Peo and from there to the main post office in Shimla by bus. From Shimla all the post and letters are dispatched to Delhi via train or bus. Finally from Delhi they are distributed to their particular destinations. Sometimes it takes couple of months, few weeks and few days depending upon the distance post has to traverse as Rinchen Chhering says.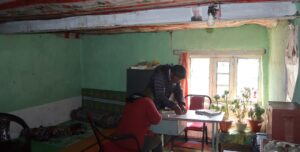 The post office is run by a post master name Rinchen Chhering. Rinchen Chhering has been working in this post office past 37 years since its inception in 1983. Be it the residents of tiny villages like Gette or lamas / monks from monasteries like Key, they all get their correspondence from Hikkim post office.
The absence of secure mobile network and internet connections makes the presence of traditional post extremely imperative.
For some people, this is the only mode of communication with the rest of the world. Rinchen, along with his two assistants, the postmen, has been thoroughly doing this job for more than three and half decades.
In fact, the post office is also his residence. He lives with his wife and kids in a 6 to 7 room typical Spitian style home. One room is converted into a post office and in the remaining house his family stays.
Hikkim Post Office also has an important function to perform i.e. of a small bank. It acts as a savings bank where villagers can deposit money in their savings accounts or withdraw money whenever they require it.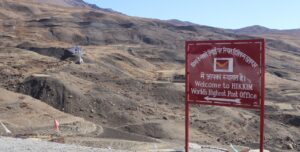 At one point Hikkim village was also the world's highest polling station and was recorded in the Limca Book of Records. Later the record was held with Tashigang, a small village in same district.
As mentioned earlier the road leading to Hikkim is closed between November to April as heavy snowfall makes the road difficult to drive on. Travelling to Hikkim is no less than a daredevil act as one has to pass through one of the world's dangerous roads, which are extremely steep, slender and bumpy.
Also read: Spiti— A Cold Desert Safari
Visiting Hikkim and the nearby villages can guarantee in its own distinctive way to provide travelers with modest joys of life which one misses in the urban scenario. Hikkim's wilderness and panoramic views are very alluring to each and everyone. It lures a tourist to walk along its fields, have a slice of its life, and of course post a postcard or letter from the world famous post office.
"Time has a wonderful way of showing us what really matters."
Anonymous
Hikkim is a perfect destination where above quote stands true in every sense. Hikkim is a place where one feels that one has travelled back in time. This tiny stunning land still retains its original and unique nature.