By Dr TARA SEN THAKUR & VIJAY SEN
Food plays a manifold role in the travel plans of holidaymakers to finalize any tourist destination. Visitors love to experience local tradition and culture through authentic cuisine, making culinary tourism an essential discipline of tourism management.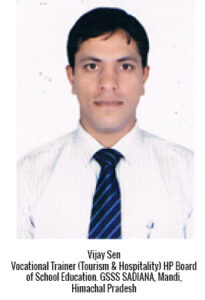 In culinary tourism, local cuisine plays a significant role in a tourist attraction, culture exchange and entrepreneurship development.
It is a growing trend in the tourism industry as travellers are becoming increasingly focused and passionate about defining cuisine as a true artistic expression of a state, region or country's culture handicrafts, fairs, festivals, dance, music, delectable cuisine and many others.
So, Tourism isn't just about the natural beauty of any tourist terminus but also the rich cultural extravaganza and traditional food of that destination which tourists can cherish.
North India being a part of Himalayas, is a rich storehouse of floristic diversity well known for its nutritive and medicinal value.
So it has tremendous potential in the culinary tourism industry due to the variety in the aesthetic and nutritional value of wild plants and popular dishes made out of them as Akhrot ke Siddu, Tardee, Burans ki chutney and shervat, Guichhi veg, Ambala candy, Khadi badiyan, Lasurra veg & Lasurra pickle, Fegri veg and Fegri pickle, Kachuri (stuffed with a paste of boiled and meshed fig fruits or yam tubers and spices) Lingad veg, Lingad veg curry and Lingad pickle etc.
Many of these food items are also served in Dhabas or restaurants, prepared by locals and served to tourists. Wild food plants like Guichhi, Kaphal, Taradee, Jaamun, Daadu, Lasura, Buraans and Lingad are known to have high market value.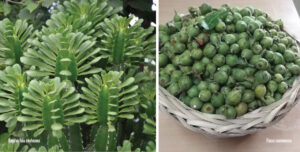 North India, famous for scenic mountainous beauty, has many popular tourist destinations for all seasons and reasons. Manali, Shimla, Dharamshala, Kinnaur, Chamba, Khajjiar, Rewalsar, Kashmir, Srinagar, Masuri, Nainital and Amritsar are the most sought after tourist destinations of the region.
Tourists visit these places for their aesthetic beauty and as a potential buyer of many wild food items that they consider healthy and nutritious. Wild edible plants Lingad and Guchhi are already on the menu of many famous restaurants and hotels.
North India is a natural home of many medicinally and nutritionally vital food plants. But this gift of nature is not explored optimally for their role and potential in sustainable cultural tourism, rural prosperity and entrepreneurship development.
There is an urgent need to promote these food items for developing culinary tourism and conservation of culinary traditions. Due to their uniqueness, the wild cuisine influences the tourists of the neighbouring states and countries like Tibet, Nepal, Shri Lanka, Bhutan, etc.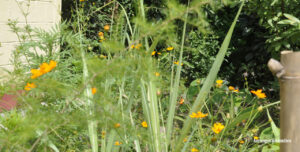 There are many good reasons to serve wild cuisine that can satisfy regular tourists' criteria for food like healthy, delicious and locally produced. Some wild plant dishes are the specialty of a particular area and season, so cooked at these places only. These unique dishes need to be identified and encouraged to attract food-loving tourists.
At present, wild plant cuisines are not much associated with the tourism industry, so they are not on the menu of most hotels, restaurants and dhabas. But, when we talk about culture, local cuisines and wild food items are always an integral part of it.
The cultural tourism business in North India is an important alternative form of tourism. The same can also be with culinary tourism to make food wild cuisine and items a means of rural prosperity and entrepreneurship development.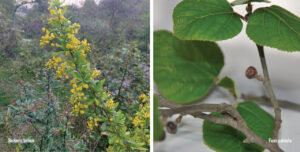 INDIGENOUS USES AND TRADITIONAL PRACTICE OF FOOD PREPARATION
The edible parts of wild food plants such as roots, stem, leaves, tubers, flowers, buds, seeds, and fruits are consumed fresh raw or cooked in various forms. Among the plant parts used, fruits are most utilized, followed by leaves and flowers.
Many plants are consumed both raw and cooked. Some fruits, vegetables and food supplements are consumed as chutney, sherbet, kachuri, bhale, snacks, halwa, siddu, pakoras etc.
Wild food plants like Chhoohin, Nagfani and Nettle contain milky latex or spines in them and their harvesting may cause long-lasting irritation or pain. Hence, special care has to be taken while harvesting these plants.
Fruits and pads of Nagfani bear very fine bristles which might pierce into fingers. The bristles can be removed by burning or rubbing on stone. Hands should be covered with gloves or wrapped with cloth for harvesting Nettle. Some people collect leaves with the help of a tong.
The leaves lose their stinging property after they are soaked in water. The stinging effect completely vanishes after cooking.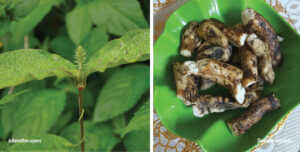 ROLE OF WILD FOOD CUISINES IN TOURIST ATTRACTION AND FOR SOCIO-ECONOMIC DEVELOPMENT
In recent years, the growing demand for healthy and organic food encouraged the rural community to opt for wild food plants as a source of earning. Wild food items like Lasura, Taradee, Dareghal, Fegri, Khod, Kaphal, Daadu, Guchhi, Buraans and Lingad are very popular wild food of hills. These food items are a good income source for local people, especially women and children of rural areas.
They collect edible parts of these wild food plants and sell them fresh to tourists and visitors by standing along roadsides. Some women sell wild food items both fresh and dried in the local market through various Self-Help Groups. Plant parts like Khod, Guchhi, Daadu, Buraans are dried and processed for selling round the year to the tourists of any season.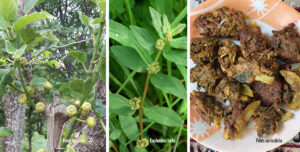 Burans flower chutney is served to the tourists round the year at the famous Fojji dhaba at Narla in NH-21 Mandi-Pathankot National Highway. Likewise, processed food items like Burans & Brahmi juice; pickle of Lassura, Lingad & Umre; chutney of Burans, & Yelo; Ambala powder, jam, murabba; Badiyan of Ambala & Jangli kachalu; Gulkand etc. are also tourists' attractions and sold by various Self-Help Groups. These wild food items are also sold in local, national or famous international fairs and festivals.
PROMOTION OF WILD CUISINES FOR CULINARY TOURISM DEVELOPMENT
Promoting and using wild cuisines for socio-economic uplifting and cultural tourism development urgently requires linking these items with the tourism industry. The wild cuisine as a part of Himachali, Kashmiri, Panjabi, Haryanvi culture needs proper marketing.
Only then their preparation and consumption will foster among the visitors. It will also help provide quality food and everlasting experiences of culinary grandeur of this region to the tourists and conserve and sustain wild food plants and their traditional ancestral recipes among the coming generation.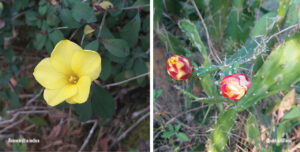 Promotion can be done by encouraging local hotels, restaurants, dhabas through the initiation of the Tourism Department. For this wild food items need to be entered in the menu of different restaurants, hotels, resorts, local restaurants & dhabas etc.
Marketing of wild food items and cuisine can be done or encouraged through hoarding, advertisement in newspapers and online individually and by the Tourism Department through both print (Newspapers, magazines, pamphlets, hoardings & brochures etc.) & electronic media (Websites, social sites like Facebook, Instagram, Twitter, TV, FM radio and digital displays etc.).
The establishment of wild food centres or shops in various tourist destinations is required, along with the inclusion of a visit to wild food centres or shops by local travel agents in different tour packages offered by them.
The tourism Department needs to organize wild food festivals and fairs at regional, state, national and international levels by outsourcing a skilled workforce from faraway villages to offer the traditional tastes and recipes of wild foods to visitors worldwide.
The department has to launch awareness campaigns to encourage local dhabas, restaurants and hotel owners to include regional wild food cuisines in their menu. The restaurant owners must make an effort to promote wild food seasonal cuisines. They can market wild foods by placing notice boards and hoardings and offering packaged services that include wild food items and cuisines. These can be delivered in shops or via telephonic order.
Recipes of wild food cuisines need to be documented and developed into print and electronic media by Department of Tourism and circulated to the different dhaba owners.
SUSTAINABLE HARVESTING NEED OF THE HOUR
The promotion of wild food plants for sustainable cultural tourism development will depend upon the sustainable harvesting of these valuable natural resources. This awareness is needed for sustainable harvesting and optimum utilization of wild food plants.
However, due to their ignorance about tremendous economic, nutritive and medicinal potential, many wild food plant parts get destroyed at the resource level. The growers should be informed about the latest processing methods and value-addition techniques.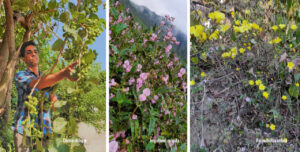 Overexploitation of popular wild edibles without ensuring their regeneration may lead to their decline in natural habitats, so harvesting needs to be done by habitat rotation, keeping some reproductive parts on the parent tree and domesticating rare wild food plants.
Cuisines from wild food plants require promotional efforts on a large scale so that tourists can accept these around the world. In coming years, we may witness —Wild Himachali Thali, Wild Kashmiri Thali and wild cuisines in the menu of hotels and restaurants running across the country.
Wild food plants are a great source of amusement, nutrition, and medicinal properties for tourists coming to North India worldwide. Red burans, Piyan, Dhave and wild roses are the nerve centres for mountain lovers during their full bloom and enough to attract tourists again and again to famous tourist spots of natural beauty.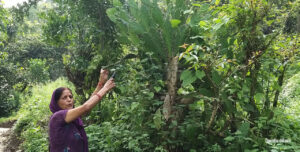 Culinary tourism is an essential new niche that can foster economic, cultural and community development through new intercultural insights.
There is a need for more awareness and knowledge about the growing number of food tourists and their favourite destinations. Wild food advertisement should be done or encouraged through traditional and digital platforms.
The government should establish a nature park in tourist hot spots where local culture, handicraft, authentic wild cuisine and processed items can be served. There is also a need for destination management, organizations, restaurants sustainable harvesting and processing of wild food items and cuisines. Processing units should be developed at different locations to collect and process wild food items efficiently.