Booking that ideal place to stay during a vacation is by no means an easy task. With so many hotels  mushrooming up everyday, it is almost impossible to find the best one, with the perfect deal and ideal location. A place of stay can also make or break your vacation.
Getting a bad deal or not finding a good place to stay is arguably the worst because you not only have to live there but also you get to know there are better deals in the vicinity just staring at you. Here are some tips which may help you book your ideal place of stay.
Tips for booking hotels
To book a hotel room with the best chance of satisfying your wallet and your needs, you'll spend almost all of your time searching for the right place. You should take advantage of travel sites, consumer reviews, and travel agents to maximize these efforts.
Travel Websites
Most hotel bookings are now made online. It allows us to identify the best deals and also compare prices. Some recommended websites are Booking.com, Agoda.comExpedia.com, Expedia.com.
Be sure to shop around sites for the best deal and don't forget to visit the hotel website itself. Individual hotel websites often have deals that don't appear on commercial sites.
Reviews on Googlerviews.com, TripAdvisor and many blog posts also help.
Also read: Ubud: The Heart Of Bali
Cancellation Policy
Before proceeding with any booking online, please read the cancellation policy. Nowadays, most hotels have stopped charging exorbitant cancellation charges. Sometimes calling directly to the
hotel also helps.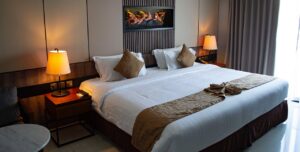 Read the Reviews
Reviews can act as a guide and eye-opener. Check out consumer review sites like TripAdvisor.com, which gathers and aggregates reviews of hotels by the type of stay (e.g., couples, business trips, young travellers, etc.) so that you can search for people most like yourself and see what they had to say about the hotel.
Often, the reviews will speak to whatever attributes you're looking for in a hotel and you can make better decisions based upon them.
Don't fall for any malafide ads
If a deal seems substantially lower than surrounding hotels, check to make sure the hotel isn't being renovated or there's not another reason for the low price (e.g., it's in a high crime area or is very old and run down).
Look up the location
If you have a target geographic area, punch in the address into Google maps.
You can zoom in to see exactly where it is as well as the surrounding area (the map will tell you surrounding stores, restaurants, etc.), and you can take advantage of Google's street view feature to see what your hotel and surrounding area look like.
Call ahead
Once you've targeted a hotel or whittled your list to several hotels, be sure to call them and ask about your needs or concerns.
For example, if you want to make many phone calls, you'll want to ask if they have free local calling and how much they charge for long-distance calls.
Or you want to know how big the pool is and whether they have a lifeguard on duty. Whatever your concerns, ask the concierge on the phone so you can book with confidence.
Also read: The Elloras Of Himachal: Masroor Rock-Cut Temples
Contact a travel agent
If your trip involves a more exotic or remote location, you should probably consult a travel agent who knows the area, the culture, and the businesses in the area.
Travel agents can be very useful in avoiding the pitfalls of booking exotic travel online.
Check these before committing to book a hotel room
Once you're ready to book a hotel room, there are still a few more questions that you should confirm before committing and specific actions you should take to avoid hassles and headaches upon arrival preemptively. Check for these before committing to book your room.
Cancellation policy
The cutoff date for cancelling your reservation will incur a penalty (for most hotels it is 24-48 hours before arrival, or else you will be charged the first night's stay on your credit card).
Discount
Any discounts the hotel offers (senior discount, government discount, military, etc.).
Also read: The Rustic Charm Of Matheran: A Photolog
Check-in and check-out times
Check-in and check-out times. If you're going to be checking in very late, be sure to inform them, so they don't give your room to another patron.
Hotels have a custom of overbooking rooms and have been known to bump very late arriving guests.
Extra charges
If they charge any extra fees for your stay (resort fee, parking, etc.).
Request the type of room
When you make the reservation, be sure to request the type of room you want.
For example, if noise is an issue, you'll want to be placed away from elevators, ice machines, and in a room not facing the street.
If it's a resort and they have a nightclub at the pool, you'll want to be on a side not facing the pool. Whatever your needs, communicate them clearly to the concierge.
Book with a credit card
Book your hotel with a credit card rather than a debit card. Credit cards offer consumers far more protection in the event of fraud.
If there is a fraudulent transaction, you'll only be booked for a specific fee and the credit card will fight the wrongdoer on your behalf.
However, with a debit card, you will likely have to fight the entire charge on your own.
Confirm the reservation
Call the hotel a few weeks before your stay to confirm they have your reservation and confirm they have your special requests (e.g., smoke-free room, beach facing, etc.).
Get it in writing
Ask for written confirmation for all reservations. Almost all hotels will email you your reservation confirmation or fax you the confirmation if you don't have email access.
Be sure to bring a copy of your reservation when checking in, just in case the hotel loses you in their system.