Venturing into the uncharted, daring to conquer new obstacles, and embracing the thrill of uncertainty – backpacking is a true adventure. Yet, with great excitement comes great challenges. The trick lies in treading the path less travelled with confidence. Experienced backpackers have mastered the art of planning and execution, but if you're new to the game, keep these tips in mind to avoid getting lost in the magic of the wilderness.
Research Your Destination
First step to a successful adventure: research the area you're heading to and know the trail conditions. Study maps and read up on reviews. Stay safe and avoid unexpected mishaps by being prepared.
It's always a good idea to have some travel guides and nifty mobile apps at your disposal. Just remember to pick destinations where the weather is favorable and there won't be any nasty surprises.
Plan Your Route Carefully
Backpacking without a plan may seem exciting, but trust us, it's not. It's wise to have a well-planned itinerary that outlines the trail to be followed, the number of days required to complete the journey, and the daily destinations to be explored.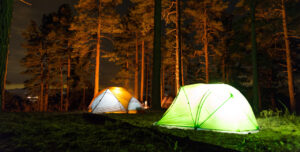 But, keep in mind that having a plan doesn't mean you have to stick to it at all costs. Backpacking is all about going with the flow and adapting to unexpected situations. And don't forget to keep an emergency number handy just in case!
Also read: 10 Best Summer Destinations In North India
Set A Realistic Budget
While backpacking generally a cheaper way to travel, the gear and supplies can still put a dent in your wallet. And if you want to add stops and overnight stays on your itinerary, the expenses can really add up.
To avoid breaking the bank while still having a good time, do some research and set a realistic budget that allows for necessary expenditures without sacrificing quality. After all, it's all about enjoying the adventure, not stressing over cash.
Pack Light And Pack Smart
When you head out for a backpacking adventure, it's important to pack only the essentials. Think about items like extra batteries, a trusty torch, dry and easy-to-prep food, extra cozy sleeping bags, toiletries, and a reliable first aid kit.
These things should be at the top of your packing list. Keep in mind that you'll be moving around a lot during your trip, so try not to pack too much stuff.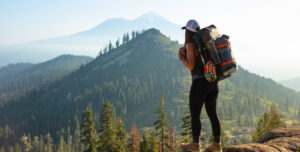 Grab The Right Footwear
One of the most crucial items you'll need for your backpacking adventure is a reliable and durable pair of hiking shoes. These trusty companions can make or break your trip, as ill-fitting footwear can lead to painful blisters and injuries, hindering the rest of your journey.
Also read: 5 Of The World's Most Unique Railway Routes
Take the time to test out various options to ensure that your shoes provide the necessary comfort, grip, and fit for a successful trek.
Get Familiar With Your Gears
Adventure is all about being prepared, and that means testing every piece of equipment you plan to bring. Whether it's your trusty sleeping bag or your rugged backpack, you'll want to make sure everything works as it should.
There's nothing worse than finding out your gear isn't up to the task when you're miles away from civilization. That's why it's essential to understand how to use your gear before you set out on your journey. Even if you're an experienced adventurer, it's a good idea to brush up on your skills and make sure you know how to set up your tent or navigate tricky terrain.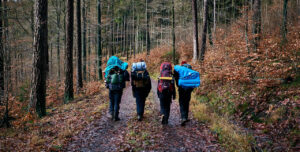 Leave Nothing But Footprints
Practice Leave No Trace principles to preserve the natural beauty of our outdoor spaces. Backpacking adventures can be amazing, let's make sure they stay that way for future generations.
Respect The Wildlife
Make sure to tread lightly on your wild backpacking journey and respect the creatures who call it home. Leave no trail of harm on the wildlife you encounter in the great outdoors.