Train travel has a certain charm that never gets old. Whether it's the nostalgia of old-fashioned locomotives or the thrill of speeding through scenic routes, there's something about train travel that is both romantic and exciting. And while there are many popular train routes around the world, some are more unusual and off-the-beaten-path than others.
The railway routes we've gathered are not only mesmerizing but also exhilarating. Buckle up and experience the most unique train journeys in the world.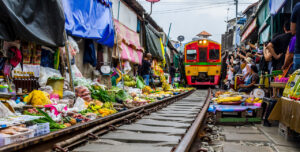 Maeklong Market Railway, Thailand
Have you heard about the Maeklong Market Railway in Thailand? It's an exciting train ride that passes through a bustling market. What's really fascinating is that the market is actually set up on the train tracks!
Also read: End Of The World Train Ride: An Epic Adventure
This means that shopkeepers must quickly pack up their stalls and pull back their canopies multiple times a day to let the train pass. It's a real hassle, but once the train zooms by, everyone resumes business as usual. It's quite a sight to see and definitely something to add to your travel bucket list!
Alaska Railroad, Alaska
If you're up for a journey through Alaska, then the Alaska Railroad is certainly the way to go. With breathtaking scenery that stretches as far as the eye can see, all you have to do is sit back and soak it all in.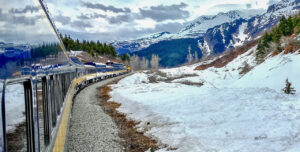 Opt for a double-decker dome car that lets you step out onto a balcony or unwind in the cozy interior of the upper level. So sit back, relax, and enjoy the ride – the possibilities are endless!
Hiram Bingham Train, Peru
If you're looking for an unforgettable adventure, hop aboard the Hiram Bingham train! This locomotive is named after the famous explorer who discovered Machu Picchu.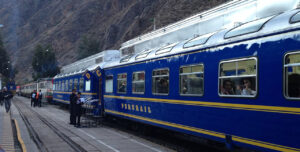 Departing from the lovely city of Cuzco, the train will take you through the breathtaking Urubamba River Valley, delivering a beautiful journey you will never forget. Explore Machu Picchu in style with the Hiram Bingham train – you'll be glad you did!
Also read: All About Ooty Toy Train Ride You Wanted To Know
Grand Canyon Railway, USA
Come aboard the Grand Canyon Railway and feel the nostalgia of the Old West. You don't want to miss out on the unique passenger cars, especially the dome cars exclusive to American railways.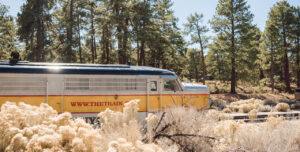 The trains depart from Williams depot and arrive daily at the south rim of Grand Canyon National Park, taking you on a 65-mile scenic route through diverse mountain terrains and breathtaking landscapes. Go ahead and book a ride. It'll be a memorable adventure.
Also read: Mountain Railways Of India
Tunnel of Love, Ukraine
It's a pretty unique sight to see! This train route cuts through a lush green tunnel, making it feel like a magical, otherworldly experience. And the best part? It's all natural!
The 1.8 mile-long tunnel is an excellent example of the beautiful things that can happen when we let nature take over man-made structures. It's become a huge tourist attraction for a reason, so if you're ever in Ukraine, make sure you stop by and check it out for yourself!