Great news for travellers! The Gramphu-Kaza highway through the breathtaking Kunzum Pass (14,931 ft) is now open for traffic movement again, thanks to the efforts of the Border Roads Organisation (BRO). After being closed for over seven months, travellers can now once again begin enjoying the stunning scenery and adventure that this route offers.
With this highway operational, you can now explore the breathtaking beauty of Spiti valley from the Manali and Lahaul side. It's a stunning landscape that you wouldn't want to miss. The BRO has informed the Kaza administration about the restoration of the highway, and now the administration will decide when to allow civilian traffic on the road.
Passing through the majestic Kunzum Pass at an altitude of 14,931 ft, this route offers incredible vistas of the Himalayan range.
The highway leading towards Spiti from Manali and Lahaul was inaccessible since mid-October of the previous year due to heavy snowfall. The Kunzum Pass and its surrounding regions receive heavy snowfall each winter, resulting in months-long roadblocks that disrupt transportation.
The BRO initiated the snow-clearing operation on the highway starting March 21 this year. The dedicated workforce and machinery worked tirelessly from both sides, Gramphu and Losar, to make the route available again. The snow clearance operation was successfully completed after a strenuous 69-day effort.
Also read: 51% Of Indians Report Cyber Fraud While Booking Travel Online
Kaza Sub Divisional Magistrate (SDM) Harsh Negi said the BRO has successfully restored the Gramphu-Kaza Highway for the movement of 4×4 vehicles as of yesterday. He further added that an inspection of this road would be conducted on Wednesday to assess its suitability for civilian traffic movement. Any decision to open it will be made only after the inspection and prioritizing public safety concerns.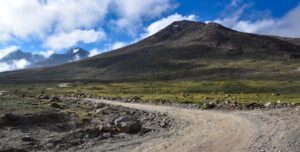 The SDM also mentioned that the road would be available for 4×4 vehicle movement via Kunzum Pass within the next two days; however, it may take some time to open it up for all kinds of tourist vehicles due to the snowy path.
Also read: Army Lifts Permission Requirement For Facilities Near Siachen Glacier Base Camp
The restoration of the highway has brought great joy to the residents of Spiti valley, particularly those associated with the tourism industry. This development is expected to provide a significant boost to the local tourism business.