Get ready for an exciting new experience on the Kalka-Shimla Railway. The train is getting a makeover with brand new Vistadome coaches and stunning interiors to make your mountain journey even more memorable.
The Railway Coach Factory has developed and manufactured new narrow-gauge coaches for this iconic 120-year-old train. Recently revealed, these coaches will undergo trials and if all goes as planned, they'll be ready to roll out on the Kalka-Shimla Railway line in just one year.
Here's everything you need to know about Kalka-Shimla Railway's new coaches
The UNESCO World Heritage Site Kalka-Shimla railway line will feature indigenously built compartments that offer modern amenities including a mini pantry, bio-toilets, power-operated doors and windows, 180-degree rotating chairs, CCTV, and fire alarms.
Additionally, the narrow-gauge toy trains will feature unique Vistadome train characteristics such as huge windows and glass roofs, providing an immersive experience of panoramic views of the majestic Himalayas.
Also read: Mountain Railways Of India
The Railway Minister, Ashwini Vaishnaw, recently tweeted about the cool Vistadome coaches that are making their way to the Indian Railways. He posted an image of a spacious coach with two comfy chairs facing each other, along with a convenient table and cup holders.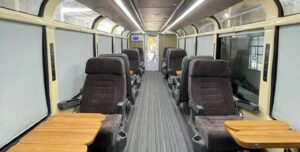 The best part? These coaches will come in both AC and non-AC options. According to reports, the Kalka-Shimla Railway will be getting a total of 30 coaches, which includes AC executive chair cars (12-seater), AC chair cars (24-seater), non-AC chair cars (30-seater) and five luggage cars.
Equipped with modern features
The new coaches on the Kalka-Shimla Railway are going to be top-notch. Passengers will be treated to great views thanks to power windows and darkening vista glass in the upper classes, as well as slide windows in second class for an even wider and more panoramic outlook. Plus, modern safety features like CCTVs and fire alarms will keep everyone safe and sound.
There'll be no need to worry about UV rays either since the windows will be coated with an anti-UV film. And, of course, who doesn't love a bit of comfort? These coaches will come fully equipped with heating and cooling AC, sleek LED lighting, and modular seating rail-mounted seats with flip-backs.
Also read: End Of The World Train Ride: An Epic Adventure
In the Executive class, passengers can expect some serious luxury with restaurant-style seating with extra luxurious chairs. Plus, an onboard mini pantry, luggage bins, and a vestibule between cars. Yep, these coaches are going to be amazing.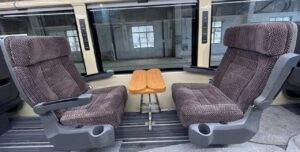 So, we've got some fancy new coaches on the way! They're going to be the kind with panoramic views, perfect for taking in all the beautiful scenery. Each train will have seven coaches including one AC Executive Chair Car, two AC Chair Cars, three Non-AC Chair Cars, and one Luggage Car.
Sounds like a great setup, right? And get this – they're going to be added to the current toy trains that run on this route! So, if you're planning a trip, get ready for an even better ride. These new carriages are sure to make your journey even more enjoyable.
Introduction of new coaches
The anticipated introduction of the advanced coaches is subject to approval from the Commissioner of Railway Safety (CRS) before it can be operationalized. The exact time and date of the unveiling will be determined by the Ministry of Railways.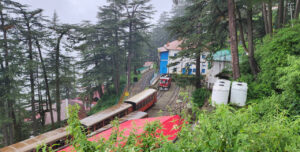 Kalka-Shimla Railway
The Kalka-Shimla rail route forms an integral part of Northern Railway's Ambala Division and was granted the prestigious World Heritage Site status by UNESCO on July 07, 2008. An illustrious relic of the past, this rail route was constructed during the British regime with the sole intent of linking Shimla, the erstwhile summer capital, to the Indian rail system.