India is a land of hidden treasures, and its splendid marine life is no exception. A diverse coastline and an abundance of marine biodiversity make it a paradise for every adventure enthusiast out there. From ancient shipwrecks to the most vibrant coral reefs, the underwater world is a mesmerizing gateway to a universe unknown.
As they say, life experiences are what truly enrich our soul, and scuba diving is one adventure that everyone should try it out at least once in their lifetime. It's a chance to witness the wonders of life beneath the waves, an experience unlike any other.
So, gear up and get ready for an adventure of a lifetime – the vibrant and diverse world of India's underwater treasures await! To help you plan your journey, we have curated a list of the top 5 best scuba diving sites in India. Let's experience the magic of the ocean together.
Top 5 scuba diving sites in India
India has some of the most spectacular scuba diving sites. But, with so many options to choose from, we've narrowed down the top 5 for you!
The Andaman and Nicobar Islands
The Andaman and Nicobar Islands beckon with their crystal-clear turquoise waters and thrumming coral reefs, a thrilling adventure for scuba enthusiasts. Havelock Island's legendary sites, Elephant Beach and Lighthouse, are brimming with vibrant marine life and stunning coral gardens.
Also read: Explore The Endless Scenic Beauty Of The Andaman And Nicobar Islands
And if you're feeling daring, head over to Barren Island and experience the wonder of India's only active volcano, with underwater lava flows and rare marine species you won't find anywhere else. It's an adventure like no other!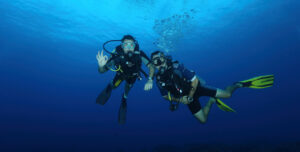 Lakshadweep Islands
The Lakshadweep Islands are like an oasis in the Arabian Sea. They offer a breathtakingly beautiful and unspoiled underwater world that is truly one-of-a-kind. Bangaram Island is especially incredible, full of vibrant coral gardens and colorful ocean life.
Also read: A Complete Travel Guide To Lakshadweep
If you're lucky, you might even catch a glimpse of majestic sea turtles, reef sharks, and manta rays. Uninhabited and pure, this island is a real gem. Agatti Island is equally breathtaking, you'll love exploring its picturesque lagoons, magnificent coral formations, and variety of tropical fish.
Netrani Island, Karnataka
You absolutely must add Netrani Island to your scuba diving bucket list. This picturesque island, located off the coast of Karnataka, is a haven for thrilling deep-sea adventures. Dubbed as Pigeon Island, its sparkling clear waters offer exceptional visibility and the ideal environment for divers to explore the mystifying depths of the Arabian Sea.
There's a whole host of beautiful sea creatures that you'll discover, from elegant angelfish to charming butterflyfish, if the stars align, you may even get the chance to swim alongside the stunning yet mighty whale sharks.
Pondicherry
Pondicherry, a magnificent coastal destination, is fast becoming a scuba diving hub. Dive into crystal clear waters and discover the breathtaking Temple Reef, a man-made marvel teeming with vibrant corals and a kaleidoscope of marine life.
Also read: Best Places to Visit in Pondicherry
And that's just the start – nearby Aravind's Wall and Cool Shark Reef offer their own exhilarating underwater landscapes just waiting to be explored.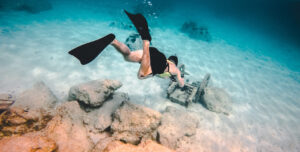 Goa
Goa isn't just about its stunning shores – there's a whole other world waiting to be explored under the waves. For scuba enthusiasts, Grande Island is a hotspot that shouldn't be missed. As you dive deeper, a magical realm unfolds.
You'll encounter beautiful coral reefs, shipwrecks, and catch glimpses of barracudas and snappers. For an extra special experience, be sure to visit Suzy's Wreck and Davy Jones Locker. These dive sites are absolute wonder.
---
If you love scuba diving, then you're in for a real treat. Our handpicked destinations have something special to offer every enthusiast. It's time to pack your bags, make reservations, and book your tickets for a memorable scuba diving adventure of a lifetime.