A cruise voyage is undoubtedly one of the most exciting and delightful ways to explore the world. Be it a solo escapade or a peaceful family retreat, there are infinite choices available to satisfy your every need on board. However, packing the right items for your journey is crucial as you will be away from civilization for days, with minimal access to essential goods.
To guarantee a hassle-free and serene experience, it is imperative to have a well-thought-out packing list before you embark on a once-in-a-lifetime cruise trip. Trust us, with the perfect essentials onboard; your cruise voyage will indeed be unforgettable!
Bring your essential medications
Stay healthy and enjoy every moment
Remember, even though your cruise ship is equipped with top-notch amenities, you might still experience sea sickness due to the constant movement of the vessel on the sea. Don't let this ruin your entire journey and bring along your preferred anti-nausea medication.
Whether you're a first-time cruiser or an experienced traveller, it's always best to come prepared. Additionally, don't forget to bring enough of your prescribed medicine for a few extra days beyond the duration of your trip. This will ensure that you are covered in the event of any unforeseen delays.
Also read: 5 Beautiful Lakes In Switzerland You Don't Want To Miss
Your health is of utmost importance, so make sure you take all necessary precautions to enjoy a comfortable and unforgettable cruise experience.
Pack foldable organizers
Keep your stuff tidy and avoid the clutter
Travelling on a cruise ship can be amazing but, let's face it, cabins aren't usually spacious. Trying to fit all of your belongings in such a small area can be really tough. It's frustrating when you have limited counter space to put your toiletries and other important items.
Also read: Here's Why Dubai Should Definitely Be On Your Travel Bucket List
That's why we recommend carrying a foldable organizer that can easily be hung on the door. It's a great way to keep everything you need within arm's reach, without taking up precious counter space. And when your trip is over, simply fold it up and store it in your baggage.
Choose clothes that fit the occasion
Dress up or down and feel comfortable
When it comes to what to wear on your cruise, it's definitely not a case of "anything goes". Make sure you pack a variety of clothing options, ranging from comfy T-shirts and trousers to loungewear that's perfect for lazy days onboard.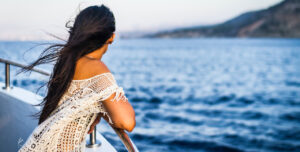 And, if your luxury cruise features gala dinners, you'll want to feel your best in a couple of glamorous outfits that suit the occasion. Plus, don't forget, ship decks can get quite chilly in the evenings and late at night, so be sure to pack a stylish stole or lightweight jacket to stay warm and cozy.
Also read: Soak In The Magic Of Monsoon At These Ten Stunning Places In India
Knowing that you have the right clothing on hand will let you fully relax and enjoy your cruise, no matter what the weather or itinerary throws your way.
Don't forget protection
Sunscreen, hat, sunglasses – you know the deal
Sun protection is an absolute must when cruising! As you'll likely be exposed to the sun for extended periods, make sure to bring an extra bottle of sunscreen and apply it all over your body before stepping out.
Don't forget to pack those stylish accessories like a hat and sunglasses for added protection during the trip.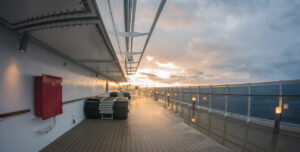 Bring a power bank
Stay connected and capture all the amazing memories
Make sure your phone is always charged by carrying a trusty power bank in your bag. This essential device will prove invaluable on your journey, allowing you to keep your phone powered throughout the trip without carrying additional devices.
And for extra peace of mind, add a waterproof cover to protect your phone from potential mishaps.
We hope this checklist helps you make the most of your cruise vacation!