The Union Territory of Pondicherry is a scenic coastal region with a mix of French and Indian cultures. The city is full of French colonial architecture, and visitors can explore the numerous monuments, churches, and temples.
The beaches of Pondicherry are some of the prettiest in India, offering crystal-clear waters and stunning sunsets. There are many places to eat and shop, so you'll never be short of things to do.
Pondicherry is also known for its spiritual retreats, where visitors can learn meditation and yoga. All of these things make Pondicherry an ideal destination for travellers looking for an exceptional getaway.
8 Incredible must-see attractions in Pondicherry
Our list of the must-see places to visit in Pondicherry will ensure you have an unforgettable experience. From the serene Promenade beach to the vibrant Sri Aurobindo Ashram, there are plenty of unique and interesting places to explore. Whatever you choose to do in Pondicherry, you're sure to have an amazing time.
Paradise Beach
Paradise Beach in Pondicherry is truly a magical place. It is one of the most popular tourist spots in the region, known for its stunning beauty, glittering golden sands, and quaint atmosphere. Visitors can spend hours relaxing on the beach, soaking up the sun and enjoying the tranquil surroundings.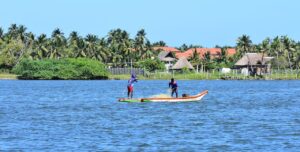 Reaching the beach is an experience that will stay with you forever. Boarding a ferry and travelling through the backwaters, surrounded by thick mangrove forests, is a unique and exciting way to get to the beach. The journey takes roughly 30-40 minutes, and once you reach the beach, you are greeted by golden shores.
Also read: Where To Go In Kerala? Five Best Destinations You Must Visit In 2023
You can take some amazing photos or relax while taking in the sights and sounds. If you want to be more active, you can rent fishing rods at affordable prices and try your luck at catching some fish. With so much to see and do, Paradise Beach is an ideal destination for anyone looking to get away from it all and enjoy some much-needed relaxation.
Promenade Beach
Promenade Beach in Pondicherry is a place like no other. Its azure waters, ocean sprays, shimmering sand and gorgeous coastline create a unique atmosphere that is so inviting. Visitors come from all over the country to enjoy the beach's unique atmosphere and take in the ocean's sights and sounds.
Promenade Beach is commonly referred to as Rock Beach because of the rocky shoreline that lines the beach. It is also known as Gandhi Beach because of a statue of Mahatma Gandhi that stands near the shore.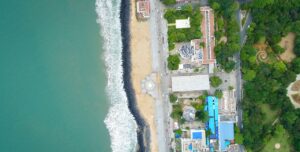 With its rock-lined shore stretching for 1.2 kilometres, Promenade beach is the perfect place to take a leisurely stroll and enjoy the beauty of the ocean. Along the way, you can admire the statue of Marquis Duplex, visit the First World War Memorial, or simply sit on the rocks and watch the waves crash against the shore.
It is a picturesque and peaceful spot, suitable for a relaxing day out. Whether you want to take a walk, take some photographs, or soak up the atmosphere, it's sure to be an unforgettable experience.
French Colony
Pondicherry is known for its beautiful French colonial architecture, and the Old French Quarter is one of its main attractions. Here, you can find quaint lanes lined with old houses that date back to the French period of rule.
These houses were built with the utmost care and attention to detail and are still breathtakingly beautiful today.
As you wander the narrow streets, it's easy to imagine what life must have been like here centuries ago.
The French colony is truly a place of beauty and serenity. The roads are clean, the beach is pristine, and the air is filled with the sweet scent of flowers. The long coconut trees provide shade from the sun, and their gentle rustling in the breeze is like a lullaby. The place is full of things to admire everywhere you look.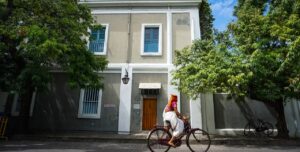 If you're a photographer, the views from this beach are simply stunning. From natural rock formations to beautiful sunsets, there are so many breathtaking sights to capture.
The combination of cultural attractions, beautiful architecture, and stunning beaches makes the French colony one of Pondicherry's key tourist destinations.
Immaculate Conception Cathedral
The Immaculate Conception Cathedral is the oldest church in Pondicherry and a must-see for visitors. Built by the first Jesuit Fathers in 1689, the cathedral is a beautiful example of Herrian, French, and Portuguese architecture, making it a unique and visually pleasing structure.
The cathedral is an awe-inspiring structure with intricate and ornate designs both inside and out. Its impressive architecture has drawn tourists from all over the world, eager to experience its grandeur. In front of the cathedral stands an esplanade, where visitors can witness religious ceremonies taking place within the church.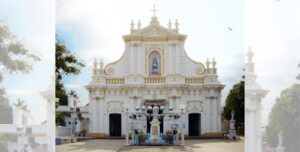 The church has a long and fascinating history. It was originally constructed as a small chapel outside the government park and served as the Parish church in the area. In 1729, the church's name was changed to Immaculate Conception Church, and it became a centre of Catholic worship. Over the years, the church has undergone several renovations to keep up with the changing times.
The church celebrates its annual feast on the 8th of December. This is a major event for the church and the local community, as thousands of devotees from neighbouring states gather to participate in the festivities.
Serenity Beach
Serenity Beach is a beautiful stretch of sand located just 12 km from the city centre of Pondicherry. As its name implies, the beach is renowned for its peaceful and calming atmosphere, making it the perfect place to escape the hustle and bustle of city life.
Also read: Explore Lakshadweep: A Complete Travel Guide
Serenity Beach is one of the most special places in Puducherry. Its white sands and rocky stretch make it a unique spot, and its beauty is enhanced by fishermen's boats and other gear along the shore.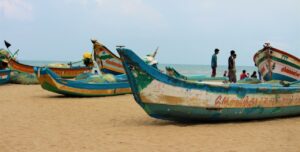 It is a breathtaking spot that is perfect for a romantic getaway. Its warm golden sands are inviting, while the trail of rocks that leads to the beautiful cerulean sea creates a sense of serenity and tranquility. The beach is also less crowded than other tourist destinations, making it ideal for honeymoon couples and families looking for intimate time together.
No matter whether you're looking for a romantic getaway or a family vacation, Serenity Beach is a smart choice.
Auroville
Auroville, also known as the City of Dawn, is an experimental township located in the Viluppuram district of Tamil Nadu, with some parts in the Union Territory of Pondicherry. Famous for its tranquil environment and stunning landscape, Auroville is a destination like no other.
It was founded in 1968 to create a self-sustaining, utopian community. The town is home to nearly 2,500 people from over 40 countries and is dedicated to spiritual growth and harmony between cultures.
Auroville is a fascinating example of how people from all walks of life can create a peaceful, sustainable environment.
Auroville has its own government, currency, and schools and is known for its unique architecture and diverse culture. The town is open to visitors and encourages people to come and experience its unique atmosphere and culture.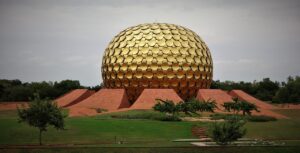 Auroville is a unique and beautiful place that draws visitors from all over the world. The town is full of life and energy, with bookshops, cafes, and restaurants that offer a variety of cuisines and experiences. One of its most iconic landmarks is the Matri Mandir, a large temple dedicated to worshipping the Divine Mother.
Aurobindo Ashram
Aurobindo Ashram is a spiritual retreat located in the heart of Pondicherry. Founded by Sri Aurobindo in 1926, the ashram draws thousands of visitors each year from around the world. Visitors come to the ashram to seek solace and inner peace and explore Sri Aurobindo's teachings. The ashram is home to various spiritual practices, from yoga and meditation to chanting and prayer.
Built in the name of Sri Aurobindo, a revolutionary figure who fought for India's independence, the Sri Aurobindo Ashram is a quiet and peaceful place. Visitors to the Ashram are encouraged to spend some time in silence and reflection, drawing inspiration from the peaceful surroundings.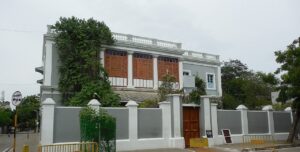 The Ashram offers a variety of activities and programs, including yoga and meditation classes, lectures, and other spiritual activities. There is also a library where visitors can browse Sri Aurobindo's writings and books on spiritual topics. Those looking to connect with their inner selves will find the ashram an ideal destination; it is a place where one can truly find peace and solitude.
Puducherry Museum
The wonderful collection of artifacts and historical treasures in the Puducherry Museum offers a window into a bygone era. Visitors can explore archaeological findings from the Anikamedu Roman settlement, one of India's earliest settlements. There are also remains of the Chola and Pallava dynasties, two of the most influential empires in South India during their respective eras.
The museum is a treasure trove of history and culture. Its walls are lined with stone-carved statues, bronze sculptures of gods and goddesses, ancient fossilized trees, and models of ancient modes of transportation. Visitors can marvel at the artistry of these items and gain insight into the past.
Also read: An Insider's Guide To Exploring The Greek Island Of Sifnos
The art gallery is one of the highlights of the museum and is home to an impressive collection of artworks. You will find prints from the colonial period, Tanjore paintings, and contemporary works in various mediums. Glass pieces, coloured works, pastels, and oils are all on display and are sure to captivate the eye.
Other items in the museum include brass temple lamps, church relics, handicrafts, coins and shells. For history buffs, the museum is a great way to get a glimpse into the past and explore the culture and lifestyles of the people who lived during these times.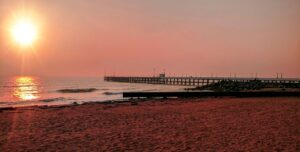 If you're looking for an unforgettable experience in Pondicherry, look no further. Our list of the top places to visit in Pondicherry will guarantee you a memorable time. So don't wait any longer – book your trip and explore the wonders of this amazing city.