Mapping out your route is one of the most important steps, before hitting the road. Navigation is critical. Here are seven essential navigation tips, from the legend HV Kumar aka the "Human GPS" of India.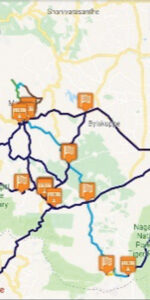 1 ANALYSE THE TRIP OVERVIEW
• Frame the overall Trip Plan – listing out the places en route, distances & key issues.
• Break it up into day-wise Drive Plan – where to start from & end the day.
• Allocate suitable time for breaks & stop overs – plan based on distance coverage & availability of facilities.
• Use arterial roads & main road corridors – understand the geography of Indian roads.
• Tag major towns en route for mapping facilities – suitable places to eat & stay.
Draw Up The Big Picture Before You Start The Drive.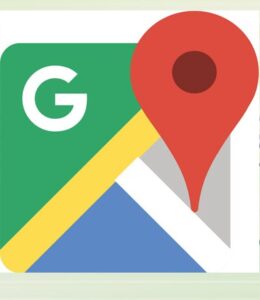 2 USE DIGITAL MAPS
• Select suitable Digital Map like Google Maps, MMI or RoutO – based on familiarity, compatibility with your telephone, data plans & state of mobile connectivity.
• Match selected route in the chosen Digital Map – hard coat your route in the digital map so that you never go misaligned or get lost.
• Mitigate risk of poor data connectivity by downloading Offline Maps – reduce dependence on erratic data connectivity, and ensure that you know where to go if the digital world collapses!
• Use Navigation features with care – sanitise place name spellings and audit that route is identical to what was identified in overall • Trip Plan; don't blindly follow a Digital Map, use it with care.
• Have a back-up plan if Digital Maps fail – or your mobile runs out of battery, poor data connectivity derails your navigation – don't over-depend on digital maps, keep written notes too!
Be rooted in the real world, Use Digital Maps with care.
3 OPTIMISE ROUTES
• Break up each day's drive into 3-5 hour sectors, connecting major towns en route – set targets for each slice of early morning, mid-morning, afternoon, early evening & late night drive sessions.
• Select roads that you will use – Bypasses, Expressways, etc. – bearing in mind facilities, breaks, stopovers, safety & detours that you may have to make; remember to choose roads not because they are shorter, but because they may be wider, faster, less of a risk from congested city centres & well-travelled.
• Identify points where you will enter towns for stopovers or sightseeing – understand how each town is laid out, use the arterial roads, ring roads, bypasses, etc. intelligently to reach your destination inside the town easily without navigating the smallest roads or fighting the inner city traffic chaos.
• Plan stopovers, refuelling and breaks – make sure you get your meals on time, check into hotels before it is too late, tank up without running out of fuel; avoid backtracking & route redundancies.
• Ensure that chosen routes are sanitised for safety & availability of facilities like restaurants, petrol pumps, hotels, car repairs, hospitals, etc. – say, do not get into a 200 km expressway that does not have a petrol pump unless you have your tank full…do not arrive at the fringes of the wild life sanctuaries after the check posts have closed the road ahead for the night…. and so on.
Plan Ahead. Balance priorities. The shortest route is not always the best.

4 GRAMIN APPROACH
• Keep yourself aligned with your surroundings, don't blindly follow digital maps – know the direction of travel, towns that you have crossed, towns ahead…… and read all the signage!
• Ask when in doubt – but choose the guy whom to ask carefully – always the trucker for Highway roads, the auto rickshaw driver for inner roads in towns, grocery shop owner for landmarks in his neighbourhood.
• Digital maps may not be "local" enough, recheck on the road. Understand local names & local routes – such as "Karnal Road", Not NH1! India keeps changing daily, be alive to the change!
• Realign route for local disruptions, or based on local advice – the man in the street may know better than you, or the remotely-controlled digital map interface that you are using.
• The local is not always right, he may not even have gone on the roads you are travelling on, weigh his advice carefully.
Respect local knowledge. Change plans according to local circumstances.
5 MAP OUT WHAT YOU WANT
• Identify the resources, facilities & things that you may need during the drive – wash rooms, petrol pumps, restaurants, hotels, workshops, etc. – and make sure that you know where they are available.
• Customise for special needs – young children, senior citizens, pregnant ladies – in your car, and also modify your time schedules & routes appropriately.
• Map beforehand, maybe by asking around or reading blogs, the best resources en route – such as good restaurant chains, COCO petrol pumps, clean wash rooms, branded/ budget hotel chains, preferred car service centres, etc
• Understand strength of mobile connectivity en route – especially if you are using phone Navigation, or searching for facilities on the move. And also if you are expecting regular calls that you have to take.
• Plan for special route issues – road closures at night, weather changes, wildlife crossings, peak hour – and have enough safety margin to avoid disruptions.
Being well-informed, Being a more intelligent traveller.
 
6 TIME THE DRIVE
• Plan timings for each sector, using suitable benchmarks – your own speeds, navigation tools like Google Map Traffic & moderation of speeds for type of terrain.
• Budget for extra time for stopovers, breaks, minor car breakdowns (such as tyre punctures) – and try to use those facilities that are frugal on time.
• Understand peak hour traffic issues in each sector and plan drive to optimise timings in such sectors – and plan breaks & stopovers before the countryside goes to sleep. Remember, India sleeps. After 10, no one & nothing is available 24 x 7 barring some petrol pumps.
• Keep track of time elapsed during the drive, revise your destination targets and keep benchmarking progress against estimated/ planned time – drive within your limitations & do not succumb to executing a bad plan or adhere to a plan that has gone awry!
• Start & Arrive in good time – keeping in mind availability of facilities, safety, traffic & need to adhere to your overall Trip Plan; your time plan should be optimal to minimise time spent on the road!
Each day's drive should be compact, drive schedules have to be adhered to, avoid shocks.
7 IF YOU GET LOST
• Keep checking if you are on the correct route & as per time plan – sense you are lost within 3 – 5 minutes, not after 2-3 hours!
• Be alive to the places you are driving through, keep ticking off destinations as they go by – the more the sectors identified in your Trip Plan, the less the chances of getting off route.
• Read signage on the road, connect them with your Trip Plan, you will never get lost. Take special care when navigating through towns, understand which landmarks to look out for, what to ask for…
• If you get lost, ideally return to the same point where you went off route – instead of finding alternative routes or trying to become Dr Livingstone.
• Avoid being re-routed via unfamiliar routes or places you had not originally planned for, use Navigation devices with care. Take local advice for re-routing with care.
You are never lost in India… But time is always a commodity in short supply.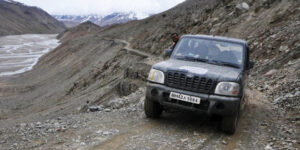 HV Kumar is a motorist based in Mumbai, who has been driving around India over the last 3 decades. You can read more about him in his Facebook Fan Page https://www.facebook.com/groups/hvkumar/ or email him at HVKumar@gmail.com