Travelling is a wonderful experience. However, it can also be stressful and expensive if you're not careful. That's why it's important to approach your travels strategically. Here are 20 hacks that will change the way you travel, ensuring a smooth sailing journey!
Travel Hassle-free with These Hacks
Always Keep a Digital Version of Your Passport
This simple travel hack is often overlooked. But what if you lose your passport mid-trip? Having a scanned copy stored in your email can save a lot of time and unnecessary stress at the consulate.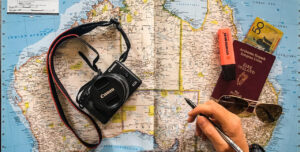 Invest in Travel Insurance
Unforeseen circumstances can arise anytime during your trip. An affordable travel insurance policy can protect you from any potential financial setbacks related to medical emergencies, cancellations, or lost items.
Also Read: Travel Insurance: Your Key To Blissful Explorations
Carry a Universal Adapter
How many times have you been caught out by different plug designs in different countries? Investing in one universal adapter is practical, financially smart, and stress-saving.
Space Saving Hacks
Roll Your Clothes for More Space
Surprisingly, this packing technique creates more room in your suitcase for other essentials. Besides, it also helps keep your clothes from wrinkling. Have you ever tried this before?
Try Using Packing Cubes
Consider packing cubes as mini compartments in your travel bag. They work wonders in keeping your stuff neatly arranged and tight, allowing you to locate what you need effortlessly. They are a real game changer for a stress-free travel experience.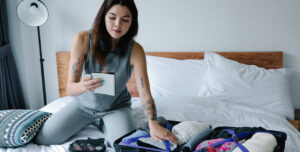 Travel Light
Who needs the hassle of checking in baggage or patiently waiting at the carousel? Pack essential items only and experience the liberating feeling of traveling light!
Smart Money-Saving Hacks
Eat Where the Locals Eat
Local food stalls and markets often offer delicious food at more affordable prices than tourist-heavy restaurants — and they offer a taste of authentic cuisine too!
Also Read: Get Ready For An Exciting Road Trip With These Stress-Busting Tips
Use Free Walking Tours
Free walking tours are available in most cities and are a great way to get to know a place. They're educational, enjoyable, and save you some cash!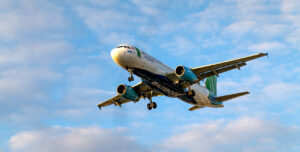 Make a Frequent Flyer Account
Becoming a frequent flyer is a fantastic way to save money. This small investment of time can turn into big savings, not only on flights but also upgrades and even free trips.
Book Overnight Journeys
Choosing flights and buses that travel overnight will not only save you precious daylight hours but also a ton of cash on hotel bills. It's like knocking out two challenges with one solution, right?
Visit Less Touristy Destinations
Less popular places are often much cheaper, yet still offer unique experiences. So, why not consider off-the-beaten-path locations for your next holiday?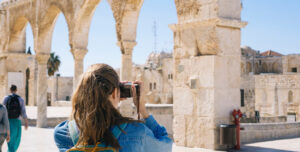 Travel Hacks for a Comfortable Stay
Check out Hotels that Offer Free Meals
They always say, "Breakfast is the key to starting your day right". So instead of forking out extra bucks for your morning meal, why not stay at hotels that offer free breakfast or meal packages? This tip can absolutely give your travel budget a good trim.
Also Read: Sailing Away On Your Dreamy Cruise Vacation? Check Out Our Helpful Checklist
Negotiate Hotel Rates Directly
Cut out the middleman and dodge the online taxes. You'll be surprised how often you can secure better rates this way.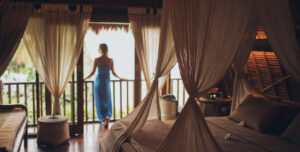 Stay Outside the City Center
Hotels can be expensive in the hustle and bustle of the city. Opting for accommodations just a bit further out can dramatically cut your travel costs.
Digital Travel Hacks
Use Offline Google Maps
Internet not reliable where you're heading? Download the Google Maps data for your destination and use it offline!
Free Wi-Fi Finder Apps
Wi-Fi finders can save your day when you desperately need to get online, helping you locate nearby Wi-Fi hotspots.
Also Read: 7 Must-Know Tips For Enjoying Your Caravan Life To The Fullest
Use an E-Wallet
E-wallets are convenient, secure, and may provide better exchange rates. It's time to join the digital economy!
Some More Smart Travel Hacks
Buy a Transport Pass
Public transport is an affordable and efficient way to explore a city. Therefore, purchasing a transport pass that gives you unlimited travel can result in significant savings.
Choose Your Seats Wisely
Want to be first in line for meals? Or prefer some extra legroom? Picking the right airplane seat can significantly influence your in-flight experience.
Hydrate on the Go
Always carry a foldable water bottle. You can refill it after passing security, saving you money and keeping you hydrated!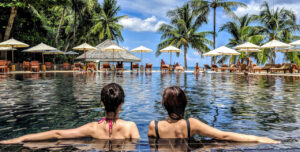 Undoubtedly, these travel hacks will genuinely transform the way you travel. They'll not only make your trips more affordable but also help reduce stress so you can focus on making unforgettable memories. Start incorporating them into your travels today, and feel the difference.