The global tourism industry is showing promising signs of recovery to pre-pandemic levels. Recent data indicate that the number of international tourists during the first quarter of 2023 has doubled compared to the corresponding period in the previous year.
New UNWTO Data: What We've Learned
The latest UNWTO data indicates that the global tourism industry has seen a strong and sustained recovery through the first quarter of 2023. The second World Tourism Barometer of the year reveals that international arrivals have reached 80% of pre-pandemic levels, with over 235 million tourists travelling internationally in the first three months alone – more than double the figure for the same period last year.
Furthermore, tourism has proven to be remarkably resilient in the face of ongoing challenges; revised data for 2022 shows that over 960 million tourists travelled internationally last year, representing a remarkable 66% recovery compared to pre-pandemic numbers.
Also read: 10 Wonderful Countries For Indian Citizens To Travel Visa-Free In 2023
UNWTO data offers an in-depth analysis of recovery rates based on sub-regions and destinations. According to the data, Southern Mediterranean Europe and North Africa have regained pre-pandemic levels in Q1 of 2023. On the other hand, Western Europe, Northern Europe, Central America, and the Caribbean have shown significant progress and are closing in on pre-pandemic levels.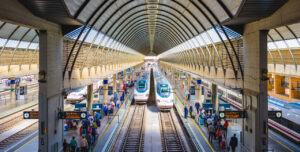 What it means:
According to Zurab Pololikashvili, the Secretary-General of UNWTO, the beginning of the year has demonstrated yet again the extraordinary capacity of tourism to recover quickly. In several destinations, visitor arrivals have neared or even surpassed levels recorded before the pandemic.
Nevertheless, it is essential to remain vigilant in the face of difficulties that encompass issues such as geopolitical instability, shortage of personnel, and the potential impact of surging costs on tourism. It is crucial to ensure that the resumption of tourism upholds its responsibilities toward resolving the climate crisis and fostering inclusive development.
---
As per the data, international tourism receipts have recovered remarkably in 2022, surpassing the USD1 trillion mark. This is a 50% growth in real terms compared to the preceding year. This upswing has been driven by the resurgence of international travel, which has been a welcome development for the tourism industry.
Also read: 5 Beautiful Lakes In Switzerland You Don't Want To Miss
Despite experiencing a reduction of 36% compared to 2019, measured in real terms, international visitor spending has recovered to reach 64% of pre-pandemic levels. Europe emerged as the top-performing region in 2022, amassing almost USD 550 billion in tourism receipts (equivalent to EUR 520 billion), which indicates a remarkable 87% return to pre-pandemic levels.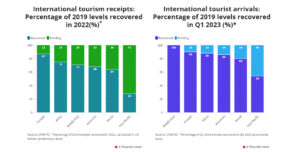 Africa's tourism receipts rebounded to 75% of pre-pandemic levels, followed by the Middle East, which saw 70% of its pre-pandemic receipts recover. The Americas enjoyed a similar resurgence, standing at 68% of pre-pandemic levels. However, Asian destinations faced prolonged border closures, leading to a 28% return in tourism receipts.
What's in store?
As we enter the new quarter, it's worth examining what's on the horizon. Q1 2023 outcomes are consistent with UNWTO's proactive projections for the year. UNWTO forecasts that global arrivals will be restored to 80% to 95% of pre-pandemic levels.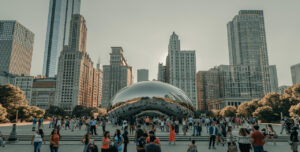 The UNWTO's expert panel has expressed confidence in a strong peak season (May-August) in the Northern Hemisphere, as highlighted by the updated UNWTO Confidence Index, which indicates that performance for the timeframe is likely to surpass 2022.
Challenges:
The resurgence of tourism is not without obstacles. The UNWTO Panel of Experts identifies the economic landscape as a significant setback to international tourism in 2023. This is due to intensified inflation and oil prices, resulting in amplified transportation and accommodation expenses.
Also read: 5 Of The World's Most Unique Railway Routes
Therefore, tourists are expected to choose more economical travel options closer to home. Furthermore, the apprehension derived from the Russian aggression against Ukraine, alongside other mounting geopolitical tensions, continues to threaten the sector.