The Manali-Leh highway spanning over 427 km has been successfully restored by the Border Roads Organisation (BRO) for 4×4 vehicles. To ensure safety, movement will be permitted only for vehicles equipped with anti-skid chains and solely for local residents.
As per the directives of the Deputy Commissioner, Lahaul and Spiti, Rahul Kumar, 4×4 vehicles are permissible from May 16 onwards, beyond Darcha in Lahaul and Spiti, toward Leh via Baralacha pass. The movement window for locals has been set between 8 am and 11 am. Tourist vehicles will be permitted only until Patsio, which lies a few kilometres ahead of Darcha.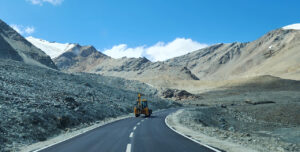 Likewise, the movement of 4×4 vehicles on the Darcha-Padum road will be permitted between 7 am and 10:30 am beyond Darcha towards Padum in Zanskar Valley of the union territory of Ladakh via Shinkula on May 16. However, only one-way traffic will be allowed exclusively for local residents. The DC has instructed the police to supervise traffic with a focus on public safety.