Do you crave the feeling of soaring through the open skies like a free bird and seeing the world shrink beneath you? If so, then paragliding is the ultimate pursuit for you. It's one of the most sought-after adventure sports that promises a sensational and unforgettable experience.
Fortunately, India is blessed with countless destinations that cater to every daredevil's fancy. Be it the rugged mountains or the mesmerizing coasts, there's always a new altitude to conquer and a new breathtaking vista to behold. India's diverse terrain is a playground for all those who seek to satiate their adrenaline rush.
India's most amazing paragliding destinations
India is a land of stunning landscapes that beckon paragliding enthusiasts to take to the sky and savour the thrill. Whether you're up for soaring high over snow-capped peaks, or gliding along pristine coastal cliffs, there's no shortage of mind-blowing paragliding spots in India.
Also read: Dive Deep Into The Blue World At These Top 5 Scuba Diving Sites In India
From the scenic hills of Bir-Billing to the vast panoramas of Kamshet, the sky's the limit. So, strap on your gear and soar above breathtaking vistas with our top picks for paragliding spots in India.
Bir-Billing
Bir-Billing, situated in the Kangra Valley of Himachal Pradesh, is a hub for all those seeking an adventure-filled vacation. It's dubbed as the paragliding capital of India, and for a good reason. The charming beauty of the valley combined with favourable wind conditions makes it the ultimate destination for adrenaline junkies.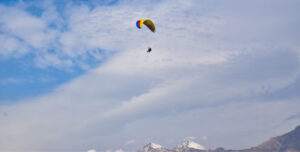 Take off from Billing, the second-highest paragliding launch site on the planet, and soak up the unbeatable views of the Dhauladhar range. The sheer excitement of soaring among the majestic snowcapped mountains is simply indescribable. Bir-Billing is the perfect place to let go of all your fears and escape into a world of adventure and wonder.
Kamshet
Kamshet, located in Maharashtra, has gained immense popularity among paragliding enthusiasts. With its ideal wind conditions, pilots can effortlessly soar over the sweeping vistas of Sahyadri mountains and serene lakes.
The emerald-green fields and cascading waterfalls further elevate the charm of this picturesque landscape, making Kamshet an irresistible destination for both seasoned and amateur flyers.
Solang Valley
Nestled near the charming hill station of Manali, Solang Valley offers an adrenaline-fueled paragliding escapade amidst unrivaled natural splendor. Awe-inspiring scenery of lush meadows, towering peaks, and rushing streams all around paints a striking backdrop for your flight.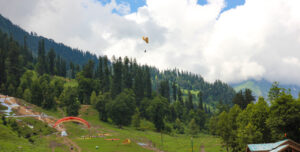 Take in the spectacular views of the Himalayan range as you glide through the skies, feeling the gentle breeze on your face. The whole experience is sure to leave you feeling amazed and refreshed.
Nandi Hills
Positioned in the state of Karnataka, Nandi Hills is a place that will instantly ignite your adventurous spirit. The surreal views of thick forests, undulating hills, and sprawling vineyards will mesmerize you while you soar high up in the sky.
Also read: Soak In The Magic Of Monsoon At These Ten Stunning Places In India
The blissful surroundings and gentle breeze set a perfect stage for an enthralling tandem flight, allowing you to relish every bit of this exhilarating escapade. And the best part? It's super close to Bengaluru, so you won't have to travel too far to uncover an unforgettable aerial adventure.
Pavana
Pavana, located in Maharashtra, stands out as an exceptional paragliding destination with dramatic views of the Sahyadri Mountains. The quest guarantees an invigorating flight over bewitching terrain with a gentle takeoff from the hilltops and a smooth glide over the tranquil Pavana Lake.
Also read: World's Most Expensive Adventures: The Top 7
As you hover above the lush green landscape and pristine waters, the magnificence of nature is bound to captivate your senses, leaving you awestruck. Pavana ensures an stirring paragliding adventure that will refresh your soul and lift your spirits.
---
No matter if you're just starting out or a seasoned paragliding pro, these top spots are ready to take you on a wild ride. Don't miss out on experiencing the beauty of India from high above. Book your trip today and experience the thrill of a lifetime!