Delhi: Inbound tourism stakeholders have expressed concern that their businesses will likely suffer due to the withdrawal of the e-visa facility for citizens of the United Kingdom and Canada. Stakeholders have requested the central government to resolve the issue to avert significant losses during October 2022 – March 2023 inbound season.
Aashish Gupta, the consulting CEO of Federation of Associations in Indian Tourism & Hospitality (FAITH), said that the UK and Canada were the top sources of Indian inbound tourism, contributing more than 10% together. In addition, the UK accounts for nearly 50% of Western Europe's inbound tourism to India.
Also read: Hikkim: Home To World's Highest Post Office
Apart from sending sizeable tourists, Gupta said, UK and Canada also contribute to diversity in Indian tourism, with nearly 45% of women travellers and an average of 20% of those in their 50s and older.
Negative media attention emanating from these source markets, added Aashish Gupta, is likely to negatively impact sentiment in other markets, hindering the revival of inbound tourism that is sorely needed.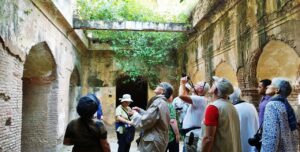 Indian Association of Tour Operators (IATO) had written to Prime Minister Narendra Modi last week seeking his intervention to restore e-visas for tourists travelling from the UK, Canada, and other countries.
According to the association, this season could also be washed out if the government does not act quickly. IATO reports that it takes 6-8 weeks to get a normal Indian tourist visa in the UK, which is very discouraging for the industry.
Also read: A Short Guide To Attending A Dalai Lama Teaching In Dharamshala
A covid surge in March 2020 halted the e-tourist visa facility, accessible to citizens of 166 countries, including the UK and Canada. The government reinstated the facility for 156 countries in March 2022 but excluded the United Kingdom, Canada, and Saudi Arabia, among others, for "security reasons."