As an American, I'd often wondered what it would be like to see His Holiness the 14th Dalai Lama – a living spiritual legend – not in a large Western venue like an outdoor sports stadium or a concert hall (where I'd seen him before), but intimately, on his home turf.
Happily, I had the chance to do exactly that recently, when I found myself in Dharamshala, India – where His Holiness resides in exile – while he was giving a two-day teaching. Suffice it to say, the conditions there for seeing him are nothing like those in the West, and I'd like to share my experience and explain how to go about attending one of his talks for anyone who may have the desire to do so.
If you're asking yourself why the head of Tibetan Buddhism resides in the hill regions of India and not in his native land, it's because he made a precarious flight over the Himalayan Mountains many years ago (in 1959) to escape the Chinese invasion of Tibet.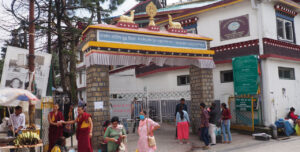 Upon arriving in India, he was granted political asylum, and he's lived there ever since (unfortunately, the conditions of oppression and cultural destruction in his homeland have haven't changed much is 60-plus years), while the Tibetan government-in-exile followed him there along with countless refugees.
His Holiness currently resides in The Tsuglagkhang Monastery (also known as the Dalai Lama Temple Complex), which is in McLeod Ganj, a part of Dharamshala that's higher up the mountain than the town of that name.
Perhaps because of this unique situation of a renowned spiritual master living in exile in another country, security measures are especially tight. As a foreigner, the first thing you have to do if you want to attend a teaching is register at the Branch Security Office of HH the Dalai Lama – a little building on Bagsu Rd in McLeod – a few days before the teaching.
Once you get there, you'll likely have to stand in a barely moving line in a cramped courtyard with a bunch of other foreigners, many of whom – with their long locks, full beards, colorful woven cloaks and handstitched bags look like they just stepped out of the Biblical era – in order fill out a brief form and then have your info entered into a database and your picture taken inside a dilapidated office, after which you're issued a simple passcard/ID that you have to pay a nominal fee of 10 rupees (12 US cents) for.
Personally, I got lucky when I went to apply for my pass because I was spontaneously shuffled upstairs with a couple other folks to a less crowded admin area, where the guy issuing IDs soon went on lunch break (I was his last 'customer'), and I didn't have to wait as long as some others (when I came back down the stairs to the courtyard space, it was like entering a tense hippy party zone with scores of people in sandals and loose-fitting clothing waiting around).
The ID, though the info on it is basic, is essential for getting into the teaching, because without it the security team at the temple won't let you in (I witnessed this firsthand one morning while waiting outside, when a guard wouldn't let an elderly Caucasian lady who didn't have one enter; she protested that the Security Office wasn't open at the moment – meaning she couldn't get one – but the guard insisted that it was). Also, the pass allows you to go through the foreigners line at the gate and bypass the (longer) one for locals.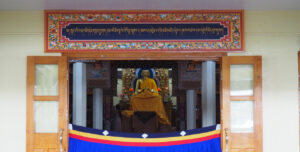 Besides this all-important foreigners' entry pass, which is only valid for the dates of the current teaching (if you want to attend another one at a later date, you have to re-apply), there are several other essential items you'll want to take with you to the event. (I had no idea about any of this when I first got to Dharamshala, but luckily I talked to a couple 'in-the-know' people beforehand).
The first is a cushion. You're not in the land of movies theaters and churches anymore, so there aren't any chairs – you have to sit on the floor. And while there are mattress-like pads strewn across the ground of the temple, unless you're OK sitting Indian style flat on your bottom, you'll want to put a cushion under yourself to make things more comfy. Conveniently, they sell just the kind of cushion you need – a flattish square one that folds in half and has a strap for easy carrying – everywhere in McLeod (mine cost 250 rupees [approximately $3]).
Another thing you should acquire if you want to get anything out of the teachings (given that they're in Tibetan, a language you most likely won't have studied in high school; though I have met multiple Westerners learning it here), is a radio. That's because all the translations are made on it, at different frequencies, so if you bring one with you, all you have to do is tune into the correct 'channel' for English, for example, and pop in your headphones (don't forget to pack those either).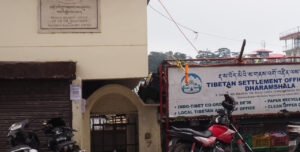 Again, as many shops in McLeod seem to cater to people attending the teachings, you can find small portable radios throughout the main shopping areas (I bought mine for 330 rupees [roughly $4]).
Finally, it was suggested that I bring a cup. Yes, a simple cup. Why? Because after the lecture begins, the local monks and nuns distribute snacks (balep korkun – a Tibetan flatbread – and packages of sweet rolls) and hot milk tea to those who want them. Actually, they also distribute paper cups for the tea, but as they're prone to run out (or so I was told), it's better to play it safe and invest in your own.
And while the milk tea is a bit on the salty side, it's also fairly tasty and refreshing if you arrive on an empty stomach like I did. I bought my cup/mug at a fancy Korean-type shop (called Miniso) that I was surprised to find existed in McLeod, for a mere $1.50 (120 rupees). Besides that, you can also pack a notebook and pen for taking notes if you like, along with some breakfast food of your own, apparently (the guy sitting next to me brought and ate a bowl of homemade gruel both days). Also, you should take along a mask if you don't want to buy one at the entrance of the temple; and make sure not to bring your smartphone – they're not allowed inside!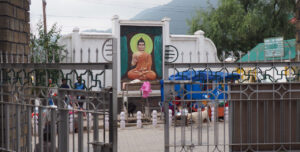 As those are the basics of preparing for a Dalai Lama teaching in Dharamshala, the next question becomes: What do I do after that? And, what's it like to attend?
The immediate following step is to show up bright and early on the day of the teaching – between, say, 6:30–7am – in order to claim a half-decent seat on the floor (the lecture itself begins around 8:30 and ends at 10). Basically, if you come at that hour, by the time you get through the security checks and everything, the place will already be swarming with people (monks, nuns, Tibetans, Indians, Westerners and sizeable groups of Asian laypeople trailing behind flag-waving leaders as though they were touring the Louvre), and finding a spot to sit will be challenging and chaotic but still possible.
In fact, a lot of folks arrive the night before, write their name on a piece of cardboard and tape it to one of the pads on the ground, claiming their spot in absentia, but as I had neither the will nor the resources to do that, I just showed up and winged it. On the first day, wandering around in a groggy, short-tempered daze, I got booted from several seating areas by the head 'reservee' of each section before eventually finding a vacant, unpadded spot near the 'oil lamp hall' on one side of the upper floor of the temple. Fortunately, someone left during the teaching and I was able to move up onto the bench outside the hall, which was a much more comfortable situation.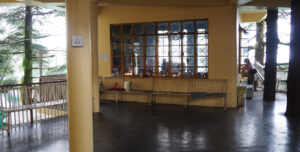 While teaching, the Dalai Lama sits on a throne-like chair beneath the temple's main Buddha statue in a limited-capacity central room, so that – if you're among the hoi-polloi listeners (like myself) – you won't actually be able to see him while he's talking. Instead, you can watch his image on one of the many screens around the temple while listening to him on your radio. (The screens also broadcast His Holiness's slow, tottering approach into the temple from outside, which is an entertaining viewing experience itself, as people bow and offer white scarves to him on all sides while he waves, pats lucky onlookers on the head and goofs around with children.) Once the teaching begins, things sort of settle down as everyone listens, and it's not until it's over again that crowd-control measures are put in place and the levels of excitement reach a fever pitch as His Holiness walks from the teaching area to the elevator through a section of the crowd.
Even if you're not so interested in Buddhism, attending a teaching will probably still be a memorable experience, given the singular atmosphere inside the temple, with Tibetans (old and young) dressed in traditional garb, scores of hippy-seeker-backpacker types and the vast number of Asian monks and nuns in attendance, while it's also a rare opportunity to see a kind of living saint up close and personal.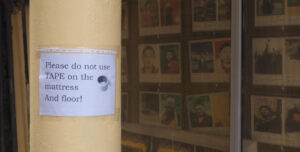 If you are interested in Buddhism, all the better, as the Dalai Lama will no doubt hammer home the core tenets of his specific brand of that religion, which focuses on: (1) bodhicitta (the cultivation of a mind of infinite altruism and compassion) and (2) emptiness (the notion that nothing in existence – including ourselves – has a permanent, unchanging essence, meaning in reality there's nothing to cling to).
The topic of the teaching I went to was the classic Tibetan Buddhist text The Supplement to the Middle Way and The Explanation of the Supplement to the Middle Way by the 7th-century Indian monk and scholar Chandrakirti, but if you don't have time study up on it beforehand, no worries, as His Holiness frequently goes off-topic to touch on more pressing issues, like the causes of suffering (karma and a distorted mind) and how to avoid depression (maintain a broad perspective of the world so you don't get overly elated or down about one thing).
When the teaching ends and the Dalai Lama – escorted by the two attendant monks he leans on while walking – finally descends the elevator and disappears from view, you may breathe a sigh of relief mixed with profound gratification that the tumultuous affair is over and you were able to have this precious experience and learn something from it, because – given His Holiness' advanced age (87!) – it's unclear how much longer he'll be addressing the public like that.
But perhaps if we all pray for his long-life – as many attendees at the teaching did – he will continue making appearances for years to come and you too will have the opportunity to see him in the unique Indo-Tibetan environment of Dharamshala.