Delhi: Himachal Pradesh on Thursday gets its first semi-high speed Vande Bharat Express train. Prime Minister Narendra Modi flagged off the inaugural run of the new Vande Bharat Express from Amb Andaura, Una, to New Delhi during his tour to Himachal Pradesh.
Upon arriving at Amb Andaura Railway Station in the Una district of Himachal Pradesh, the Prime Minister was accompanied by the Governor of Himachal Pradesh, Rajendra Vishwanath Arlekar, Chief Minister, Jai Ram Thakur, Union Minister of Railways, Ashvini Vaishnaw and Union Minister of Information & Broadcasting, Anurag Singh Thakur.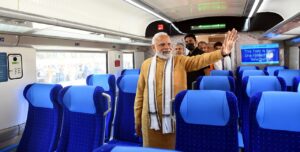 In addition to inspecting the coach of the Vande Bharat Express, the Prime Minister also took stock of the available facilities onboard. Prime Minister also visited the control centre of the locomotive engine of the Vande Bharat Express.
Later the PM laid foundation stone of Bulk Drug Park in Haroli constituency and also inaugurated the Indian Institute of Information Technology (IIIT) in village Saloh in Una district.
Vande Bharat: A booster for tourism in the region
With the introduction of the Vande Bharat train, tourism in the region will get a boost and travellers will have a more convenient and faster mode of travel.
It will take two hours less to travel from Una to New Delhi. The new train service would also benefit pilgrims and devotees visiting religious places in Himachal Pradesh, Punjab, and Haryana.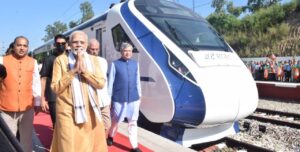 Timings and stops
Delhi – Una Vande Bharat Express will start its regular services form October 19. Except for Fridays the train will run six days a week. It will stop at Ambala, Chandigarh, Anandpur Sahib, and Una.
It will depart from New Delhi at 5:50 am and arrive at Amb Andaura railway station at 11:05 am. Returning to New Delhi, the train will depart Amb Andaura at 1:00 pm with a scheduled arrival time of 6:25 pm at New Delhi.
Fare
Train number 22447 (New Delhi – Amb Andaura Vande Bharat Express): For an executive class journey, you have to pay Rs 2045 with catering and Rs 1890 without catering. The ticket price for the Chair Car is Rs 1075 with catering and Rs 955 without catering.
Train number 22448 (Amb Andaura – New Delhi Vande Bharat Express): Rs 2240 with catering for an executive class trip and Rs 1890 without catering. The cost of a chair car ticket, with catering included, is Rs 1240 and without catering, it is Rs 955.
Also read: 5G Rolls Out In India, PM Calls It A Historic Day For The Country
Lighter, quicker and more comfortable
This is the fourth Vande Bharat train introduced in the country, running from Amb Andaura to New Delhi, and will be lighter and faster than the earlier ones. The new Vande Bharat 2.0 comes with enhanced features and advanced technology.
0-100 km in 52 seconds
In addition to reaching a speed of 0 to 100 kilometres per hour in 52 seconds, Vande Bharat 2.0 can reach a maximum speed of 180 kilometres per hour. Compared to the previous version of 430 tons, the new Vande Bharat Express will weigh 392 tons.
Also read: Adani Group Enters The Telecom Sector
The train will also feature a Wi-Fi content-on-demand facility. The new coaches are equipped with 32″ screens that provide passengers with information and entertainment, compared to 24″ on the previous generation.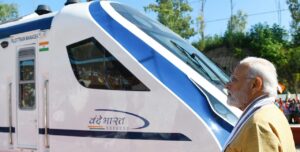 Energy efficient and environment friendly
The ACs on Vande Bharat Express will be 15% more energy efficient, making the train environmentally friendly. Travel will become more comfortable thanks to the dust-free clean air cooling of the traction motor.
All classes will now have side recliner seats previously only available to Executive Class passengers. There is an additional feature of 180-degree rotating seats in executive coaches.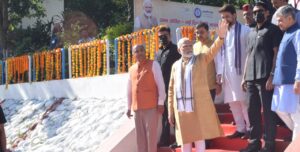 Roof-Mounted Package Units (RMPUs) are equipped with a photo-catalytic ultraviolet air purification system in the new design of Vande Bharat Express.
Based on recommendations by the Central Scientific Instruments Organization (CSIO), Chandigarh, the purification system is designed and installed on both ends of the RMPU. It filters and cleans the air to remove germs, bacteria, viruses, and other pollutants.
Also read: PM Narendra Modi Inaugurates Phase-I Of Ahmedabad Metro Project
Equipped with advanced safety features
Many superior and aircraft-like travel experiences await you aboard the Vande Bharat Express 2.0. It has cutting-edge, modern safety features like the indigenously developed Train Collision Avoidance System "KAVACH".