Santa Monica in California is a popular tourist destination located along the coast. It is known for its beautiful beaches and stunning views of the Pacific Ocean. Located on scenic Santa Monica Bay, this seaside city is bordered on five sides by Los Angeles neighborhoods, each offering its own unique charm and atmosphere.
To the north lies Pacific Palisades, a charming neighborhood full of historic homes and scenic views. To the northeast is Brentwood, home to some of the finest shopping and dining in the area. Just east is West Los Angeles, another popular shopping district, while Mar Vista is to the southeast and Venice is to the south.
Santa Monica is one of the best beach destinations in Los Angeles, and for a good reason. With its long stretch of sandy beach, stunning views of the Pacific Ocean, and vibrant culture, it's no wonder that Santa Monica is so popular. But what really makes it stand out is its convenience.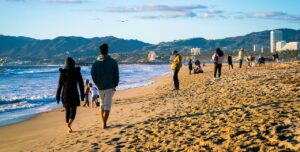 Most hotels in the city are located near the beach, so you don't have to go far to experience the beauty of the ocean. Whether you want to take a long walk with the sea breeze or relax and enjoy the sunrise, you can do it without travelling too far.
As a bonus, Los Angeles International Airport is not far from Santa Monica, making it easy to get around the city and explore the various attractions.
Best things to do in Santa Monica
There are plenty of activities to enjoy in Santa Monica. The beachside city is packed with attractions and things to do, so it can be hard to decide what to see first. Here are the best places for you to explore and discover when you're in the city:
Santa Monica Pier
Santa Monica Pier is one of the most iconic landmarks in the city of Santa Monica. It stretches from the intersection of Colorado Boulevard and Ocean Front Walk, which marks the end of Route 66, all the way out to a spot above Santa Monica Bay.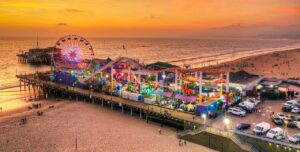 It's a vibrant, bustling boardwalk with entertainment and enjoyable activities. Among its most popular attractions are a historic carousel, Heal the Bay Aquarium, and Pacific Park, which has arcade games, rides, and food stands. Santa Monica Pier is a great destination for families and friends looking to have an exciting and memorable day out.
Original Muscle Beach
A combination of soft sand, ideal weather, and a multitude of attractions make Santa Monica's 3.5 miles of coastline some of the prettiest in the area. The beach is not only a beautiful place to relax and soak up some sunshine, but it is home to many unique amenities that make it one of a kind.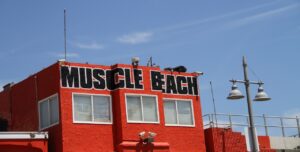 One such amenity is the Original Muscle Beach, a beach park from the 1930s that features vintage gym equipment. Visitors can take a step back in time and enjoy some classic bodybuilding exercises.
The beach has classic amenities, too, like the North Beach Playground and Annenberg Community Beach House. However, its famous pier is the beach's most popular attraction.
Third Street Promenade
A popular shopping destination, the Third Street Promenade stretches from Broadway (by Santa Monica Place) to Wilshire Boulevard. It has a lively vibe, similar to Santa Monica. This open-air shopping mall is an absolute paradise for shoppers of all kinds.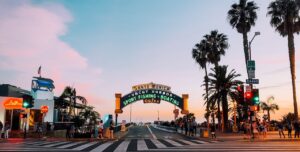 With major chain stores like Urban Outfitters and H&M, shoppers can find the latest clothing and accessories at reasonable prices. But that's not all – the mall also features some unique boutiques like Kenneth Karmiole and Bookseller Inc., the latter being a rare, by-appointment bookshop. And for those looking for something a bit more fun, the toys-focused Puzzle Zoo is sure to delight.
The Promenade is known for its vibrant atmosphere, with street performers and musicians often present to entertain passersby. There are also plenty of places to grab a bite, from casual eateries to upscale restaurants.
Santa Monica Biking
Santa Monica is an ideal destination for cyclists thanks to its abundance of trails and wonderful weather year-round. The Marvin Braude Bike Trail, also known as "The Strand," is a 22-mile-long bike path that stretches from Will Rogers State Beach in the north to Torrance County Beach in the south.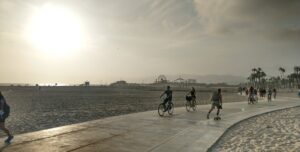 It is one of the most popular recreational trails in the region and takes cyclists through some of the most stunning coastal scenery in Southern California. Along the way, riders can enjoy views of the Santa Monica Mountains, the Malibu coastline, and the Pacific Ocean.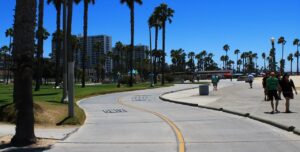 There are plenty of opportunities to take a break and explore, with access to restaurants, shops, and public parks. The Marvin Braude Bike Trail is an enjoyable and convenient way to experience Los Angeles' coastal beauty. The city is located just south of the Santa Monica Mountains, offering additional mountain biking trails.
Pacific Park
Whether travelling with children or seeking an adrenaline rush, Pacific Park is the place to be. Located on the Santa Monica Pier, the ocean-facing amusement park is packed with arcade games and thrill rides. It is renowned for its spectacular views of the Pacific Ocean and its signature Ferris wheel, which is the tallest in the world.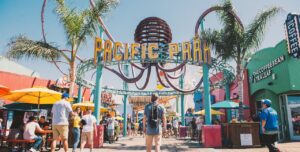 The park also boasts a variety of rides, games, and attractions that make it a premier destination for families and thrill seekers alike. It is home to the West Coaster roller coaster, the Pacific Plunge water slide, and many other rides.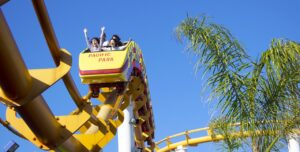 There are also plenty of options, from classic fair food to sit-down restaurants. The park is open all year round and offers special events, from holiday celebrations to fireworks shows.
Palisades Park
Palisades Park is the perfect spot for those looking for a beautiful view of Santa Monica Bay without the crowds of tourists. Located just a block from the beach, Palisades Park offers stunning coastline and ocean views. You can take in the sights of the sparkling Pacific Ocean, the Santa Monica Pier, and the sandy beach below.
The 26-acre park is filled with amenities designed to create a relaxing atmosphere while you enjoy the sunshine. Palisades Park houses picnic tables, benches, and restrooms. In addition, there is also a rose garden, pétanque courts, and a space that will host art classes for adults on a monthly basis.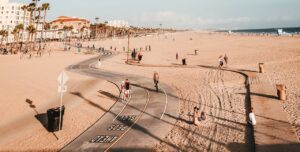 Heal the Bay Aquarium
Heal the Bay Aquarium is located below the Santa Monica Pier. It features interactive exhibits and displays of marine life from Santa Monica Bay and the Pacific Ocean. The aquarium is dedicated to educating the public about marine life, conservation, and sustainability.
The aquarium allows you to learn about more than 100 local species through exhibits, and educational programs, including talks and lectures, guided tours, and hands-on activities. Red octopuses, sea jellies, swell sharks, and stingrays are just a few of the creatures you may encounter here.
Santa Monica Place
Check out Santa Monica Place if shopping is one of your favourite pastimes. This modern outdoor shopping mall with high-end boutiques is next to the Third Street Promenade, another prominent regional shopping hub. The centre is home to a wide range of stores and restaurants, making it the perfect place for a day of shopping and dining.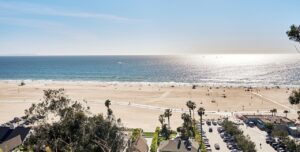 A movie theatre and a wide variety of restaurants are also located at Santa Monica Place. These include Sbarro, Johnny Rockets, The Cheesecake Factory, and local options like Sonoma Wine Garden and The Dudes' Brewing Company.
If you're looking for a fun foodie experience, there is even a cooking school that offers classes, chef demonstrations, and cookbook signings. With its unique mix of shopping, dining, and entertainment, Santa Monica Place is the perfect place to spend an afternoon.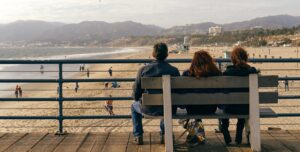 Tongva Park
Tongva Park is a welcome respite from the bustling tourist-filled streets of Santa Monica. This 6-acre oasis, named after the indigenous Tongva Indian Tribe, consists of four different areas: Observation Hill, Discovery Hill, Garden Hill, and Gathering Hill.
A phenomenal ocean view awaits you at Observation Hill. The splash pad, play area and shaded picnic area at Discovery Hill are popular with families. The beautiful flora on Garden Hill captivates nature lovers. Similarly, Gathering Hill attracts culture lovers eager to attend a free concert at the amphitheatre or explore the unique Weather Field art installation.
These are just a few of the many wonderful places to visit in Santa Monica. So if you're looking for a fun and exciting destination, this is it!
Best time to visit Santa Monica
Santa Monica is a great destination for a vacation any time of year, but the most ideal time to visit is between September and November. The fall months offer some of the warmest weather of the year without the heavy crowds that prevail in June, July and August. This allows you to enjoy relaxing on the beach and exploring popular attractions.
A fall visit is also a good time to find cheap deals on airfare and accommodations. Consider flying to the city in December, January, or February if you're on a tight budget and are okay with rain – though showers are few and far between since the city gets about 280 days of sunshine per year.