By Anjaly Thomas
It is difficult to judge Zimbabwe given its repute, so let's go by the visitor experience. It is a country of contrast, of stunning beauty, of warm, friendly and optimistic people.
It is hard to define Zimbabwe in a standard structure. There are many reasons for this. But the one we have grown used to is – the country is in the dumps, thanks to the decades of sanctions and a ruler that has just stepped down and uncontrolled inflation. True, Zimbabwe has had its share of bad press and zero-tourism, but there is a ray of silver lining! Today Zimbabwe is the tourism hotspot of Africa!
Let's face it. Despite the many positive changes, people still wonder – what do you do there? Is it a country of game parks? Is Victoria Falls its only claim to fame? Does it have any historic value of significance? I'll say – all of these and more holds true. But for me what stood out was the vibe of Zimbabwe – optimistic, upbeat and energetically positive. I was happy to experience that Zimbabwe also lacked the cutthroat competition and chaos generally seen in East Africa and was absolutely safe from the traveller's perspective.
Zimbabwe is an adventure paradise! From the stunning Victoria Falls, game drives to animal encounters, you have it all. No matter what you do here, the memories you shall be making will remain unforgettable.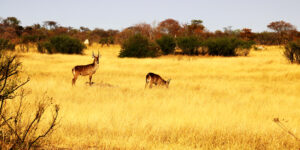 IT IS A COUNTRY OF GAME PARKS:
The game parks of Zimbabwe are teeming with wildlife. Be it the Hwange National Park, Matobo National Park, Mana Pools National Park or the South Gonarezhou National Park, you are assured to sight a large variety of animal and bird life here. From lions to hippos, elephants, kudus, rhinos, giraffe and a huge variety of peculiar birds and plants, you can have your fill of the African wild in Zimbabwe.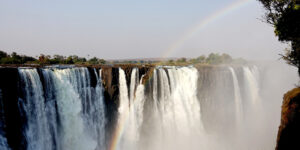 IT IS HOME TO THE MAJESTIC VICTORIA FALLS:
It is a well-known fact that the best place to see Victoria Falls is in Zimbabwe. These magnificent falls are neither the highest or the biggest, but definitely is the most beautiful! Scottish explorer David Livingstone described the Falls as "scenes so lovely it must have been gazed upon by angels in their flight." It is a quote that is inescapable when visiting the falls, both due to their beauty and the marketing.
Victoria Falls (located on the fringe of a town by the same name) on the southern bank of River Zambezi in Zimbabwe draw huge crowds and by far is the most visited tourist site of the country. Suffice to say: Nothing can prepare you for the sight that is Victoria Falls!
Hard to believe that until the year 1905, it was hardly visited. But the railway changed everything for good. Cecil Rhodes who took a personal interest in these falls commissioned the building of the railway line (ultimately aiming to connect Cape Town to Cairo). The first train Jack Tar that crossed the bridge can be now seen preserved in the Railway Museum in Bulawayo.
While you are in Vic Falls town for the waterfalls, there are a lot more things you can do. Which brings me back to the list of activities I did (I have of course missed a few due to lack of time and some due to fear) and thoroughly enjoyed.
TOP 3 THINGS TO DO IN VICTORIA FALLS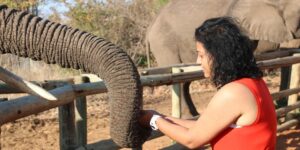 Elephant Feeding: Early in the morning, head to the Elephant Conservatory for the ultimate experience of feeding these gentle giants. It is amazing to see these lovely animals walk up to you and demand food!
Boma Dinner: The best way to enjoy local living. As the evening grows, gather around live cooking stations and dine to your hearts content on local delicacies like crocodile and warthog steaks, mopane worm. Wash it down with a strong Chibuku, a sorghum beer that packs a punch and jump on to the dance floor to welcome the night with the beat of African drums…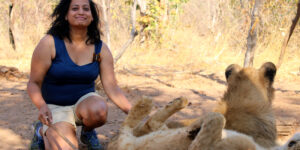 Walk with lions: So what exactly is this? Is this looking at lions through a grille? Or is it facing one in the wild? The latter, of course! Yes, it does sound like a fantastic idea but is possible and the feeling of it is amazing. I actually got to walk with lions, flanked by trained guards of course. But the experience was surreal!
ZIMBABWE IS HISTORIC
Evidences of Zimbabwe's historic relevance can be seen in the Matobo National Park. It is half-an-hour drive from Bulawayo. As one of the oldest and ¬nest national parks, it is also one of the very few places in the world where you can walk up to the rhinos (I mean, really close).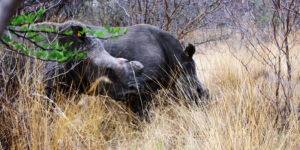 There have been numerous paleontology sites found in Zimbabwe. Rock art found in Matobo National Park are several thousand years old.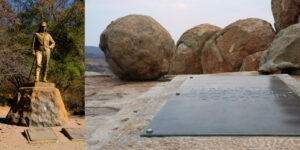 Cecil Rhodes, the founder of Rhodesia is buried here at the summit of Malindidzimu (hill of benevolent spirits). He referred to this hill as having a "view of the world". The site of the grave is carved out of a solid granite hill and surrounded by a natural amphitheatre of massive boulders. The view from here is the best reward you can hope for.
• The park features over 200 species of trees and a whopping 175 species of bird and 88 different species of mammal.
• The park has one of the largest concentrations of black and white rhinoceros (most of them dehorned to prevent poaching).
• The park houses some fine rock paintings (there are about 3000 sites). Especially renowned are the paintings at Nswatugi Cave which are perhaps some of the finest in the country and contain beautiful renditions of giraffe, eland and kudu.
• Numerous cultural and historical sites.
• The uniquely balancing rock features.
The history of the park is well documented in the Bulawayo Railway Museum. I'd say that Bulawayo Railway Museum is the highlight of a visit to this bustling city (which enjoys the status of being the railway hub of the country).
Anyone who loves trains – old or new, will, at some point in life, make their way to Bulawayo's Railway Museum.
The Railway Museum opened in 1972 and recreates the history of railroad infrastructure of the country. The Museum displays old steam locomotives, with the oldest dating back to 1897 and some more modern diesel trains. The exhibits include a number of models along with information panels which traces the development of the trains and tracks to over more than a century.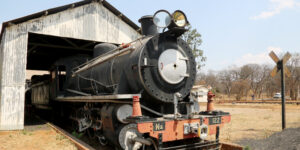 As I pace through the Museum (formerly a station building), I get the feel of walking back in time – as far back as 1930s and 40s. Old vintage phones and signal lamps adorn the walls. The theme changes as I cross the passage and step into the yard. This was train-heaven and only an enthusiast can understand what it means to see those lively engines staring at you from somewhere in the past.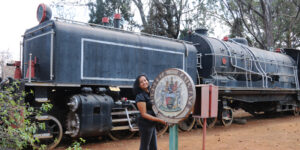 I wanted to climb them all, but was directed towards the right where a very aristocratic personal coach of Cecil Rhodes was parked. What a magnificent coach it was– pretty much intact from the time he rode in it. The guide led me through different sections of the coach – dining area, bedroom and the kitchen. The dining table was in fact laid out with ornate tableware recreating the scene of the past. My guide led me from one exhibit to another explaining the history of the exhibits. This is a museum where the staff is just as passionate about the museum as its builder. He explained how the first narrow-gauge trains travelled from Beira to Macequece in 1897 (today's Manica) and how over the years, it gave way to the standard gauge (1.07m). He particularly stressed the time period when locomotives evolved from wood-burning engines to the Beyer Garett. And yes, you can see both of these here.
Out in the open, heavy steam engines and diesel locomotives stood on the tracks…if only they came back to life! Whether you are a train enthusiast or not, this museum will fascinate you as it gives you an insight into the colonial history of the country through a portrayal of Bulawayo's extensive railway network.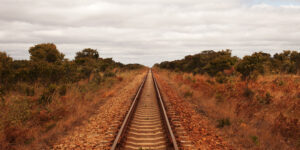 Good news, enthusiasts! The railway museum is open on all days. The entry fee is USD 2 and the moment you enter, you know you are going to enjoy feeding your childhood desire of riding the railway engines. The museum houses a variety of general rolling stock including livestock wagons, passenger wagons, dining cars and locomotives that you can climb onto and a maintenance trolley that you can still operate.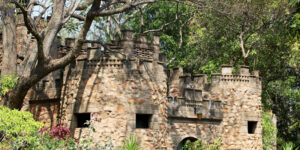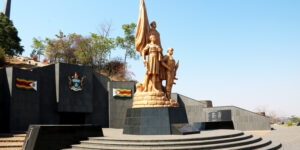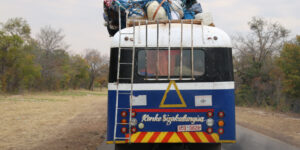 THE PEOPLE ARE ZIMBABWE'S GREATEST WEALTH
I'd say the people of Zimbabwe are its real wealth. It's extraordinarily difficult to put western standards on Africans, and it is not fair either. True, unemployment rate is high and the country is struggling to bounce back on its feet and reclaim its lost glory. But through it all, the warm smiles of everyone I met outshone everything else.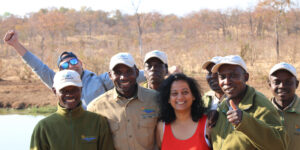 It is an extremely safe place to be and I hardly even saw beggars on the street! Not for a moment did I sense any form of danger. Of course, every country, developed or not, has its fair share of trouble and so does Zimbabwe! But for me, the highlight shall always be the extremely polite and hearty people.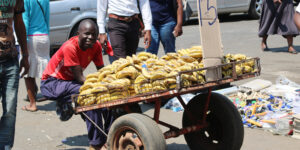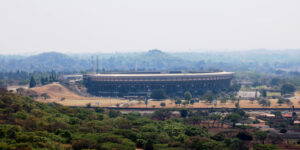 MUST KNOW:
• Visa on arrival for Indian passport holders.
• Visa cost: 30 USD. • Credit cards accepted at bigger establishments.
• USD is the trading currency.
• Carry cash in small change.
• It can be hard to get cash from ATM machines.
WHAT TO EAT: Food is always fresh here, be it vegetables, fi¬sh or meat. Locally grown foods should be preferred. In the capital city- Harare, you may find Western food. However in smaller towns, local food is preferred. Meals consist of sadza (maize flour meal) with meat stew and collard greens. Game meat can be relished here and includes ostrich, warthog and crocodile. The local beer is Zambezi – which is cheap and in abundance.
Never mind what you are told, go to Zimbabwe NOW!
Anjaly Thomas is a lawyer-turned traveller and writer. She has authored four books till date including one on North Korea. Currently based in Dubai, she has travelled to over 65 countries.