By Imtiaz Ullah
Travel does not only teach you about the unknown, but also brings to the forefront your innermost emotions, your identity which is hidden beneath the humdrum routine of "life". Travelling provides a new and wider perspective to life. In the true sense, you start accepting the behavior and actions of people around you more positively. While travelling, you meet people from different geographies and culture, thereby forging a lifetime friendship.
Through this article, I would like to introduce a hidden valley in Himachal Pradesh – Janjehli. Not surprisingly, I had fallen in love with Janjehli immediately upon reaching this place which is surrounded by stunningly pristine view of snowy mountains, lush green farmlands and the typical Himachali wooden houses. A perfect place to unwind, I said to myself.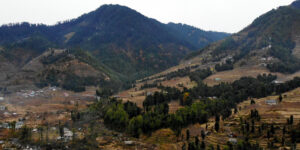 Janjehli is a picturesque village in the Seraj valley of Mandi district of Himachal Pradesh. It is located ninety kilometres from Mandi and is at an elevation of 2170m above sea level. This place is surrounded by pine forests and mountains. The valley and the surrounding places of its circuit have the potential of becoming one of the topmost site for adventure activities like – night safari, hiking, trekking and mountaineering. At a distance of sixteen kilometres from Janjehli is the Shikari Mata temple at a height of 3300 metres. However, the beautiful valley of Janjehli is yet to find a place in the regular tourist map of Himachal Pradesh. With no frills of modernity here, it is a refreshing break from the routine and packaged holidays.
Exploring Janjehli Valley is an adventure of extreme depth to observe nature. The natural brilliance of the valley will surprise anyone. The valley has abundance of natural beauty ranging from many trek routes, lofty mountain ranges, small streams and different species of birds. This place has a strong cultural and religious significance.
MUST SEE PLACES IN JANJEHLI VALLEY
Pandav Sheela
This place is two kilometres from Janjehli towards Mandi on Janjehli – Mandi road. As per a local myth, during the exile, the Pandavas stayed here for a night. Before proceeding further, the Pandavas dusted their 'Chilm' (a big pipe to smoke tobacco). As a result of it, the 'chugal' (a small stone inside the chilm to use for filtration of tobacco while smoking) of the chilm rested on a small stone. Surprisingly, you can move that huge rock only with your smallest finger but cannot shake that rock with your hand or full power.

This myth being related to the Pandvas, the area located nearby this place is hence called "Pandav Sheela". Pilgrims/ tourists while visiting Shikari Devi, Kamru Nag Temple and Budha Kedar, do stay for a while at this place and enjoy the natural mystery making this journey more memorable and charming. Pandav Sheela is surrounded by many beautiful hamlets which are worth seeing.
Bulah
Bulah is an open, lush green valley just six kilometres from Janjehli. Situated at a height of 2285m the place is dotted with thick forest and scenic beauty. One can enjoy quality time here amidst nature.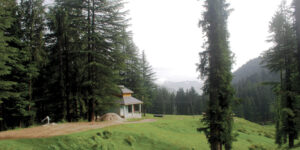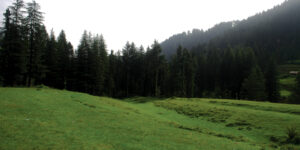 There is a natural water source close to Bulah which adds to the beauty of the place. This beautiful valley is on way to Shikari Devi Temple.
Shri Budha Kedar
At a height of 2743m, Shri Budha Kedar is a holy place at a distance of ten kilometres from Janjehli, out of which three kilometres walk is on foot from Kataru/Keolinal. There is a huge rock with a fourteen feet deep hole. The formation of this deep hole dates back to the Mahabharat era. Footprints of a male and a tail of ox, visible on the flat rock inside the hole is prime attraction of the place.
Shikari Devi
Regarded as Crown of Mandi, Shikari Devi (3359m) is one of the highest peaks of Mandi district. The temple is at a distance of sixteen kilometres from Janjehli where it is linked by a forest road. The Shikari Devi temple is devoted to Shikari Devi – Goddess of Hunters who is revered in the form of a stone idol. This temple structure is one of its kind as it is an open structure with no roof atop. The temple is believed to be in existence from the time of the Pandavas. Sage Markandaya also meditated at this place with a desire to see the worldly form of Goddess Durga.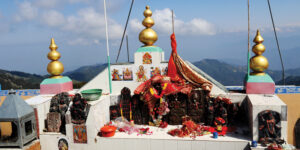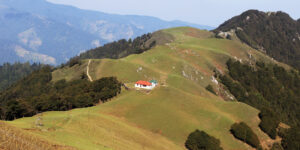 According to the myth, there will be no snowfall on the top of the temple. Snow never stays there despite the fact that the temple has no roof. Since the place receives heavy snowfall in winters, hence a visit during this time could be perilous. The temple is also surrounded by Shikari Devi wildlife sanctuary.
Devidarh
The place is blessed with breathtaking natural beauty having lush green fields, meadows and dense deodar forest. The place is located at an altitude of 7800 feet and is the last village within the Jiuni valley.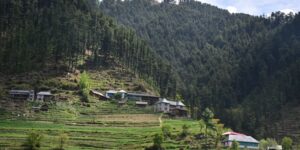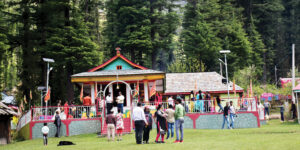 A temple dedicated to Mata Mundsan is located here. Devidarh is on the trek route Janjhali- Shikari Devi- Devidarh- Kamru Nag. Tourists can stay in the forest rest house at Devidarh.
Kamru Nag
Situated at a height of 3334m, Kamru Nag is known for a lake and a beautiful temple besides the lake. Scenic view of Dhauladhar Range and Balh Valley adds to the beauty of the spot. The temple of Dev Kamru Nag is surrounded by thick forests of deodar. As per tradition, Kamru Nag is the King Yaksha of Mahabharta and was worshiped by Pandavas.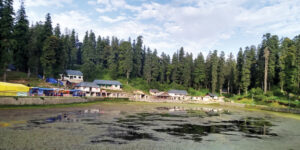 There is a tradition of offering gold, silver and coins in the lake by devotees on the fulfilment of their wishes by Dev Kamru Nag. It is not possible to estimate the quantity of gold, silver and coins of other metals that lie at the bottom of the lake. For nature lovers, Kamru Nag is a must visit place. Apart from a trek from Janjehli, one can reach Kamru Nag from Rohanda. It takes three to four hours to complete the on-foot journey from Rohanda to Kamru Nag on a steep mountain path of about six kilometres.
The journey to Janjehli, will be a lifetime experience. Though the valley is still a 'virgin destination', which has yet not been explored to full extent but now, Himachal Pradesh Government under the dynamic leadership of Chief Minister Jai Ram Thakur has initiated a number of schemes to develop the region as a major tourist destination.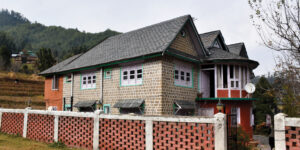 Some of the Government's initiatives are:
• Janjehli is being developed as a tourist destination under "Nayi Raahein Nayi Manzilein" scheme.
• An art-cum-cultural tourism centre is to be set up in Janjehli which will include an amphitheatre, theme parks, tourist information centre, recreational parks, "Haats" etc.
• An eco-tourism project in Janjehli which will not only help raise the livelihood of the local people but will also open alternative scope of employment.
• Chiuni, Shattadhar and Spenidhar would be developed under eco-tourism project and to give boost to religious tourism. Shikari-Mata, Kamrunaag, Tungashi Dhar and other such centres would be included under this religious tourism circuit.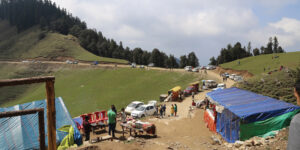 TRAVEL INFO
HOW TO REACH:
By Air: The nearest Airport is about 118 Kilometres from Janjehli at Bhuntar in district Kullu.
By Train: The nearest Rail Link is Narrow Gauge line at Joginder Nagar situated at a distance of about 152 Kilometres.
By Road: Janjehli is accessible by road from Nerchowk on Chandigarh-Manali National Highway. It is 95 kilometres form district headquarter Mandi.
Accommodation: Hotels and guest houses are available at Janjehli at reasonable rates. HP PWD Resthouse, Janjehli Contact Number +91-1907-266245
Climate: In winter, the temperature can hover around freezing point when heavy woollen clothes are required. During summer, the temperature can vary between 20- 30 degree Celsius and cotton wear is recommended.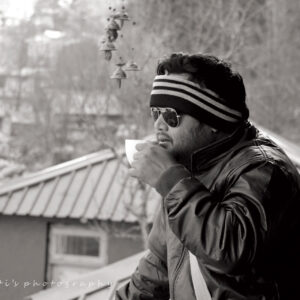 Imtiaz Ullah is a Corporate Attorney, Travel Writer with The Traveller Trails and also acts as an advisory member of NGO- Sarvahitey. He is the founder of travel website- NomadLawyer.org. His travel philosophy is exploring new places, meeting new people, knowing the culture, eating like a local, all with a full time job. He always believes in the idea- "Don't just be a traveller, but a Responsible one". He is involved with various projects that aims at upliftment of the society and also promotes responsible and volunteer tourism. According to his words, "Mother nature has given us beautiful places to explore. It's our duty to payback".