Shimla: After a challenging three-month hiatus, the iconic Kalka-Shimla railway line, a UNESCO World Heritage site, has sprung back to life. The historic track suffered severe damage during relentless monsoon rains that wreaked havoc on the region. However, the persistent efforts of the railways have paid off, and the track is now ready to welcome passengers once more. The track was damaged at over 175 points due to intense rainfall in the state, resulting in the suspension of train services on July 9, 2023.
Also Read: Chitkul In Himachal Pradesh Crowned India's Best Tourism Village Of The Year
The heavy rains that lashed the region from July 7 to 14 caused massive destruction, compelling the authorities to halt train services for safety reasons. Just when it seemed like the worst was over, another round of intense rainfall struck the area in August.
Unfortunately, this subsequent downpour led to additional destruction, primarily due to landslides. A 50-meter bridge was swept away, leaving a portion of the track hanging perilously.
Some sections of the track, such as the Kalka-Koti, Kalka-Solan, and Solan-Taradevi stretches, were partially reopened last month to provide limited connectivity.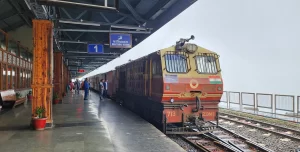 Spanning 96 kilometers, the Kalka-Shimla railway track traverses rugged and hilly terrain, featuring 103 tunnels (now 102, following the collapse of tunnel no. 46 four decades ago), 800 bridges, and 919 curves, all while negotiating steep gradients.
This track, rising to an altitude of approximately 1590 meters, is not only an impressive engineering feat but also a highly sought-after tourist attraction.
Also Read: Hanle Village Opens For Foreign Tourists

The resumption of the railway line brings joy to both locals and tourists as they eagerly anticipate experiencing an extraordinary journey through the heart of the Himalayas.