New Delhi: Chitkul, a remote village located in Kinnaur district in Himachal Pradesh, has received the title of India's "Best Tourism Village of the Year" from the Ministry of Tourism, recognizing its unspoiled beauty and dedication to sustainable tourism.
Major Shashank Gupta, Sub-divisional Magistrate of Kalpa, accepted the award from Union Minister of State for Tourism, Ajay Bhatt, at a prestigious ceremony in New Delhi.
If you're curious about what makes this secluded destination worthy of your attention, read on to explore the irresistible charm of Chitkul.
Also Read: The 5 Best Offbeat Destinations To Visit In Himachal This Winter
Chitkul: A Natural Masterpiece
With the majestic Kinner Kailash range towering in the backdrop, the Baspa River gracefully winding through its heart, and snow-clad peaks as far as the eye can see, Chitkul is a canvas painted by nature itself.
Its allure extends beyond breathtaking scenery. It offers a serene and peaceful ambiance, with a refreshing and invigorating atmosphere. The place is also known for its abundance of apple orchards, making it a visual treat for nature enthusiasts and photographers alike.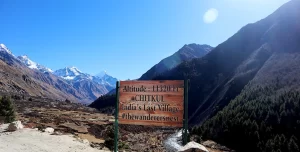 A Haven for Adventurers and Nature Enthusiasts
The recognition of Chitkul as the "Best Tourism Village" clearly highlights its increasing popularity among tourists and trekkers. What truly distinguishes this destination is its untouched and inviting setting, beckoning adventure seekers and nature enthusiasts to lose themselves in its unparalleled natural splendor.
The village has emerged as a sought-after destination for travellers from all around the globe, drawn by the promise of an authentic Himalayan experience.
Recognizing Excellence in Tourism
The "Best Tourism Village-2023" award for Chitkul not only celebrated its aesthetic appeal but also acknowledged its unwavering dedication towards promoting sustainable tourism practices.
The evaluation process considered various factors, including cultural and natural resources, economic sustainability, environmental conservation, governance, health and safety standards, promotion and preservation of cultural heritage, social sustainability, and overall tourism development. Chitkul excelled in each of these aspects, making it a deserving recipient of this esteemed accolade.
Preserving the Environment and Cultural Heritage
Major Shashank Gupta, Sub-divisional Magistrate of Kalpa, who received the award on behalf of Chitkul, emphasized the significance of responsible and sustainable tourism.
He urged all citizens to support the "travel for life" initiative of the Central government, pledging to preserve the environment and cultural heritage of the country.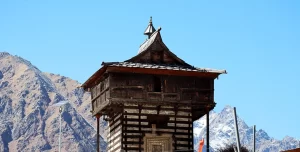 If you desire an extraordinary travel experience, Chitkul should definitely be on your bucket list. Chitkul undoubtedly leaves you spellbound from the very moment you set foot in its beautiful territory.
Also Read: Hanle Village: A Celestial Getaway Now Welcomes Global Explorers
Whether you seek adventure, serenity, or a deeper understanding of different cultures, this hidden gem in the Himalayas has everything you're looking for.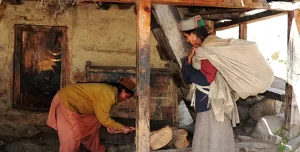 Travel Info:
Location: Chitkul is situated at an altitude of approximately 3,450 meters (11,320 feet) above sea level in the Kinnaur Valley, along the banks of the Baspa River. It forms part of the Indian Himalayas.
Scenic Beauty: The village is renowned for its stunning natural magnificence, featuring snow-covered mountains, lush green valleys, and a serene atmosphere. The Baspa River flows through the village, enhancing its charm.
Livelihood: Chitkul primarily functions as an agricultural village, where residents cultivate crops such as potatoes, peas, and apples. The landscape is adorned with terraced fields.
Trekking: The village serves as a starting point for various trekking routes, attracting trekkers from different parts of the world.
Weather: Chitkul experiences cold weather year-round, with heavy snowfall during the winter months. It's important to note that the village becomes inaccessible during heavy snowfall.
Culture: Chitkul is inhabited by the Kinnauri people, who have their own unique culture and traditions. Visitors have the opportunity to immerse themselves in the local way of life and engage with the amiable residents.
Connectivity: Chitkul is reachable by road from Sangla, which is the nearest major town. The journey to Chitkul is scenic but can be challenging due to the narrow and winding nature of the road, especially in winter.