India is home to a rich and diverse cultural heritage. One way to explore the centuries old heritage is to visit the iconic gateways that are all around the country. From the magnificent India Gate to the iconic Gateway of India in Mumbai, each gateway is unique and offers a fascinating story. Visiting these sites is a great way to learn more about India's history and culture and appreciate the beauty of these magnificent monuments.
India Gate, Delhi
India Gate is one of the most iconic monuments in India. Located in the heart of New Delhi, it stands as a symbol of national pride and patriotism. Built in 1931 to commemorate the 70,000 Indian soldiers who died in World War I, India Gate stands 42 meters high.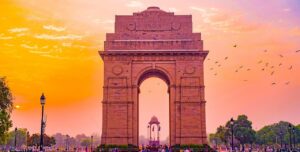 It is a picturesque sandstone structure surrounded by lush gardens and fountains. Every year, millions of people from around the world visit India Gate to pay their respects and take in this historic monument's beauty and grandeur.
Also read: The 5 Best Offbeat Destinations To Visit In Himachal This Winter
Inida Gate is the site of several high-profile ceremonies and events, including the Republic Day Parade on January 26th. It is a striking and vital reminder of India's history and a source of pride and inspiration for all Indians.
Buland Darwaza, Fatehpur Sikri
Buland Darwaza is a magnificent gateway located in Fatehpur Sikri, Uttar Pradesh. Constructed in 1602 by Mughal Emperor Akbar, the gate stands at an impressive height of 173 feet (54 meters) and is one of the largest and most remarkable gates in the world.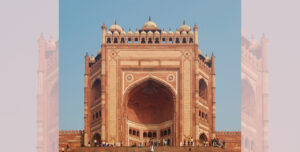 The gate is made of red sandstone and decorated with intricate carvings along its entire length. Its grandeur and size symbolize the power and might of the Mughals. The gate is also symbolic of the religious tolerance of the Mughal Empire, as it was constructed in honor of Emperor Akbar's successful campaign in Gujarat.
The gate has several inscriptions and carvings of Islamic calligraphy and sacred Hindu symbols, reflecting the religious harmony of the era. Buland Darwaza remains a popular tourist attraction and an intriguing architectural marvel. Its impressive size and lavish adornments make it a sight to behold, and its symbolism of religious harmony is inspiring to all who visit.
Bhadkal Gate, Aurangabad
The Bhadkal Gate is one of the most prominent historical monuments in Aurangabad, Maharashtra. It was built by Malik Ambar, the ruler of the city, in 1612 and stands as a powerful reminder of the city's storied past.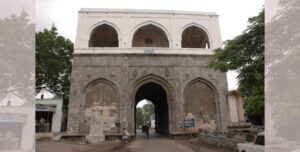 The gate was constructed to celebrate victory over the Mughals and is also known as the Victory Gate. It is a magnificent sight to behold and is considered an architectural masterpiece.
Also read: Six Amazing Holiday Destinations For Yoga Lovers In India
Thousands of visitors flock to the gate every year to marvel at its beauty and capture its timeless charm in photographs.
Sikandra Gate, Agra
This beautiful gate is located on the outskirts of Agra. Mughal Emperor Akbar began its construction, but his son continued it after his death. Completed in 1614, it is a beautiful example of Mughal architecture.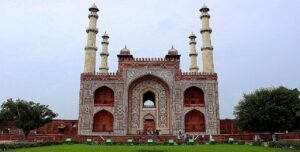 It stands at the entrance to Akbar's tomb, and its four gates symbolize the four stages of his life – birth, life, death, and the afterlife. The structure is notable for its delicate and intricate carvings.
Visitors are reminded of Akbar's life and achievements when they enter the gates. The Sikandra Gate is an impressive sight and a great way to get a taste of Mughal architecture and culture.
Gateway of India, Mumbai
The Gateway of India is a historical monument located in Mumbai, India. It was built in the early 20th century to commemorate the visit of King George V and Queen Mary to the city. Designed by Architect George Wittet, it is roughly 85 feet (26m) tall and has four turrets that rise to a central dome.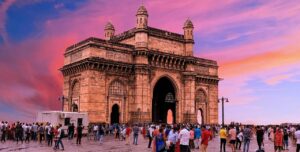 It features an arch design with intricate carvings and stands on the waterfront, overlooking the Arabian Sea. It has been the site of several historical events, including the official farewell of the British Raj in 1947.
The Gateway of India is a popular tourist attraction and was the first structure visitors saw when arriving in Mumbai by sea. It is also a popular spot for residents, who often come to take in the views and enjoy the peaceful atmosphere of the area.
The Gateway of India is a reminder of the city's rich history and cultural heritage, making it a must-see destination for anyone visiting Mumbai.