India is set to resume its e-visa facility for British passport holders, allowing them to enter the country without a traditional visa. Due to the COVID-19 pandemic, the e-visa service to India was discontinued in March 2020. The service was restored last year for virtually all nations except for a few, notably the United Kingdom and Canada.
The Indian High Commission to the United Kingdom confirmed the news on Twitter, saying that UK citizens can apply for e-visas once again for travel to India.
Vikram K Doraiswami, the Indian High Commissioner in the UK, said in a video message on Twitter that India is once again rolling out e-visas for UK citizens. It will enable friends in the United Kingdom to travel to India more easily.
Also read: No Last Name On Passport? UAE Won't Let You In
Further, he said an upgrade is currently underway, and the visa website will soon be ready for applications from the United Kingdom.
What is e-visa?
The e-Visa is a digital form of the standard visa, which makes it easier and more convenient for travellers to apply for and receive a visa to India.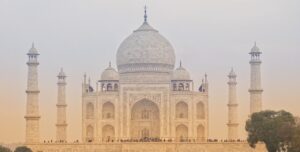 It is especially valuable for travellers looking to book a last-minute trip or unable to access the standard visa application process. It eliminates the need for a physical appointment at an embassy or consulate and simplifies the visa application process. The e-Visa also allows travellers to stay in India for up to 60 days, which gives them plenty of time to explore the country.
A welcome news for UK travellers
The news that India is resuming its e-visa facility for British passport holders is a welcome development. It will allow British visitors to apply for visas online rather than go through the process of applying for a physical visa in person. It is excellent news for people planning to travel to India, as it will make getting a visa much easier and more convenient.
The e-visa for India is one of the fastest and easiest ways to visit the country. Recent months have seen a growing backlog for Indian visas due to a lack of open appointments and lengthy processing times. There were reports earlier that many Britons had to cancel or postpone their India holiday plans due to delays in getting a visa for India.