Words: SABRINA MICHÉE
Photo Credit: ARPITA ROY
Incredible India, here I was, back again for the second time. What a bliss to be back! This time the journey will be dedicated to mountaineering in this beautiful place in the Himalayas – Ladakh, where I had been planning to go for ten years.
One week after doing yoga in Rishikesh to get my mind and body ready for the summit, I met my two Indian girl pals at the Leh Airport. When you almost cry the moment you set foot out of the plane, looking at the view of the surrounding magnificent mountains, you already know that the emotions they will trigger will be memorable.
Here in Leh, at an altitude of 3500m already, we spent a few days to acclimatise and get to know each other before starting the ascent of Stok Kangri. Arpita, one of my companions is a film maker from Kolkata. You could tell that by looking at the amount of material she was lugging around and how serious she would get about it. Purva, the tiny girl with a big smile, is a photographer from Mumbai. The mountains are professional play-grounds for them, and I wish one day it would be the same for me.
We all had our reasons to be there and climb the mountain. Arpita told me she was actually working on a long-term project called "The Journey of a Mountaineer". She plans to present it in an interesting documentary format and show both the inception of a mountaineer while training and connecting to the mountains as well as the changes in the video maker who is growing his/ her skills to get a different perspective. The documentary started at a mountaineering institute (Phase 1 at HMI, Darjeeling), and would be shot at expeditions of 6000m, 7000m and 8000m. All of them would be chosen because of their unique nature and she planned to make documentaries out of it.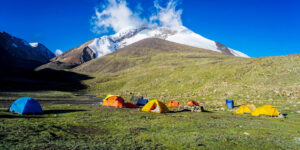 Purva and Arpita once met at the Mountaineering Course in Sikkim, and Arpita asked her to join in this trek. Here in Ladakh it was going to be Phase 2 for "Journey of a Mountaineer". The ascent of Stok Kangri would be a part of this phase. I was thinking I would love to be a part of it. And I would, actually.
My motivations to be there were multiple. I am a French girl living in Paris for now. But I am a mountain child from Grenoble, a French Alps city, where I mostly go snowboarding in winter and sometimes hiking in summer. So living in Paris, nature was always calling me and I was looking for some challenges. Last year, after I gave up my Job as a Communication Manager, I travelled with friends to India. But I was in such bad shape that during a trek in Sikkim, I struggled to even reach 3700m! I bettered myself by doing the Annapurna Base Camp in Nepal. And indeed, I reached 4130m way faster. The fact is I am also working now on a recycled food project, transforming beer waste (spent grains of barley malt) into nutritive instant noodles. I decided to bring some of this to try the concept with trekkers. I already knew that Maggi noodles are Indians' favourite quick dish to have on hikes, so it would be the best application example. Arpita decided she would add a cinematic angle to it during the ascent. Nice, I said!
From the valley, you could already admire Stok Kangri and its range. "The mountains are calling me" would be Arpita's motto all the way. So it was just the three of us with the heavy backpacks! A few stops to take pictures and flying the drone, we met several groups of trekkers with mules, guides and their team. We spent one night in Mankorma, a place with some astonishing views, a river and a common yellow tent with an old guy sitting in the centre, making some horses' equipment. Our first lunch was Maggi Noodles!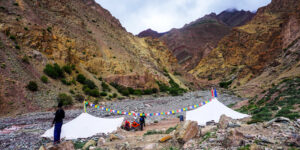 We also met on the way, "the crazy UK guys", as we called them, who were on their second attempt as they got sick during the first attempt a week earlier. They were back again without resting much. And on that night to the summit, they were the only two men on the mountain as no group had planned to ascend that night. They were with no guide either. They succeeded and came down directly to Leh the same morning. Such was the perseverance of the crazy UK guys.
Next morning was an easy hike till the Base Camp (4980m), but we started feeling heavy, maybe because of the lack of oxygen. I had a slight headache but a Diamox managed it easily. There we met Kalyan, the "Boss", nicknamed "Time Pass" because he usually spent three months there. He was head of the camp and always full of jokes. Food was good there and always different. "Eating isn't a crime, wasting is!" Kalyan kept repeating. So we ate, read, talked, slept on repeat for two days.
Everybody was so nice at the camp that you just wanted to stay there for a while. An American couple told us how they easily reached the summit the night before. The next day we exercised wearing the crampons and walked with those on the grass. The glacier was calling us. We would have to use a rope and Ice axe as well. First time for me!
Because I was faster all the way to the BC, we decided to split for the N-Night. Arpita and Purva were to follow a group leaving at 9.00 PM and I were to go with Sonam our guide, at 12 midnight. Sonam was the girls' instructor in a Mountaineering course in Sikkim. You are allowed to climb this mountain by yourself, but everyone will advise to get a guide, especially if it is your first time. So we did.
I took the opportunity to ask for his advice about the proper way to breathe as I am asthmatic. He got scared with this information and decided to prepone our departure to 11.00 PM instead.
A couple of hours later:
Sonam: Sabrina, let's leave earlier… by 10.00 PM instead. I am not comfortable with that matter.
Me: No that's too early. I know I can go faster and will manage my asthma, that's not a problem.
Sonam: Ok, ok, but take your medicine with you.
Me: Of course! Don't worry about me.
But after this conversation, all my confidence dropped. We didn't know much about the trek. I had heard about a glacier, plus somewhere you should put on crampons and somewhere you should rope, that's pretty much all that we knew… You have to be back before afternoon, otherwise the glacier melts and crevasses get too big. This needs no explanation as to what danger it poses. It takes an average of twelve hours, 12 kilometres up and down to reach almost 6153 from 5000m, BOOM!!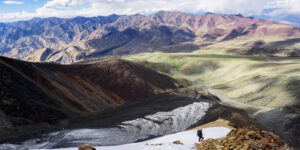 9.00 PM: The girls had just left. I went to my tent to rest and sleep if possible. Of course I couldn't relax, let alone rest. I had trouble breathing! This was the first time it was happening since I arrived in Ladakh. And the more I thought about it, the less I could breathe properly. I had a bit too much of food at dinner and my stomach was swollen, almost painful. No food poisoning again please, I prayed.
10.45 PM: Sonam came to my tent. I ran to the toilets, feeling as if I was appearing for one of those stupid exams. I was feeling sick because of the food and stress. But the pressure, I wondered why? Maybe because of the anticipation or the fear of failing.
We finally left. My legs were shaking. I still couldn't breathe, though it was no asthma; this was no altitude sickness either but anxiety crisis, damn it! The worse departure ever. I stayed focussed, too scared to stop and giving up way so early.
Upon completing the first steps of the climb twenty-five minutes later, I gradually started breathing normally again. Sonam did not have notice the crisis I had been through, maybe some troubles in breathing, that's it. At that time of night, we could perfectly see the stars in the sky. I felt good and a bit more confident again. Because we were fast, we slowed down a bit on the flatter second part of the trail leading to the glacier. We talked about Darjeeling and Sonam's life. We met a group, and some people were already breathless. Melting snow started to fall. The winter cold weather was close. It was a "No Moon night", just darkness around us and we could only see our feet with our head-torch, which I really hated. No landmarks.
And suddenly, there was thunder and lightning… imagine how impressive it might have been at that altitude, so close to the angry sky. We were already wet. More lightning. We met some more people descending. We started traversing the glacier. How we found our way in such pitch darkness is still a wonder for me!
The lights of the groups high up ahead of us were visible. It was a dark white expanse at the same time. The lights were moving everywhere though we could not see the persons accompanying them. Sometimes the lights switched off and switched on again and I wondered what was happening.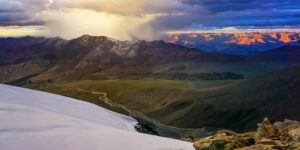 While crossing the glacier, we jumped over small crevasses. I had to stop many times now as the oxygen level was seriously depleting. I hadn't found my right pace yet, but reassured Sonam that there was still no asthma. Sonam was not confident about the weather, saying that if the group was coming down, we would have to do the same. But, so far so good, and I was glad we had a chance to keep going.
Some lights moved further, some didn't thunder, lightning, wind and snow were dancing all around us. We ¬finally reached the tail of the group we were following. Arpita was there and another Indian girl too. The rest of them were too far off now. The two girls moved slowly. But as I needed to stop sometimes for my breath, it forced me to slow down and I was ¬finally able to walk without going breathless. But our pace was still way too slow.
On the way, a Superman appeared from nowhere, walking straight not even bothering to follow the trek path. It was Harsh. We met him at the Base Camp, a solo Indian traveller. A funny, small adventurous businessman, who had become a good friend. Right behind him, was his sixty-year-old Indian friend, quite as fast as the twenty-five-year- old Harsh, while we, being half his age struggling. Not tired, Harsh just stopped to say Hi and continued his flight up! The other girl stopped too much and for too long. We started asking her about her health. Her face was white, eyes could barely stay open, she was totally breathless.
She had headache and dizziness and was trying to say she was just tired and sleepy, but she couldn't even speak properly. We tried to make her understand that if she slept then with all those altitude sickness symptoms, she would never wake up. Everybody agreed that it was time for her to go down. But she resisted, and instead insisted, "I am OK, I can do it. Don't you think I am a good mountaineer?" Arpita informed me that the girl had passed the Advanced Mountaineering Course when they were together in Sikkim.
Minutes later, I was freezing cold. We all were. Plus I had started feeling a light headache and dizziness. The sixty-year-old fellow announced that it was -5°C and would go down further. Storm was still surrounding us. We yelled at Harsh to help us take the sick girl down. Two minutes later he was next to us. I decided to keep moving, too frozen to wait. I met cutie Purva a bit further. She had been waiting for us all the time. She said she had vomited earlier. I explained to her about how we lost almost an hour convincing the sick girl to go down. The fact was she had failed attempting the summit last night, so we could not blame her for trying to push herself again. In reality though, this was a big mistake of not taking rest. She had risked her life as well as ours. Later Harsh told us that she was crying all the way down and he was scared that she might hit him with her ice axe!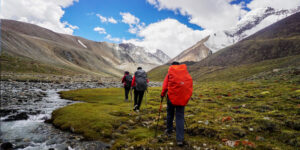 Now it was just Arpita, Purva, Sonam the guide and me, so we walked. But a bit later it was my turn to be sick. Even though I had lots of energy and was pacing briskly now, headache and dizziness were too strong for me. Arpita was totally breathless and we were moving too slow. It was too much for us to handle in this terrible weather. We took the tough decision to turn back. The decision was hard to accept for Arpita and I understand, this was part of her Journey as a filmmaker afterall. The sad part is the video maker had to face the same challenges as those she was filming, or maybe even more.
I don't remember the time but Sonam announced that the height was 5780m. This was the highest we had ever done! I felt very proud, and proud to understand the decision of stopping. Your ego is sometimes your worst enemy. Almost 300m were left to the summit, close to the famous shoulder, the flat part before an even more steeper climb, when we stopped. With our current speed, it would have taken four more hours only to go up.
On the way down, we met the latest group who left the BC around 1.00 AM. So it must have been around 4.00 AM then. Stopping aside, we watched them moving slowly like zombies, a line of white soldiers in their silent walk, with serious dead faces. Only a few of them would reach the 50 metre point of the summit because of the wind and visibility; the only few among the eighty that night who reached the nearest to the summit.
It was like being part of an action movie. A mix between The Everest, The Lord of the Rings and Games of Throne.
A week earlier, a man had summited and died on the way down due to a heart attack. Two days after our attempt, another climber fell on the rocks right after reaching the summit and perished. This is not a bad advertisement. Such things happen sometimes. You must listen to the mountain, and not the contrary. In those conditions, the mountain is your master. You can fight but you don't have the same weapons, and the mountain shall always have the last say. But it was not the end of the suffering for us. The feeling of pride quickly disappeared with the headache reappearing like a boomerang and her friend dizziness, stronger than before. We were moving too slow and I had to make an effort not to faint on the slippery and sharp rocks. Crossing the glacier took forever, allowing me to observe its enormity which you can't imagine at night. I was so impressed and yet so sick!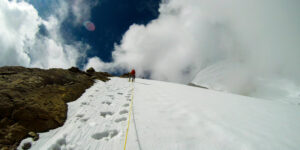 Around 6.30 AM, we finally reached the Base Camp. All symptoms disappeared in an hour or so. In the afternoon, we recorded the preparation of my noodles. Not the best I have tasted, as this is a prototype and will need improvement for trekker's purpose. But all mountaineers I met during this trip confirmed that it would be a nice alternative to the local cheap and unhealthy brands. Good point! And we definitely need chili and masala flavour for the Indian market!
At night we celebrated our achievement of "Almost the summit". After all, if you get stuck in your negative thoughts of not summiting, all the walk you've done, all the energy you spent and the journey is wasted. The day after, Purva and me left the camp. Arpita stayed back and reached the summit a few days later, thanks to her determination and passion. We will meet again on her way to the next big journey she will film – the ascent of Kang Yatze. The night was peculiarly Friday the 13th, when we spent up in Stok Kangri and I will always remember that feeling. Now I just want to climb more and more. Mont- Blanc maybe, next year? And of course, there will always be India to keep coming back to.
For Arpita: The film, your work, will last forever whether you will be there or not.
For Purva: What I liked about your photography is that you can tell a story in a moment.