Delhi: Saudi Arabia has lifted all COVID-related entry restrictions to holders of tourism visas, making it one of the most accessible destinations for travelers worldwide.
It is the most comprehensive update to travel regulations since September 2019, when Saudi Arabia opened its doors to international tourists.
All COVID restrictions scrapped
Visitors to Saudi Arabia will not need to show proof of vaccination or a positive PCR test to enter the country.
All travelers from countries on the red list will be permitted to enter the country with no institution quarantine.
Also read: Radisson Resort Pondicherry Bay In Arikamedu Opens For Visitors
Social distancing rules across the country will be lifted, including Madinah and Makkah. Masks will only be required for enclosed public areas.
There will be a nominal charge for COVID-19 health insurance for all visa types.
"We appreciate this decision made by the central government, which protects both livelihoods and lives while welcoming travelers back into Saudi Arabia," said Ahmad Al Khateeb, Minister of Tourism for Saudi Arabia.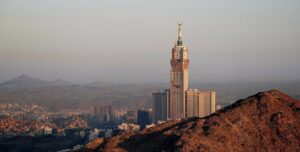 The country's aggressive vaccination program, as well as other successful efforts to limit the spread of the virus, made possible the return to pre-pandemic levels.
We reduce travel inconveniences and costs, which helps thousands of people and generates revenue for businesses severely affected by this pandemic added Ahmad Al Khateeb.
Also read: Himachal Pradesh Aspires To Be The First Green State In The Country
Saudi Arabia ranks 152nd in COVID cases
Saudi Arabia started a nationwide vaccination program and administered 61.3 million vaccines. 99% of all people over the age of 12 are now fully vaccinated, and Saudi Arabia will continue its vaccination program for the foreseeable future.
Saudi Arabia ranks 152nd worldwide in COVID cases per million people, significantly lower than the global average and any other OECD country.
Saudi Arabia opened its doors for international leisure travellers in September 2019, less than six months before the COVID outbreak.
The country revised its tourist strategy to concentrate on domestic travel, opening 11 destinations and creating over 270 tourism packages.
Saudi witnessed a steady increase in leisure travel in two consecutive years without any significant rise in COVID cases.