Shimla: Drones represent a new era of technological advancement that can be controlled easily by anyone and utilized for daily tasks. Chief Minister Jai Ram Thakur said this after dedicating the very first Drone Pilot School of the state established at ITI Shahpur in Shahpur Vidhan Sabha region of Kangra district on Saturday.
Jai Ram Thakur said that drone was an innovative technology that could be highly useful for keeping vigil on crops, besides spraying pesticides and insecticides.
Also read: Himachal Pradesh Aspires To Be The First Green State In The Country
He said that even Prime Minister Narendra Modi has urged the state governments to promote drone technology in a big way.
Chief Minister said that drone technology is being used to demarcate the land and prepare documents of populated areas in the state. He said that the biggest advantage of using drones was that it reduces the cost and saves a lot of time.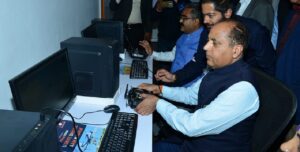 He said that drone technology would prove to be very useful for the youth in the coming times and important steps will be taken towards training the youth in this.
While welcoming the Chief Minister to her constituency, Social Justice and Empowerment Minister Sarveen Chaudhary said that this ITI was one of the oldest in the state.
She said that this school would go a long way in providing employment and self-employment oriented training to the youth of the area.
She also thanked the Chief Minister for always being considerate towards the developmental demands of the people of Shahpur area.
Also read: UNWTO To Hold Emergency General Assembly On Russian Membership
Industries and Transport Minister Bikram Thakur, former MLA Surender Kaku, District BJP President Chander Bhushan Nag, Chairman Zila Parishad Ramesh Brar, Director Technical Education Vivek Chandel, Deputy Commissioner Kangra Dr Nipun Jindal, Superintendent of Police Dr Khushal Chand Sharma were present on the occasion among others.