Mount Merapi, Indonesia's most active volcano, erupted on Saturday. It sent cascades of hot gases and molten lava down its slopes, prompting authorities to restrict all tourism and mining activities on its slopes. According to reports, several villages in the area were covered in volcanic ash.
Mount Merapi, located on the densely populated island of Java, erupted with immense ferocity. The eruption brought forth clouds of ash and a mortifying mix of rock, lava and gas, which travelled as far as 7 kilometres down its slopes.
A burning column of hot clouds rose to 100 meters in the sky. These terrifying scenes were reported by Abdul Muhari from the National Disaster Management Agency.
The eruption was so strong that it created a dense layer of ash that blocked out natural sunlight in several nearby villages. Fortunately, no casualties have been reported.
Hanik Humaida, the head of Yogyakarta's Volcanology and Geological Hazard Mitigation Center, said it was Merapi's biggest lava flow since authorities raised the alert level to the second-highest in November 2020.
Residents living on Merapi's slopes are advised to stay 7 kilometres away from the crater's mouth and watch out for lava hazards.
Mount Merapi stands at a towering height of 2,968 meters and is situated 30 kilometres away from Yogyakarta, a city renowned for its unique Javanese culture and royalty.
It is one of the most dangerous volcanoes in the world due to its proximity to heavily populated areas. Approximately a quarter million people live within 10 kilometres around it and could be exposed to potential eruptions.
The volcano has experienced numerous eruptions with lava and ash clouds over the last few years. In 2010, Merapi had its largest eruption, tragically leading to the deaths of 347 people and displacing 20,000 villagers.
With more than 120 volcanic peaks listed as active by the Indonesian government, Merapi stands out as one of the most volatile and dangerous of them all.
Ring of Fire
With an estimated population of 270 million people, Indonesia is located in a unique and geologically active part of the world, commonly called the "Ring of Fire". This horseshoe-shaped region encircles the Pacific Ocean, comprised of dozens of tectonic plates subject to frequent seismic activity, volcanic eruptions and other devastating natural disasters.
In December 2021, a devastating volcanic eruption occurred at Mount Semeru, the highest volcano on Java island. Sadly, 48 people died in the explosion, with 36 more reported missing.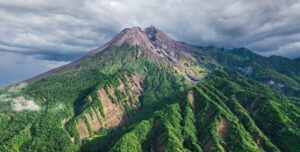 Mount Merapi is an excellent destination for adventure seekers looking for a thrilling experience and captivating views. It offers tempting trails for hiking, with the sunrise hike being the star attraction. Reaching the top is not just rewarding but also a thrilling experience.
Adventure seekers from all over flock here to witness the beautiful view from the summit and to challenge themselves by climbing an active volcano.