Delhi: Indian Railways is set to launch the Puri-Gangasagar Divya Kashi Yatra by Bharat Gaurav Tourist train from Pune on April 28, 2023, as part of the Dekho Apna Desh and Ek Bharat Shreshtha Bharat Scheme. This ten-day tour will take visitors to some of India's most important religious destinations, including Puri, Kolkata, Gaya, Varanasi, and Prayagraj. Along the way, tourists will visit iconic temples such as the Jagannath Temple, Konark Temple, Lingraj Temple, Kali Bari, Vishnu Pad Temple, and Kashi Vishwanath Temple.
The Indian Railway Catering and Tourism Corporation (IRCTC) is offering this comprehensive tour package that includes a comfortable train journey on the exclusive LHB rake of the Bharat Gaurav Train, complete onboard and off-board meals, road transfers, and sightseeing in quality buses.
The itinerary also includes accommodation arrangements, tour escorts, travel insurance, onboard security, and housekeeping services. Additionally, various onboard entertainment activities are planned for the tourists to enjoy during their journey.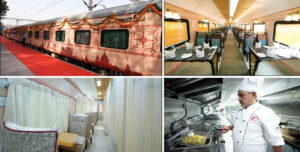 The tour package is designed to accommodate a total of 750 passengers and includes a mix of sleeper class coaches, AC-3 tier coaches, and AC-2 tier coaches. There are 7 Sleeper Class Coaches, 3 AC-3 Tier coaches, and 1 AC-2 Tier coach for passengers to choose from.
The package is available in three categories: Economy, Comfort, and Deluxe, with most bookings falling under the Economy segment.
The Indian Railways Ministry has been promoting tourism in India through its Bharat Gaurav Tourist Trains, which operate from various parts of the country. These theme-based trains aim to showcase India's diverse cultural and religious heritage to both domestic and international tourists.
By providing a unique and immersive travel experience, the Ministry hopes to attract more visitors to explore the beauty and richness of India.