As the negative impacts of COVID-19 gradually fade, travel is making a strong comeback as individuals seek to reconnect, explore new destinations, and return to familiar spots. Many people are longing to venture out of their homes for some much-needed respite.
Take in the crisp mountain air at Kaudia Estate in Uttarakhand. Relax, enjoy some delicious home-cooked meals, and unwind with your favourite book in the serene gardens around the estate. It's the perfect escape for those seeking peace and tranquility amidst nature.
Also read: Six Amazing Holiday Destinations For Yoga Lovers In India
Each of these three villas features warm wooden interiors contrasting with a cool blue view. Sizeable windows look out to fruit trees, flowers and snow-capped Himalayas. Guests are given access to entire 4800sq ft villas, which consist of three bedrooms with en-suite bathrooms, an attic room, a living room, a fully-functional private kitchen, a dining room and private balconies.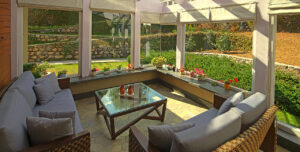 But the real showstopper here is the solarium, where you can dine under the stars or simply soak in the sun's warmth while enjoying being outdoors. During the day, the team can also set up local treks for you, plan a forest lunch or drive you to a nearby sunset point for an evening of soaking in great Himalayan views.
Also read: Nine Must See Places In Himachal Pradesh
You can reach here within six hours, either by driving from Delhi NCR or Chandigarh tri-city or two hours from Rishikesh and the Dehradun airport. The Kaudia Estate offers all the amenities that a luxury boutique property can provide.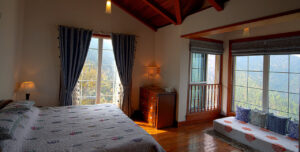 A stunning setting of mountains and Kaudia Forest surrounds Kanatal Tehri, offering breathtaking views and scenery. This region extends from the Kaudia range to the Saklana range, which is still unexplored and, therefore, intact with nature's beauty.