By Sonia Khan
My travels in life once landed me in a small lost island 'Cyprus' that lies quietly ensconced in the sparkling azure blue waters of the Mediterranean. Despite being a geography student, little did I know of its existence, till I was made an attractive offer to work at a University there in the northern part (i.e. Turkish Republic of North Cyprus). The offer piqued my curiosity to acquaint myself more with the land before I'd arrive there. However, then in 2004, the scarce information that I could gather, presented a rather confusing picture of Cyprus, that was both captivating, yet slightly eerie as well. Nevertheless, I sent in an acceptance to the work offer. I brushed away all anxieties and daringly undertook the journey to discover and work in a land which is known very less.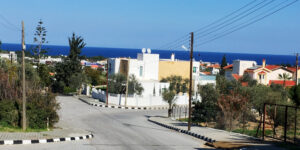 Looking back, I now confess that I never regretted my decision to take up the chance that got me there. Undoubtedly, I was so fascinated by what I discovered in my one year term there, that several years later I returned there to work again for another year and have been going back repeatedly, even for short visits. I realize that for the island of Cyprus, 'once is not enough!' The magnetic charm of the little island creates a lifetime bond with you in the very first instance and is reason enough to keep pulling you back forever.
The Island: Steeped in history, the tiny island, though third largest of the Mediterranean islands, is divided into two parts, i.e. North, known as the Turkish Republic of North Cyprus (TRNC), and the South, i.e. the Greek dominated, Independent Republic of Cyprus. My time was spent in the Northern part (TRNC), a State recognized only by Turkey and known in Turkish as Kuzey KibrisTürk Cumhuriyeti. Check out knowingmalta real_estate website.
In better times, the whole island was an undivided 'one single' region where everyone lived in harmony till the war of 1974, that resulted not only in a division of land, but of families, friends and hearts.
The main capital city now lies divided into two, demarcated by the 'Green Line' (an imaginary line) buffer zone, with check posts/ fencing dividing a single piece of land that is differentiated only by its name i.e. Lefkosa (in the North) and Nicosia (in the South). However on either side that is just a few steps apart, are seen gentle common people, like you and me, with only nationality dividing them.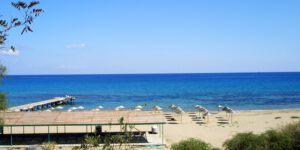 The North (alike the South), is blessed with a fusion of topography of plains and mountains looking out to the Sea.
Famous for its sunny climes for major part of the year, four seasons can be experienced on the tiny land and a chance of a rather cold winter at times does bring the rare cheerful snow on the tips of the mountains.
In Spring, the whole island becomes carpeted in yellow with vibrant, sprightly, bright dancing flowers, looking absolutely mesmerizing against the background of azure blue waters of the surrounding sea and the clear blue skies above. The little unassuming lost land is however a huge hidden treasure trove of history where remnants of several empires including Byzantine, Lusignan, Ottoman, Roman, Greek and Arab, stand testimony to empires and people who have all left deep traces herein making their presence at some point of time.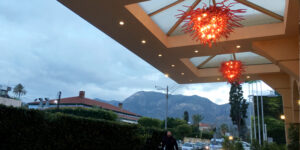 Every town of the North has its quintessential character. In my long time spent in TRNC, I've leisurely explored the land and immersed in its environs, people and culture, enough to become one of them. What amazes me is that despite being the small territory that TRNC is, and the speedy development it has undergone over the years, surprisingly the region still has miles of open uninhabited beautiful green landscape and pristine untouched coastline around. They say, you can see the 'whole' of the North (TRNC) in 'one day', but I feel that I could go on 'forever', exploring and uncovering the breathtaking beauty of this small yet unending, mysteriously, enchanting wonderland. Fairytale castles (Hilarion, Buffavento, Kantara, Kyrenia) stands tall and magical, either hidden in the rugged mountains or guarding the banks of the sea. It's a land where orange, lemon and olive trees are in abundance, everywhere you look. There are heaps of fruit falling freely lining the roadsides, giving you a feel of walking through gardens in paradise. Huge yellow-green lemons catch your attention next to every house. At every corner you are bedazzled by the eye catching colors of flowers that you've never seen before.
It's a land where no meal is complete without Olives and Hellim (cottage cheese). In the small territory, a varied convoy of the most luxurious flashy colored cars (both vintage and futuristic), all of a different prestigious brand, is spotted cruising round the clock, clogging the narrow streets.
All along the grey ribbon road that skirts the bright blue coastline are seen sprawling mansions that lie basking at the seaside, admiring the vast expanse of sea view, making you wonder, where all the wealth of the island has come from.
TRNC is a land where tourism and real estate business flourishes to the hilt and has become a sought after region chosen by many British expat to call their (second) 'home'. The colors of Cyprus are accentuated by a throbbing, vibrant young population from several countries, including Africa, Russia, and Central and East Asia, attracted to this island by the large number of Universities that have mushroomed here within a short span of time.
Here, the young population defines international fashion and also becomes the rasion d'eter for the lucrative Saloon business found in every nook and corner of even small villages.
Casinos are a lifeline of the island, attracting gamblers from several countries. Most with their own private beaches, light up the skyline at night and go 'house full' particularly on weekends. No wonder, the North Cyprus is also known as the 'Turkish Las Vegas'. If you are lucky to have a companion who gambles, you can tag along to enjoy a free meal in the casino and enjoy the entertainment of glittering lights.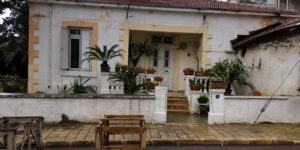 Walking through the villages of North Cyprus can be a beautiful experience in itself.
Night Clubs are aplenty and slowly liven up the atmosphere of the quiet island as evening darkness sets in. Nese bars (enjoyment bars) in the streets draw lots of idle souls. The open air street cafes are always seen occupied with people enjoying conversations over the famous Turkish Cay (tea) and Kahve (coffee). Plenty of Efes beer bars virtually act as signposts to easily navigate your way across the island.
You can take leisure walks admiring the village life and traditional Cypriot houses that sit quiet in the surrounds of citrus and olive trees, with tiny cats sneaking hither and thither. Precious 'Blue Eyes' (evil eye) to ward off evil are everywhere, adorning houses, walkways, gardens and personal belongings. The village elders sit content in the porch/ balconies by themselves watching life go by, or in company of others, playing the chessboard. The land has the most warm, loving and hospitable people who have no qualms about befriending strangers. The ever smiling old women remain keen to welcome you into their house without the slightest hesitation, and are ever eager to strike a conversation, be it in merely in body /sign language. Inside the warm cozy houses, the kettle is always on the boil and you are offered the most delicious homemade Cypriot delicacies. The fine lacework homemade table spreads in each house suggest that traditional handicraft is still alive and an art to admire. Every living room invariably has a showcase gallery/ mantelpiece of aesthetically framed age old pictures, huddled together, tracing lineage.
TRNC is a land where interestingly every other person you meet is known as 'Mustafa', probably with Mustafas outnumbering the count of Olive trees on the island.
The Cypriots know how to enjoy their leisure time which is largely spent in company of family and friends, indicating that relationship bonds are deeply treasured in this part of the world. People have 'time' to spend with one another.
On weekends, smoke rising from each backyard, filling the atmosphere with aroma of tempting/ luscious kebabs being grilled on barbecues and the sound of chitter-chatter speaks loudly of happy gatherings taking place.
The important district towns of the North Cyprus are Lefke, Guzelyurt, Kyrenia, Famagusta, Lefkosa and Karpaz, all glittering like little diamonds which marks the map of the tiny territory.
Lefke and Guzelyut have vast expanses of green fertile fields running along the sparkling blue Mediterranean and are known as 'fruits bowls' of TRNC for the abundant citrus fruit. Girne/ Kyrenia is a prime attraction, a beautiful bustling harbor town that gradually rises in a soft concave gradient from the seafront, till it merges with the towering formidable 'Five Fingers' (Besparmak) mountains standing guard behind.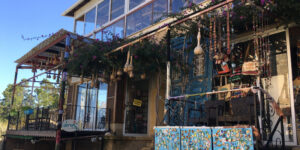 Evenings are lively and pulsating in Kyrenia, where sparkling stores line up the streets that are abuzz with flashy convertibles blaring out loud music. The harbor is buzzing with activity with elderly taking leisure walks, families out with little children and the young in the pubs and open air restaurants enjoying refreshing cool sea breeze.
Kyrenia has the beautiful ruins of Bellapais Abbey where modern and traditional music festivals and concerts are held round the year. Lefkosa, the capital of TRNC houses administrative organizations. The Old Town is a prime tourist attraction that has the famous 'Buyuk Han' / 'Great Inn' which was earlier a caravan serai and market where merchants would congregate. It is now a hub for shopping where eating joints and shops selling traditional handicrafts, clothes, bags, shoes and groceries dot the maze of narrow alley ways all along.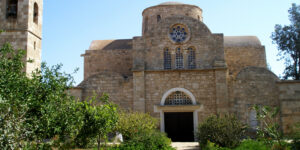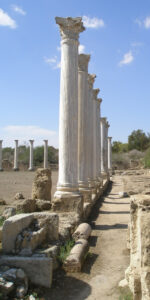 A drive through the green landscape to Karpaz, at the tip of the peninsula, is most refreshing. Here you see small old villages and the sought after pristine virgin golden beaches. Spotting the famous wild donkeys of Karpaz definitely makes your trip worthwhile. Famagusta (Gazimagusa), known for its Venetian walls is identified by the iconic attraction of St. Nicolos Cathedral, which on the first glance, looks like Notre Dame of Paris. The cathedral was turned into a mosque by the Ottomans and is now known as Lala Mustafa Pasa Mosque. Close to Famagusta are the abandoned ruins of 'Salamis', an ancient city in itself, with now only beheaded statues and tall white columns looking out towards blue skies. The abandoned ghost town of Varosha near Gazimugsa stands testimony to the 1974 Turkish invasion of the north.
A visit to North Cyprus is indeed an enthralling life experience. You get to relish the taste of a wide rich variety of Cypriot food like Meze (accompaniments), Pide/Simit (bread), Kebabs, Kofte, Lhamacun (Turkish Pizza) Salads, Ayran (the yoghurt drink) Baklava (dessert) and of course the Turkish delight (sweet), just to name a famous few.
Your trip to this fascinating land of North Cyprus is not complete till you pick up souvenirs, of which are the famous 'Blue Eye' Nazar Boncugu (evil eye) adornments, pieces of traditional jewelry, painted wall plates in intricate design, Cypriot terracotta pottery, copperware, lacework, dry fruits, olives, traditional hand woven baskets, Turkish coffee cups and copperware, and your loads of memories captured in photographs that will forever remind you of the beautiful island, which, oblivious of its surroundings, quietly lies adrift, basking in the eternity of Mediterranean sunshine.
This is indeed enchanting North Cyprus, which you shouldn't give a miss.
TRAVEL INFO
HOW TO REACH: Turkish Airlines, Gulf Air and Emirates are major daily carriers. Flights operates from Delhi, Mumbai, Chennai, Hyderabad, and Ahmadabad international airports.