Shimla: International Roerich Memorial Trust is playing a pivotal role in fortifying the trust and peaceful relations being enjoyed by the Russia and India. Chief Minister Jai Ram Thakur said this while presiding over the 18th meeting of the Board of Trustees of the International Roerich Memorial Trust held here today. The Chief Minister said that the Himachal Pradesh was bestowed with colossal cultural heritage and the state government was determined to protect and preserve it. The International Roerich Memorial Trust was located at world famous tourist destination and foreign tourists visiting Kullu-Manali invariably also visit the Roerich Art Gallery.
Jai Ram Thakur said that Roerich Memorial estate in Naggar was the main anchor point for the International Roerich Memorial Trust which had been attracting the hearts and minds of the Russians and Indians as the spiritual quintessence of bilateral strategic partnership. He said that it was during the Prime Ministership of Atal Behari Vajpayee that an amount of rupees two crore was provided to the Trust to further strengthen its activities.
The Chief Minister said that the state government would provide all possible help to develop the Roerich Art Gallery as the major centre of art and culture. The state government would also send a comprehensive proposal to the Union Ministry of Culture for getting grant under the museum grant scheme.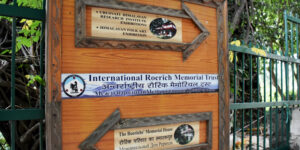 He said that the governments of India and Russia had been contributing significantly for the maintenance and development of this Trust. The Trust was being managed on the basis of mutual co-operation and collaboration by the Himachal and the government of Russia through Russian embassy in India with active support of ICR, Moscow.
Ambassador of the Russian Federation to the Republic of India Nikolay Kudashev said that the Roerich's movement had a genuinely social and independent nature, thus public-private partnership would significantly contribute to develop and spread humanistic ideas. He said that the Russian Embassy was willing to cooperate closely with the state government to handle the issues of maintaining, preserving and restoring this museum.
It was decided in the Board meeting that International Roerich Memorial Trust complex would be developed for maintenance of Roerich's heritage as well as construction of guest houses for artists, scholars and experts. It was also decided that Roerich Memorial Museum Complex would be created by incorporating the restoration of Roerich House.
The Board also decided the rates of entry tickets to International Roerich Memorial Trust Galleries/Museums and admission fee and monthly fee of Helena Roerich Academy of Arts. Since, about 300 paintings which have been donated by various artists to the Trust, it was decided that prints of these selected painting would be auctioned.