Daran Pass is a beautiful pass located high up in the Himalayas at an altitude of 9,475 ft. It was once a part of the old Silk Route and the Hindustan-Tibet Highway until the new highway was built via Narkanda-Rampur.
(By Yogesh Sarkar)   I had been itching to travel to Daran for the past several years and finally, it was time to settle the itch. We were supposed to travel to Gopalpur FRH (near Sarahan in Himachal) from Delhi and spend a couple of nights there while exploring Sarahan and Daran Pass. Rahul, Mini and I had travelled to Gopalpur a couple of years back during the monsoons. We loved the place and hence were eager to go back.
We decided to meet at Taj CCD, Chankyapuri. And I met Mansi, Mini, Rahul and Prashant at 11:44 PM. After loading our luggage in Rahul's Safari Storme, it was time to begin our journey. We stopped at Amrik Sukhdev Dhaba en route at around 1 AM. Both the paneer and aloo-pyaaz paratha disappointed me with the bland taste, the mixed veg was slightly better. After the late dinner, we began our haul towards Himachal in high spirits, wide awake.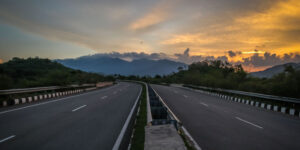 It was monsoon but there was no rain apart from a light drizzle. Around Zirakpur, the night sky started turning a bright orange, signaling the beginning of the day and extending a beautiful welcome for us into Himachal Pradesh. We managed to reach Shimla by 8:30 AM and started searching for restaurants. We found the Sher-E-Punjab, Shivalaya Haveli restaurant. Even though the food was just about alright, the view of Shimla from the restaurant was superb! After having our fill, we carried on.


At the beginning of Theog, we encountered heavy police presence due to a peaceful protest over the Gudiya Rape Case, which had occurred a few days ago.
We managed to cross the protesters but encountered a massive jam on the Narkanda outskirts. A bus conductor told us that the protestors had blocked the road and chances of the road opening soon was very slim. Even the lone cop crossing us told us to turn off our vehicle! There were protesters ahead and behind us.
Sandwiched between them, made our plan of reaching Gopalpur by night bleak. Thankfully we had 4 days in hand, so we could afford to turn back and head elsewhere in Himachal or Uttarakhand. Choices and options were abundant, however first, we had to drive back to Theog to refuel and look for alternate route(s).
With no confirmed booking at Sungri, we were almost tempted to halt at Kharapathar. But With little hope of getting room there we eventually decided to continue towards Sungri.
After getting a full tank, we decided to take the diversion to Kharapathar and Rohru i.e. the road going right from the fork in Theog. Accordingly the destination for the night changed from Gopalpur to Sungri, something which I initially wanted to visit and was made possible now by the protests.
However, we didn't know whether the road to Sungri was open (road passes through Kothkhai, where the rape had taken place) and we were getting reports from the BCMTouring WhatsApp Group that even the Kalka – Shimla Highway had been closed.
The road from Theog to Kharapathar was wide, smooth and oh so beautiful. We stopped a car en route to inquire about the road status ahead. Thankfully the place we were heading to was clear from the protests. But most of the shops were closed on this route and it had been raining continuously since we left Narkanda.
I had travelled on these roads earlier around a decade ago. It was a wonderful feeling to travel on them again. Apart from getting immersed in the beauty of the landscape and the lovely company of my friends, I had the pressing task of booking the PWD Rest House at Sungri. Officials at EE Rohru weren't sure if they had bookings for 20th June or 20th July. So without confirmation, we had to drive towards Sungri, hoping to find accommodation.
At Kharapathar, we stopped to stock up on some provisions. The Giriganga Resort (HPTDC) here was beautiful and with no confirmed booking at Sungri, we were tempted to halt for the night here. However as we still hoped to cross Daran Pass tomorrow, we eventually decided against it and continued towards Sungri. Fortunately late in the evening, we got confirmation for 1 room at Sungri. We might get another if no one else showed up. Otherwise the 5 of us would have to stay in a single room.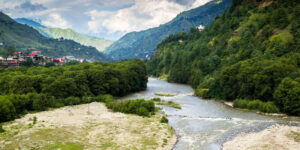 Apart from the natural beauty of Sungri, it was the old houses there, which had attracted me to this quaint little village. There is a something special in these old and now rare houses, that adds to the charm of the hills.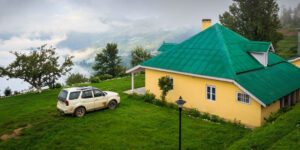 Beyond Rohru, the road got narrower and the condition started to deteriorate. It had been 12 years since I had passed through this route on my motorcycle. On that day, rain had accompanied me throughout, drenching me completely, forcing me to seek shelter at the small market of Sungri and making me fall in love with the small village that I encountered on my way back to Delhi from Rohru. Today there was no rain and I was sitting in the comfort of a Safari Storme.
As we climbed higher and higher, the beauty of the place increased manifold and the large valley gave way to narrow mountain road crisscrossing through the thick forest and apple orchards. We reached Sungri at 6:15 PM to find the beautiful PWD Rest House set amidst the fog and clouds. We spoke to the caretaker and he opened a couple of rooms for us. He also took us to a small dhaba nearby which would serve us evening snacks and dinner. Everyone had a smile on their face. It was double the joy for me for not only had I made it to the place I wished to visit ever since we started planning this trip, light rain and fog outside and good friends for company, there could have been no better ending to day one.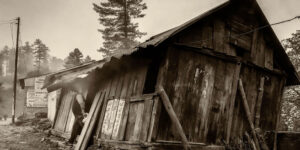 Next day I woke up at 5 AM. Everyone else was sleeping and it was quite foggy and overcast outside. The fog began to clear soon and the crescent moon became visible over the rest house, it was extremely beautiful and serene. Mansi and I decided to explore the small and beautiful town of Sungri with its old rock-wood houses before the gang woke up. After breakfast at 9, it was time for us to hop into Rahul's Safari and begin our journey to Daran Pass and Daranghati.
The road to Daran Pass was in a bad condition but thankfully there was no rain. I prayed that the weather remained thus or we might not be able to make it to the Pass. Though the road got better, it was still narrow; hence we had to reverse multiple times to give way to oncoming traffic. After we crossed Taklech, the road conditions began to deteriorate. It was still scenic, though a tad too hot for the hills. One thing that struck me since yesterday was that even though this was a supposedly off-beat and remote area, almost all the houses were modern with a car and motorcycle parked outside. It seems the apple farming had brought in plenty of wealth to the locals who were quite well off, especially in comparison to people living in the villages of Kumaon.
After a hard ride we reached at the top of the Daran Pass. We had maggie with tea and were tempted to stay at Daran.
As the road gave way to a bumpy rough trail, the excitement increased as the Safari was beginning to struggle due to the terrain, requiring 1st gear at times and even half clutch! To make matters worse, the handbrake wasn't working at 100%, offering very little bite. It did stall a few times and we had to quickly disembark and place rocks beneath the rear tyre to keep it from rolling back! This would be followed by letting it cool a bit and th en half clutch it past the steep incline.
Around 2:15 PM, we managed to reach Daran Pass. However, it wasn't as desolate for my likes. There was a small hotel a few kilometers before the pass and there was a shop and a dhaba along with the PWD Rest House at the top.
Apart from us, there were no other tourists and the beautiful pass looked quite serene. As much as I hated the fact that there were shop/ dhaba at the Pass but needless to say, they made our lives easier since we couldn't find even a single dhaba between Taklech and Daran Pass and were getting hungry enough to slay anything. We ordered ourselves some maggi with tea and relished the warmth while sitting in the shelter of the shops.
Contemplating our next move while sipping tea, we were tempted to stay at Daran. However, we had booked the Gopalpur FRH for a couple of nights (yesterday and today) and with fond memories of our earlier visit to Gopalpur still fresh in our mind, we decided to head to Gopalpur.


Descending Daran Pass on to the other side, the road was initially just as bad as the ascent. However, on the Sarahan side, a road had earlier existed and we could see remnants of it. And it wasn't as bad as the road we had encountered while traveling to Daran from Taklech. After a few kilometers, a proper metaled road began.
While the road condition improved, Daranghati itself was as beautiful as the other side, though a tad narrower and denser. When we reached the smooth road at Mashnoo, it was fairly easy to find the diversion to Gopalpur Forest Rest House as there was a signboard marking it.
To our dismay when we reached the rest house, there was no one around. I had been trying to contact Laik Ram, the caretaker for the past few days and each time his phone was out of coverage area! After waiting for half an hour, Prashant and Rahul went to the nearby village to bring in some supplies while I called the DFO Office, Rampur and apprised them of our situation. They assured that they would call and ask the caretaker to reach the rest house soon.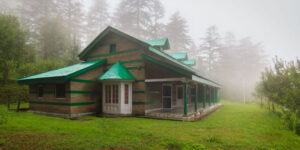 In the meantime, Mini, Mansi and I decided to do some exploration and even tried to find the caretaker in the compound but all we discovered was the beautiful view of the setting sun, hidden behind the clouds.
More than an hour afterwards, Laik Ram showed up and opened the rest house for us. Laik Ram informed us that he had to travel the next day for a funeral in Kinnaur, so we would have to leave early in the morning. We couldn't say no to such a request and sat down to chat in the living room only to be interrupted repeatedly by Laik Ram.
In a bid to send him early to bed, we had an early dinner. Outside, the sky was full of clouds. While the chances of capturing a star trail were nearly impossible, I nonetheless wanted to take some long exposure shots. I set up my camera but the remote shutter release wasn't working. Everyone else wanted to keep me company outside but I wanted to be left alone to my means. By the time I got the second remote shutter release to work, I heard something in the distant trees and led everyone inside. I choose to scare them with a few Jim Corbett tales rather than confiding my apprehension about the sound to them.
Around 1:30 AM, we finally retired to our rooms. I was a light sleeper and left my bed at around 5:30 AM in the morning. There was a light drizzle and heavy clouds outside which meant no chance of photography. Yet the chirpings of the birds in an otherwise silent morning was alluring.
Even though I love traveling with friends, it is next to impossible to find solitude while traveling in a group, barring very early in the morning and if you're lucky, very late at night. I need solitude; it is one aspect of travelling that I loved the most. For a brief period, I had just that. Soon Mansi woke up and both of us stood outside on the porch, chatting. The noise from inside told us that Laik Ram was busy cleaning, eager to see us off as soon as he could! Around 8 am, it was time to say goodbye to the Gopalpur Forest Rest House. It still looked beautiful and classy as ever.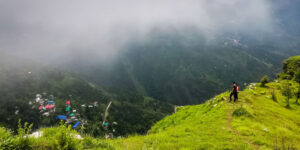 It was time to cruise on the familiar yet changed road to Sarahan. The drizzle accompanied us through the wonderful morning. We stopped at the same stream we had stopped the last time and let our inner child roam free, taking selfies and clicking photos, crossing the cold water and letting the gentle Himalayan winds sweep away the last dregs of sleepiness from us. It took us less than a couple of hours to reach Sarahan with growling stomachs. The first order of the day was food and for that, we headed straight to HPTDC Hotel Shrikhand. After the breakfast, we explored a trail leading from Sarahan to Rangkori Village.
The narrow route led us upward, beyond the helipad and sports stadium to small villages nestled in the laps of Himalayas, surrounded by unparalleled views and a road, just wide enough for a bus!
The drive was a bit rough, yet beautiful. Beyond Rangkori and a kilometer or so before the end point, we decided to stop.
Here the views were fantastic and after spending half an hour in the middle of nowhere, we continued our ride towards sarahan. We stopped after the helipad for a beautiful photograph of the Bhimakali Temple, before beginning our journey back to Sarahan and then Rampur.


As we were descending from Sarahan to Jeori, we came across a place where the road had been completely washed away. We had to take a detour through villages over a narrow and slushy mud trail. To make matters worse while going downhill, we had to regularly reverse back for vehicles coming uphill. We breathed a sigh of relief once we reached the Hindustan-Tibet Highway and the narrow trails for past couple of days gave way to the beautiful and wide highway. It tends to get boring from here on since the thrill of venturing onto a narrow trail and the uncertainty of not knowing where we would find food and shelter was no longer there. The protests were over and we could take the usual highway back to Delhi. We eventually stopped at Hotel Solitaire between Narkanda and Theog, where we got a couple of rooms with great views of the valley below. Since the sun was setting behind the mountains and clouds, the view from the balcony was divine. After chatting late into the night, we went back to sleep. Next day I was up again at 5:30 AM and even though it was cloudy, I wasn't going to miss the last sunrise of the trip. After breakfast, we started our journey towards Delhi. We managed to reach home by 11:30 PM in the night thus concluding an unpredictable and fun trip to Daran Pass.
TRAVEL INFO
Daran Pass is located near a small town Sarahan in Shimla district of Himachal Pradesh. It is a perfect spot for nature lovers, photo fanatics, and adventure seekers.
BEST TIME TO VISIT: April to June and from October to November.
WHERE TO STAY: PWD and Forest Guest Houses are the only staying options near the Daran pass. There are many staying options between the journey from Shimlat to Sarahan.
HOW TO REACH: Sarahan is 163 kms from Shimla. The nearest airport is the Jubbarhatti Airport of Shimla that is 23 km from Shimla and 186 kms from Sarahan and the nearest railway station is at Shimla.
ABOUT THE AUTHOR
Yogesh Sarkar is a professional travel and lifestyle blogger based in Delhi and the founder of India's friendliest travel community, BCMTouring.com. You can visit his blog at www.yogeshsarkar.com