Shimla: Chief Minister Jai Ram Thakur said thinkers and policy makers should suggest such policies and programmes which are realistic and practical keeping in view the topographic conditions and terrains of the region. He was speaking on inaugural session of two days conclave on 'Development Models For Hilly States in New Emerging India' organised by Centre of Policy Research and Governance (CPRG) here today. Noted economists, political scientists and policy makers are participating in this conclave.
The Chief Minister said it was vital to forge ahead on path of progress and prosperity by a planned and sustainable manner. This not only helps in better planning of development as per the expectations and aspirations of the people, but also make the development sustainable. He said the planners should ensure that the public money was utilised judiciously so that people derive maximum benefits from the developmental projects.
Jai Ram Thakur said this regional conclave would go a long way in strategic discussions on the unique framework of development of Himalayan region. He said it was a unique initiative and first of its kind where the regional disparities and analysis of developmental achievements of hilly regions and need of policy intervention to get adequate financial support would be discussed.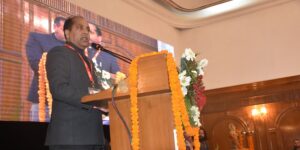 CM said that the nature has blessed the state with immense natural resources and salubrious climatic conditions making the state a favourite destination for the tourists. He said over the years concrete initiatives were not taken to harness this potential. Now, the State government was ensuring to develop virgin and unexplored destinations in the state to attract maximum tourists to the State. He said that Chanshal in Shimla district would be developed as a skiing destination, Janjheli in Mandi district as an eco-tourism destination and Bir Billing in Kangra district as paragliding destination.
Jai Ram Thakur said the State Government was also planning to organize Global Investors Meet to attract more and more investments in the state. He said that recently road shows were organized at Bengaluru and Hyderabad to create direct contact with the potential investors by showcasing the immense potential of the State. He said that 159 MoUs worth Rs 17000 crore were signed recently in the State which would help in development of the state immensely.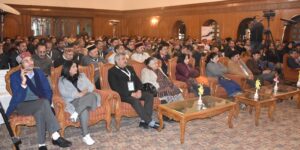 The Chief Minister said need was felt to initiate alternative discourse and platform where policy and governance can be thoroughly discussed and strategic intervention can be brainstormed. He said it was essential that a dialogue should be initiated on various dimensions and regions which remained neglected in the priority and national policies due to one reason or other.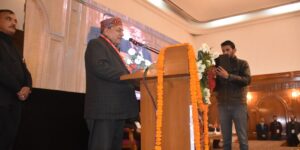 Education Minister Suresh Bhardwaj said the theme of the Conclave was vital as the hilly states have different developmental needs and it requires huge amount for infrastructure development. He said the state has emerged as the front runner state in matter of development. He said today the State has made tremendous progress in all spheres. He said a lot has been done but still a much needs to be done as development was a continuous process. He expressed hope that new ideas would come out from the conclave which would help in rapid development of Himalayan states.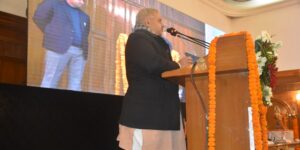 National Organising Secretary, ABVP Sunil Ambekar said the nation during the last few years has emerged as a world power due to an able and strong leadership of Prime Minister Narendra Modi. He said development has now emerged as an agenda of development for all political parties, which was a healthy sign for a strong and vibrant India. He said the Himachal Pradesh was poised to become a most developed state of the country in the next few years. He said Ayurveda, Organic farming and Eco-tourism were key sectors which have great scope of employment and self employment opportunities. He urged the Universities and other institutions to start employment oriented courses so that the youth get opportunity of starting their self employment avenues.
Director Centre of Policy Research and Governance Ramanand Pandey while welcoming the Chief Minister and other dignitaries said that the conclave aims at building a platform for Himalayan region where all the hilly states can discuss their policies and also can learn from each other's experiences. He said that the efforts of this Conclave was to open a dialogue among the States that shares common issues and situations.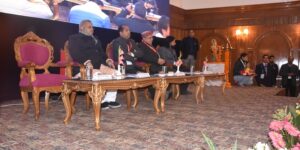 Former National Secretary ABVP Dr. Nagesh Thakur, Mayor Shimla Municipal Corporation Kusum Sadrate, Vice Chancellor HP University Prof Sikander Kumar, were present on the occasion among others.