Himachal Pradesh offers immense potential for investment in sectors like tourism, industries, information technology, service sector, food processing, pharma and power etc and the state government was providing all possible help to facilitate the entrepreneurs for setting up their units in the state. This was stated by the Chief Minister Jai Ram Thakur while addressing the 'Road show' organized by the State Government in cooperation with the Consulate General of India Frankfurt and Confederation of Indian Industry (CII) at Frankfurt in Germany yesterday evening.
Chief Minister said Himachal has a vibrant talent pool and educational ecosystem due to presence of premier institutes of national repute. With a host of universities, engineering, management and medical colleges, the state ensures a steady supply of skilled human capital for the industries, he said adding that the state was ranked top amongst Fast Movers Category in Ease of Doing Reforms and the Single Window Acts in Himachal Pradesh reflects the strong commitment of the state government to ensure efficiency, transparency, time bound and accountability in providing services to investors.
Jai Ram Thakur said the state offers investors a variety of choices in tourism sector like adventure, wildlife, eco-tourism, heritage, spiritual, monuments, religious, skiing etc. He said that the government was committed to make sustainable tourism as one of the prime engines of growth in the state by establishing it as a leading global sustainable tourism destination. He said that with 300 pharma companies and over 700 Pharma formulation manufacturing units functioning in Himachal Pradesh and the state was known as pharmaceutical hub of Asia. In addition, the State is major producer of fruits like apple, plums, apricots, kiwis, walnuts and pears. The state offers abundant opportunity for food processing and allied industries, he added.
While inviting the potential entrepreneurs to be part of the Global Investors Meet in 2019 being organized at Dharamshala by the state government, Chief Minister said that the Global Investors' Meet would focus on a wide range of upcoming and thriving sectors like Tourism, AYUSH and Wellness, Manufacturing, Pharmaceuticals, Real Estate, Hydro Power, Agro and Food Processing.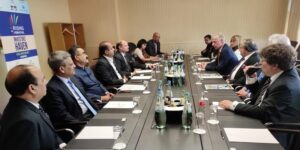 Jai Ram Thakur said the state government was organizing the Road Show in Germany because "Made in Germany" was a trademark of quality recognized around the world and the state government was keen to replicate the same in the state. He said that the German companies were considered as master of planning, therefore, the state was willing to implement the same culture by having collaboration with more German companies. He said that India has more than 1600 Indo-German collaborations and over 600 Joint ventures operating in India. "I personally feel that Tourism, AYUSH, Pharmaceutical, Agri & Food Processing, Industries, Real Estate and Automobiles could be the key areas of investments in the State", he added.
Earlier, the delegation from Himachal Pradesh held meeting with President and Members of German-Indian Round Table and discussed investment opportunities in Himachal Pradesh.
Industries Minister Bikram Singh greeted the delegation for the roadshow in Frankfurt, Europe's industrial powerhouse and world's second largest exporter. He shared with august gathering the Himachal Pradesh's strengths, meticulously framed policies, suitable opportunities and State's readiness to attract and encourage investment. He highlighted that the state has made a commendable step in establishing a manufacturing economy with over 50,000 manufacturing Units including global players like Unilever India, P&G, Dabur, Nestle, Cremica, Colgate, Philips, Godrej, Havells, Abbott and Reliance, actively operating in the State providing employment to over 4 lakh persons.