Shimla: Clarkes Hotel Shimla, an iconic heritage establishment dating back to 1898, is set to undergo a temporary closure for maintenance starting December 1, 2023, as per the announcement on its official website. This closure marks a period of restoration and upkeep for the grand hotel, known for its colonial architecture and historic allure.
During this maintenance period, Clarkes Hotel Shimla has suggested The Oberoi Cecil as an alternative accommodation for guests seeking a luxurious stay in Shimla. Also owned by the esteemed Oberoi group, The Oberoi Cecil stands as a heritage hotel situated at the serene end of Mall Road, boasting a picturesque view of the valley and the majestic mountains.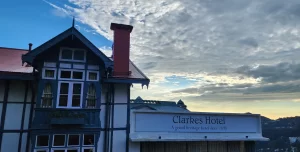 Clarkes Hotel Shimla, located on the vibrant Mall Road, has been a favorite among tourists for its 32 spacious and elegantly appointed rooms, each featuring modern amenities and a touch of old-world charm. The hotel's colonial ambiance reflects the elegance and charm of bygone eras.
Also Read: Master The Art Of Sustainable Travel: Essential Tips For Conscious Wanderers
Apart from its well-furnished rooms, Clarkes Hotel Shimla offers a range of facilities including a multi-cuisine restaurant, a bar, a lounge, a conference hall, and a banquet hall. Its strategic location within walking distance of key attractions such as the Gaiety Theatre, Groton Castle, Museum, Rothney Castle, Viceregal Lodge, and Christ Church has made it a prime choice for travellers looking to immerse themselves in the history and beauty of Shimla.