Air travel is an integral part of modern life, connecting people to distant places and facilitating global trade. However, there are some countries that are not connected by air. These countries often rely on other forms of transportation, such as ships or trains, to connect with the rest of the world.
In some cases, there are no airports in these countries because the government does not want to encourage air travel. In other cases, the terrain is unsuitable for constructing an airport. Whatever the reason, these countries remain unconnected to the global air network.
European countries without airports
Vatican City, Liechtenstein, Monaco, San Marino, and Andorra are among the countries without an airport. These countries are all very small and have limited access to air transport.
Vatican City
Vatican City is the smallest country in the world, measuring just 0.49 square kilometres, and is the centre of the Catholic Church. Located inside Rome, Vatican City was established as an independent state in 1929 and is the home of the Pope. It is a major tourist destination, and millions of people visit the city each year to see its beautiful architecture, museums, and gardens. It is also home to several significant religious sites, such as St. Peter's Basilica and the Sistine Chapel.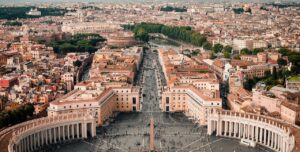 The Vatican also houses some of the world's greatest works of art, including Michelangelo's famous frescoes in the Sistine Chapel. Vatican City is an iconic spiritual centre for Catholics worldwide, and it is a place of profound beauty and significance.
Also read: A Journey To Syrrako
One thing that Vatican City does not have, however, is an airport. This is because the Vatican is an enclave within the city of Rome, and there is no space to accommodate an airport.
The closest airport to Vatican City is Rome Fiumicino Airport, about 20 miles from the city. From there, you can take a taxi, bus, or train to the Vatican. Alternatively, you can take a train from anywhere in Italy. Despite not having an airport, Vatican City is still a popular tourist destination and attracts millions of visitors yearly.
San Marino
San Marino is a tiny, mountainous country located in the Apennine Mountains of Italy. It is one of the smallest sovereign states in the world, and it is also one of the oldest, having been founded in the fourth century. Despite its small size, San Marino has a rich history and culture and is known for its stunning landscapes and picturesque towns.
The capital city of San Marino is home to many historic sites, including the iconic Three Towers and the Palazzo Pubblico. San Marino also hosts numerous festivals and events throughout the year, including the San Marino Grand Prix, which takes place on the street circuit in Misano.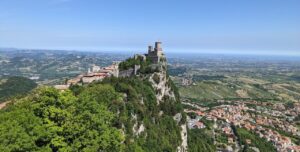 What many people don't know, however, is that San Marino has no airport. This is because the country is incredibly small. In addition, the terrain of the area makes it difficult to build an airport in a central location. Visitors must fly into either Italy or Croatia and then take a bus or train to get to San Marino.
The nearest airport to San Marino is Federico Fellini International Airport in Rimini, Italy, about 21 kilometres away. Despite this lack of air connectivity, San Marino still attracts significant tourists each year, thanks to its distinct history and culture.
Andorra
Andorra is a small, mountainous country located between France and Spain in the Pyrenees mountains. With a population of just over 77,000, it is the sixth smallest European country. It is a popular tourist destination known for its stunning landscapes and ski resorts.
Andorra's rich culture is a mix of French, Spanish and Catalan influences, making it a unique destination in Europe. It is also a pleasant place to live, with a high quality of life and a low crime rate.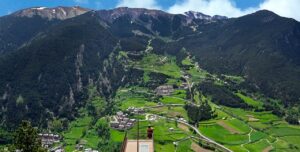 The country is also known for its low taxes, one of the lowest in the world. Andorra is also a major shopping destination for tourists from around the world, who come to take advantage of the low taxes and duty-free shopping.
Also read: These Are Five Best Ski Towns In The World
The capital of Andorra is Vella, making it the highest capital in Europe. In the Pyrenees Mountains, Vella is at an elevation of 1,023 meters. It is known for its stunning scenery and is a popular destination for skiing and snowboarding. It is also home to several significant monuments and landmarks. However, one thing it lacks is an airport. The nearest airports are Barcelona, Spain and Toulouse, France, which are about a three to four-hour drive away.
Monaco
The tiny principality of Monaco is located along the French Riviera on the Mediterranean Sea. Although it is only two square kilometres in size, Monaco is home to some of the world's most luxurious attractions, including the Grand Casino, the Monte-Carlo Opera House, and the picturesque gardens of La Condamine. Its glamorous atmosphere and stunning scenery make it a popular destination for tourists and wealthy visitors. It is also known for its high-end restaurants and shops, as well as its glamorous nightlife.
Monaco is home to the famous Formula One Grand Prix, which takes place every year on its tight and winding streets. As well as being a playground for the rich and famous, Monaco also has a thriving economy, with banking and tourism being two of its main sources of income. With its unique combination of luxury and economic success, it's not surprising that Monaco is one of the most prosperous countries in the world.
Also read: An Insider's Guide To Exploring The Greek Island Of Sifnos
The climate in Monaco is mild throughout the year, making it a great place to visit any time of the year. One thing people might not expect to find in Monaco is an airport. The nearest airport to Monaco is Nice Cote d'Azur Airport in France, just a short drive away.
Liechtenstein
Lichtenstein is a small, landlocked country in Europe with no airport. The closest large airport is Zurich, Switzerland, about 130 kilometres by road. Alternatively, you can take a train from Zurich to the Lichtenstein capital of Vaduz.
Liechtenstein is a small Alpine country located between Austria and Switzerland. It is one of the world's smallest countries, with just over 37,000 people. Despite its size, Liechtenstein punches above its weight in terms of economic growth and stability. The country is a major financial hub for international businesses and boasts a highly developed and prosperous economy.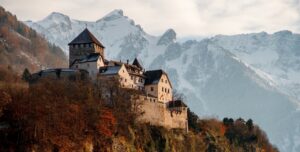 One of Liechtenstein's most attractive features is its low tax rate, which makes it an attractive destination for businesses and wealthy individuals. The country's government has also invested heavily in infrastructure and public services, making it one of the most livable countries in the world.
The stunning landscapes of Liechtenstein are also a major draw. With rugged mountains, lush meadows, and crystal-clear lakes, it is a popular tourist destination. All these features have helped make Liechtenstein one of the most successful small countries in the world.