By Arnav Mathur
Little did I know, that I would be one of the few lucky souls to Experience Romania in May 2018, which is literally a land of well-preserved wonders, be it natural, or man-made. I along with 40 different travel influencers, from all over the world, experienced not only Bucharest – the capital city of Romania, but also the Danube Delta, and the Black Sea coast of Romania, which is famous for its party culture.
Out of the three-different kind of experiences, what fascinated me the most, was our experience at the Danube Delta, which is the second largest river delta in Europe with an area of 5500 sq.km, after the Volga Delta. The Danube Delta became part of one of UNESCO's World Heritage Sights in 1991. The Danube river after passing through several European countries (Germany, Austria, Slovakia, Hungary, Croatia, Serbia, Bulgaria, Moldova, Ukraine and Romania) and four capitals (Vienna, Bratislava, Budapest and Belgrade), the mighty Danube river splits into three main distributaries in the delta, namely Chilia (120 km long), Sulina (64 km long) and Sfantul Gheorghe (70 km long), before emptying into the Black Sea.
The ideal duration recommended to anyone who is interested in enjoying the beauty of nature up close, is 2-3 days, where apart from enjoying the peace and tranquility and the abundant flora and fauna, a trip to Letea forest is also recommended.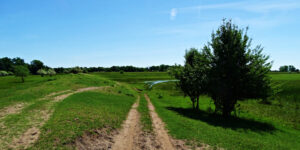 Established in 1930, Letea forest is a natural reservation, covering an area of approximately 2,825 ha (6,980 acres). It is the oldest protected area in Romania, which is home to 3, 500 species of plants and animals. The fauna of Letea forest is very rich, as about 70% of the Danube Delta fauna can be found here. The Letea forest is also the nesting site of over 150 species of birds such as the white-tailed eagle (Haliaeetus albicilla), short-toed snake eagle (Circaetus gallicus), tawny eagle (Aquila rapax), black kite (Milvus migrans), herpetological rarities such as the steppe racer (Eremias arguta), or meadow viper (Vipera renardi).
With wild horses, vines, 700-year-old oak trees and sand dunes, Letea is the northern most subtropical forest in the world. Hidden away from the eyes and paths of most tourists, the forest has numerous secrets which it carefully guards, and a visit to this forest is indeed a unique experience. The most spectacular trees are the century old oak trees which have stood the test of time. There are many specimens which are 400 years old and a few which go for more than 700 years. To get here, you have to cross through a myriad of canals, lined with water lilies, on the sides.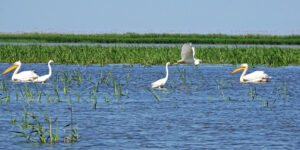 Some interesting facts about the Danube Delta Biosphere Reserve
• Third largest biodiversity in the world, after Great Barrier Reef in Australia and the Galapagos Archipelago in Ecuador.
• Over 5, 500 species of flora and fauna
• Home to over 60% of the world's population of pygmy cormorants (phalacrocorax pygmeus), 50% of red-breasted geese (branta ruficollis) and the largest number of white pelicans (pelecanus onocrotalus) and Dalmatian pelicans (pelecanus crispus) in Europe.
• Reed marshes covering 1563 sq. km constituting one of the largest single expanses of reed beds in the world.
• Home to 250 bird species, making the delta one of the richest ornithological faunas in the world, and also a bird lovers paradise.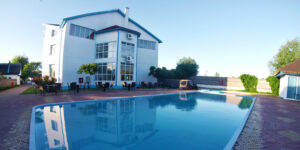 The next day, a boat trip to the Letea forest, followed by transfer to Green Village Resort, Sfantu Gheorghe post lunch.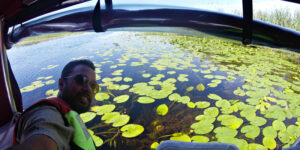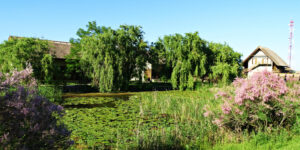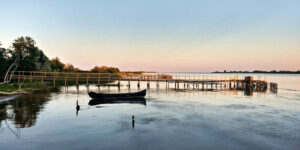 The best possible activity which you must definitely do is the bird watching boat trip, where you can easily spot different species of birds, including the white pelican.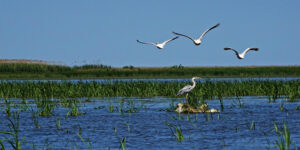 During the evening, you should take the small hike from the resort to the beach, facing the Black Sea, which should take 15-20 minutes. The next morning, after a hearty breakfast, you can head back to Bucharest or go further to the Black Sea coast, by reaching Murighiol by boat, and then heading to your destination, by road.
TRAVEL INFO
To reach Danube Delta, first you need to enter Romania, which you can, by any mode of transport, as Bucharest the capital city of Romania is well connected to all major European countries. For Indians, the major chunk of their budget goes in the flight from India – Europe and return, however, once in Europe, the flights are dirt cheap. I got my ticket from Bologna (Italy) to Bucharest (Romania), for a little under INR 2000, and from Bucharest to Rome for around INR 3000.
Once you reach Bucharest, the best way to reach Danube Delta, is to reach Mahmudia or Murighiol by road, and then further travel by speed boat.
To enter into Romania, Indians need a Romanian VISA, which can be obtained from the respective embassy, or a valid MULTIPLE ENTRY SCHENGEN VISA. Countries like Romania, Bulgaria, Croatia, even though are part of the EU, don't issue Schengen Visa, as they still haven't been accepted into the Schengen Zone. However, if you are in possession of a Multiple Entry Schengen VISA, issued by any of the Schengen member states like France, Italy, Spain etc., you can easily enter into these countries as well.
A Civil Engineer by qualification, who quit his job to pursue his passion for travelling, and being an ARMY brat by birth, traveling and socializing is in his DNA. His belief is: "Go to a new place every now and then to 'Eat Travel Live' and then Repeat the cycle over and over again. He is now learning more about his passion of travel by pursuing a Masters in International Tourism Management from one of the elite universities in the UK. You can read more of his blogs on theETLRblog.com