(By Reeturaj Yogi)
"Would you like some 'organic' Kiwi wine?'', I asked my friend. You don't usually hear organic Kiwi and wine together very often, so he was looking at me in a funny way. I had to clear out his mind, Yes, Kiwi wine and not imported but organic home grown. It is from a small paradise tucked away to the far east of the northeast of our country, ZIRO.
Where is ZIRO you may ask? It is in Arunachal Pradesh and is fast becoming famous for another yearly event that takes place towards the end of September, the Ziro Festival of Music, our very own version of the 70's Woodstock.
ZIRO is located in the lower Subansiri district of Arunachal Pradesh inhabited largely by the Apatani tribe where the ladies were known for their beauty, that they used to disfigure their faces by tattoos and used humongous nose plugs to avoid being picked upon, so the lore goes. The major language spoken is Apatani (Tanii) but they are very well educated and fluent in English and Hindi too. The major religion is "Donyi polo" or "Sun Moon", animistic and of course now Christianity. Apatanis unlike the other tribes of Arunachal are settled in one place and were not nomadic in nature. They cultivate permanent wetland along with fish rearing on the same plot. It is popular for high altitude fish farming. Tall majestic pine trees and bamboo groves are in abundance here.
Now figure this! Amidst the golden rice fields, towering pine trees with bursting green and azure skies with the Eastern Himalayas standing tall is one of the most unique music festivals set under the open skies and open air-stage. It is for this very picturesque setting that I set out for my tryst with Ziro last September of 2017. My wife, a couple of friends and me bundled up on my "Baby Rhino" (my Renault duster) and set out from Guwahati at around 10:30 PM on a long but adventurous journey ahead.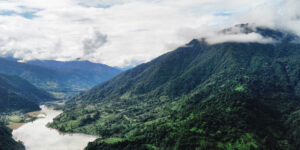 We took the NH 127/27 or AH 1 and reached Gohpur around 7 in the morning. After a few hundred potholes that gave way to occasional good roads and soon transitioning to mountains of slush and landslides coupled with broken roads, we entered ZIRO. After getting our ILP's checked at the Holongi check-post, we took the Itanagar – Naharlagun – Potin route to reach our destination.
The view should be actually seen to be believed. It washed away all our exhaustion and body-ache resulting from the journey, in a jiffy. We headed to a friend's campsite which was set up in a gated plot of forested area. I immediately knew that I won't budge from the serene camping site for the next few days.
It is an uphill task in today's world to catch such moments of tranquillity amidst the cacophony of digital madness that surrounds us. This was just what I had been yearning for! The valley was however abuzz with the festival approaching the next day and people from all over the world was finding this place a paradise. The event will gradually grow but I hope this does not take away the essence of the festival and the place.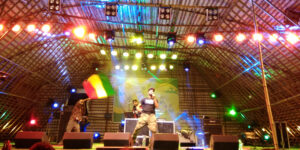 The festival was founded by Bobby Hano and Anup Kutty in 2012 and has featured some of the most diverse music traversing genres from rock, blues, electro funk, alternative to name a few. It has been a springboard to showcase local and regional talent on a world stage for all to appreciate and hear.
However we were there a day earlier to feel the serenity that nature had to offer. So we lazed around for two days and saw as much as was possible in the short time. We then left the second day of the festival as the noise and activity was becoming a little frenetic for me, something about what I ponder now and feel is good or not for the community.
The road back home was none the less adventurous as we found out that the route we took was washed away by a massive landslide, fortunately there are other routes so we took the Kimin – N Lakhimpur route to finally return home as the odo rested at around 1100 Kms on Baby Rhino.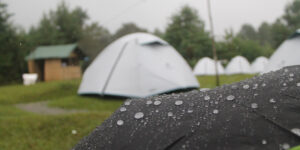 As they say…
"Put some miles on your soul"..
"See a little bit more out there and
u'll never be disappointed"…
FOOD is an integral part of any festival and this is no exception. Everything from the exotic silkworms to the traditional local beer to the more hip burgers and sandwiches were there for all to taste. Items such as Zan (a dish of millets and vegetables/meat with fermented cheese), Khura (pancakes), Gyapa Khazi (rice/pulao with fermented cheese and shrimp or dried fish) to the quintessential momo and thukpa are there for the foodie .
THINGS NOT TO BE MISSED:
For the history buff and the religious minded there is the 5000 year old Meghna cave temple dedicated to Lord Shiva, an archaeological site.
Tarin Fish farm for the unique paddy cultivation and high altitude fish rearing done in the same field.
Pine grove and Bamboo grove: You can find some ridiculously tall pine trees and large bamboo groves.
Talley valley wildlife sanctuary: Home to a variety of endangered species you will find a plethora of flora and fauna ranging from the state animal Mithun to silver fir trees, orchids etc. it is a bio diversity hot zone and very less human intervention has also helped in preserving its sanctity.
Kile Pakho: This is a beautiful spot that offers spectacular views of the entire ziro plateau and the Eastern snow clad Himalayas.
The Ziro Music Festival is happening this September 27th – 30th so pack your bags and be prepared to be mesmerised by nature and music at its best.
TRAVEL INFO
LOCATION: Lower Subansiri distictict in Arunachal Pradesh. Ziro is the peace seeker's paradise.
HOW TO REACH: Ziro is well connected to the rest of the country by all major means of transportation. Guwahati: 450 Kms, Itanagar: 111Kms, North lakhimpur: 118 Kms, Dibrugarh: 257 Kms Jorhat: 271 Kms, Tezpur: 260 Kms
International airport: Guwahati State Airport: Lilabari (North lakhimpur), Salonibari (Tezpur), Jorhat
Trains: Naharlagun is the nearest railway station. It is connected to Guwahati railway station. Regular intercity trains ply from Guwahati to Naharlagun. The Donyi polo Express 15617 to Naharlagun from Guwahati is a good option.
Roads: There are three main routes to get to ZIRO. Via Gohpur – Hollongi gate – Itanagar – Naharlagun – Potin – Ziro, Via Kimin gate – Ziro, Via Banderdewa gate – Naharlagun – Ziro
WHERE TO STAY: Plenty of options although one of the best options Ziro valley resort will be taken over by the organisers.
Hotel Blue Pine, Sirro resort and homestays are other options. Plenty of campsites for the festival also comes up, such as Kite Manja and Camp Ventures. Other options too will be available, so plan accordingly.
INNER LINE PERMITS: It is mandatory for Indian citizens. The online ilp has made things very easy. Kindly check www. Arunachalilp.com for more details.
PROTECTED AREA PERMITS: This is mandatory for foreign tourists. They also need to travel in a group of 2 at least. Solo travellers are restricted to Tawang, Bomdila and Ziro only.