(By Rishi Sood)
This last decade has seen enough exploitation in the name of adventure and everyone wants to be part of it, oblivious to sins, being done to the Mother Nature. From souped-up motorcycles rides, 4X4 safaris to white water rafting and luxury camping, it's time for the great outdoor lovers to come out from their hibernation and set benchmarks in the field of outdoors.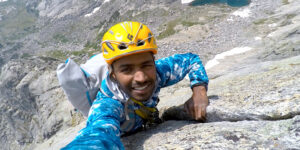 One such adventurer is Bharat Bhushan, who along with his team has come forward to try setting the outdoors standards. Born 26 January, 1987, in a village called Shakrori, 45 Kms from Shimla. He has been able to establish himself as a pro climber in India today, with an impressive mountaineering career. He is one of those who had sensed the problem and wanted to contribute before it's too late.
Himalayan Outdoor Development shelters many of the outdoor projects which not only can help educating the youth about the technical aspect and skill required for the sport but can help setting benchmarks for self; the initiates vary from bolting the rock routes, bouldering sites to climbing the ice walls not only in Himachal Pradesh but also the potential areas of other hill states.
One such initiate is to bolt the beautiful natural granite rock wall near Shimla town, a place known to many of us as Shalli Tibba. Shalli (name of goddess Kali) Tibba (mountain top) (2780m) is a popular trek around Shimla (it can be a day hike or 3 – 4 day trek). Considered as the highest peak in the vicinity Shalli offers stunning 360º view of both lower and middle Himalayan mountain ranges.
With youth at large and the proximity of the location this would mean that there would be something for everyone, to hike, trek, to pilgrimage, mountain biking, a family picnic, village stay, an opportunity to run for self, to do the more enduring rock climbing, bouldering, organizing rock fest etc. an incubator of the term Adventure.
This November will see its first rock climbing site in Shalli (Shimla), when Bharat along with team consisting Shekhar, Anil Beniwal and Kumar Gaurav will bolt 4 routes in this quaint village. The grade will be under UIAA standards, the 4 routes marked vary from easy, moderate to difficult with one Trad (for Traditional) route.
We were blessed to be born in these mountains and to tread them, but it's now time to step up the game; shed our egos, forget our positions, throw away the benefits, and start looking to give back what we have learned and protect this Mother Nature as along we enjoy it.
The Rock is 'ON'……..