Madrid, Spain: UNWTO has welcomed a delegation from Turismo de Tenerife (SPET) to draft a roadmap for future collaborations.
One of the Canary Islands, Tenerife is one of Europe's most popular destinations, welcoming 2.7 million tourists in 2021 alone. The destination has significant touristic potential, and it is aiming to develop its sector in line with the values and priorities of UNWTO.
The official visit of Affiliate Member SPET to the UNWTO headquarters provided an opportunity to clarify the benefits of resources already available to the Affiliate Members, network discuss the institutional cooperation in the preparation of events.
Also read: Public Participation Can Revolutionise Tourism
Among the topics discussed, Turismo de Tenerife presented its plans for "Global Summit Turismo" scheduled for 2024, while UNWTO presented the initiative "Best Tourism Villages" recognizing outstanding examples of rural tourism destinations with recognized cultural and natural assets, preserving and promoting and community-based values, products and lifestyle in order to encourage the participation of Tenerife.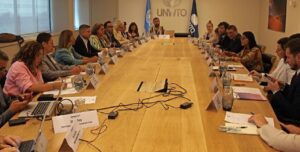 Tenerife offers a wide variety of attractions ranging from sports tourism, including hiking, climbing, biking routes and surfing, to astrotourism and gastrotourism.
Also read: Unlocking Wild Food Plants Can Herald Culinary Tourism
SPET – TURISMO DE TENERIFE dedicates its main activity to the realization of actions for the promotion of tourism on the island of Tenerife. Thus, it works in three areas within the island, which pursue the increase of our quality, competitiveness, and sustainability as a tourist destination.