By Imtiaz Ullah
If you want to experience the real feel of travel, you need to step out and take the unknown path. You may not find a comfortable bed; but then, you shall also experience things like never before! My idea of road trip is meeting new people, befriending them for some lifelong ties, witnessing the unique traditions of different cultures and getting lost in diverse places.
Travelling is a better reality than the humdrum routine life.
I know it takes a certain amount of madness to cover approximately 1,400 kms in three days, but I was up for it. In my quest to explore the unexplored parts of beautiful Himachal, the places we covered during this road-trip were: Durgella, Salli Village, Boh Valley and Kareri Village.
Road trips are never easy! It requires you to face challenges head on. It tests your willingness and courage to move forward. There is a lot more on the road ahead, just tighten your seatbelts and hold on.
It was around 10 PM when we started our sojourn with my wife and a friend after a light dinner. The car we were driving was the Renault Duster AWD which was very spacious and fully equipped to deal with tough terrains. We tanked up our car and hit the Karnal bypass from Delhi. After driving for an hour, we stopped at Jhilmil dhaba in Murthal for tea/ coffee. The fresh smell of coffee woke up my wife from her sleepy state. After the short break, we continued with our journey. It was around 1 AM and my travel mates had fallen asleep by then. It was my music and the road ahead which were my only companion. While on the road, driving, I lose track of time as driving gives me an altogether different kind of high.
The roads were smooth and we took the Shambhu border route to Banur-Kharar which leads to Una-Nangal. After driving for the entire night, we entered Himachal Pradesh.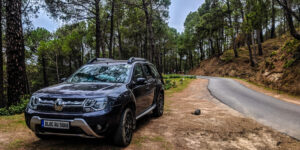 The broad well pitched highways had now given way to narrow roads with sharp hairpin bends and greenery all around. The stark difference in the landscape is easily visible. Driving through the beautiful landscapes with lush green mountains, we reached our first stop at Durgella. We are to meet a local family, who had invited us for lunch.
I was tired but I realized, it just takes one thing to keep going – "passion for driving". And that, I had in abundance.
We were wholeheartedly welcomed by the Attri family and all my tiredness vanished when I met Uncle-Aunty. The heartwarming hospitality and love they showered us with was unmatchable.
I took a stroll around the village and could see fresh vegetables, fruits growing all around. Listening to the birds chirping, I was completely rejuvenated just as my partners caught up on their sleep in the comfortable house.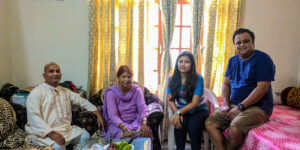 After a quick nap, we were served lunch – a simple vegetarian Himachali thali prepared with great love coupled with fresh fruits plucked from the garden.
For the night stay, we arrived at the Forest Rest House of Ridkmar (marked as Rirak Marh in google maps). The sole Forest Rest House (FRH) is situated at a hilltop surrounded by deodar trees. It was serenely beautiful to say the least. This place is not frequented by travellers and is an authentic offbeat location. I went to the local market and bought chicken and fresh vegetables.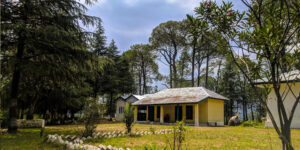 I stuck up a conversation with the villagers who were awed to see people from Delhi visiting Ridkmar. They were very welcoming. The FRH caretaker cooked the chicken along with rice. After a sumptuous dinner followed by sharing stories under the moonlight in the yard, we retired to bed. Next morning after breakfast, we drove towards Boh valley via Salli village.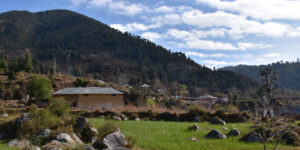 As we drove through the meandering freshly tarred roads, we were welcomed by a forested valley, flowery meadows, carpeted with wildflowers and not much human hullabaloo. Oh yes! We have reached Salli, a beautiful village located in the picturesque Khuli river valley. From Salli village, we continued our drive to Boh Valley. After driving for an hour, we reached our destination.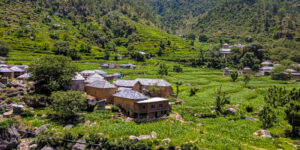 Boh village is situated in Tehsil Shahpur of district Kangra in Himachal Pradesh. It is about 26 kms from Shahpur. In Boh, we were welcomed by the Jaryal family – Tarsem and Darshana Jaryal, a native of Boh Valley.
The Jaryal family hosted us in the village. After some interesting conversation over a cup of tea with the locals, we started our trek to the Khabru waterfall.
Khabru Waterfall is one of the prime attractions of Boh Valley and has religious significance.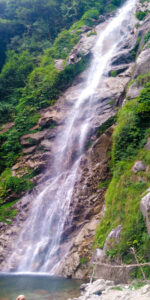 This trek is a moderately easy trek of about 3 kms and can be easily completed in half a day time. The trek presents a beautiful view of the Dhauladhar range and passes through small villages. There are several hill-top day treks emanating from this place.
Tarsem happily obliged us with vital information about Boh and how he, along with his wife is working towards uplifting the place with a tourism perspective and inculcating the enterprising spirit in the youths and elders of the valley. They had also got the neglected road-head freshly tarred. Don't forget to interact with the villagers during the trek. They will provide a sneak peek into their daily life, their food habits and the culture. In case you are hungry after the trek, the small stall in the vicinity of the waterfall offers food items, tea and other soft drinks. If you want to engage in swimming, carrying some extra clothes is recommended. Have a great time in Khabru Waterfall, enjoy the beautiful nature but please do not litter.
We were invited by the Jaryal family for lunch. As soon as we reach their beautiful house, the entire family congregated in the front yard of the house and we received a grand welcome. We had an authentic Himachali lunch served with great love. For city dwellers like us, sitting on the kitchen floor and having lunch while our hosts lovingly watched over us was an enriching experience. The hardcore non-vegetarian in me relished the goat-brain stew the most of all the delicious food items. I was told it is generally served during the extreme winters to keep the body warm.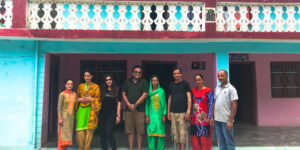 After lunch, we ventured out to explore the village which was in the midst of rice and wheat fields. The stream and the dirt track that ran along it connected the handful of little houses that were spread throughout the village. A trout farm and an old water-operated flour mill were few of the things that our guide showed us while walking around the village.
To reach the village, we walked on a wooden bridge connected to the other side of the stream. It was not really a bridge, just a few pieces of wood tied together to form a walkway over the water.
As darkness fell, the entire family assembled in the front yard and sat around the fire that was lit up. The evening was well spent listening to folk songs, and folklores. It was a night that I will always cherish. In the morning, after a light breakfast and bidding adieu to the Jaryal family with promises to meet again, we started our drive to our last destination – Kareri Village.
Kareri is a sleepy village, with a lazy stream and far stretching green meadows, a place where the pace of life is woven around the pace of the river. Time almost halts here.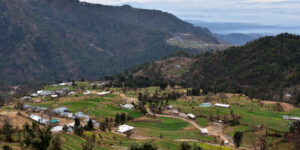 After driving for about 3 hours through beautiful, narrow roads, crossing small villages, encountering herds of sheep on the way, we reached the surreal Kareri village. Our accommodation was booked at the Forest Rest House, Kareri. The car does not go till the FRH as there is no route for cars. We parked our car about a kilometre before the FRH. Don't worry, it is completely safe to park there. Just be vigilant enough to park your vehicle at a stable spot. After a short hike we reached the FRH. The FRH is located amidst beautiful green meadows with horses grazing, surrounded by the lofty snow – capped Dhauladhar ranges and a nippy cold breeze striking my face.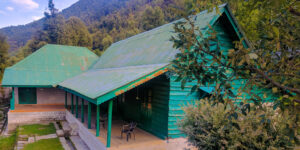 I was now in one of the sleepiest but most beautiful villages in Himachal Pradesh. Instead of being surrounded by tourists, here I was in a remote village, where not many travellers had set foot. Instead of engaging in heated bargain with food vendors, here a smile to local villagers can yield an invitation from the locals to taste their food. Such is the humbleness and simplicity of the locals.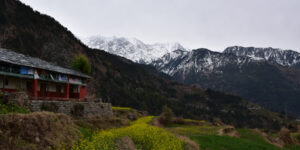 The true gift of travelling is to expect the unexpected when you embark on the journey, the people you meet and the revelations you have along the way.
There are many treks starting from this village, one of the most popular is the Kareri Lake trek. It takes minimum of two-three days to complete, but we decided against it due to paucity of time and instead preferred to get lost in the beauty of this rejuvenating place and the freshness of the air. Strolling in the meadows and watching the sun cast its last rays over the silhouetted mountains helped us immensely to unclutter our minds. We returned to our busy city lives in Delhi the next day, but with memories to cherish for a life time!
TRAVEL INFO
Salli, Boh and Kareri lies in Kangra district of Himachal Pradesh. These villages are located near Dharmshala. Staying options are very limited in these villages.
Imtiaz Ullah is a corporate attorney, an avid traveller and advisory member of NGO- Sarvahitey. He calls himself The Nomadic Attorney. He always believes in the idea-"Don't just be a traveller, but a responsible one".